Donald Trump May 'Look Favorably' on Ghislaine Maxwell's Silence, Prince Andrew's Biographer Says
Donald Trump may be indicating he would pardon Ghislaine Maxwell if she keeps quiet about Jeffrey Epstein's accomplices, Prince Andrew's biographer claims.
The President raised eyebrows yesterday when asked whether Ghislaine Maxwell would "turn in powerful men" after being arrested this month.
Trump said "I wish her well" and mentioned he had met her "numerous times" because they both lived in Palm Beach, Florida.
Nigel Cawthorne, author of Prince Andrew, Epstein and the Palace, said: "Trump may be indicating that he would look favorably on her if she keeps quiet.
"He has the power to pardon her if she is found guilty or pleads guilty. It certainly increases the intrigue around this case.
"Until yesterday it still looked as if by and large the Attorney General was taking a personal interest in seeing the case through for the victims.
"It now looks as if there is another tug of war between US prosecutors in Manhattan and Washington DC."
Maxwell pleaded not guilty to a 17-page indictment this month and was denied bail on the grounds she was a flight risk.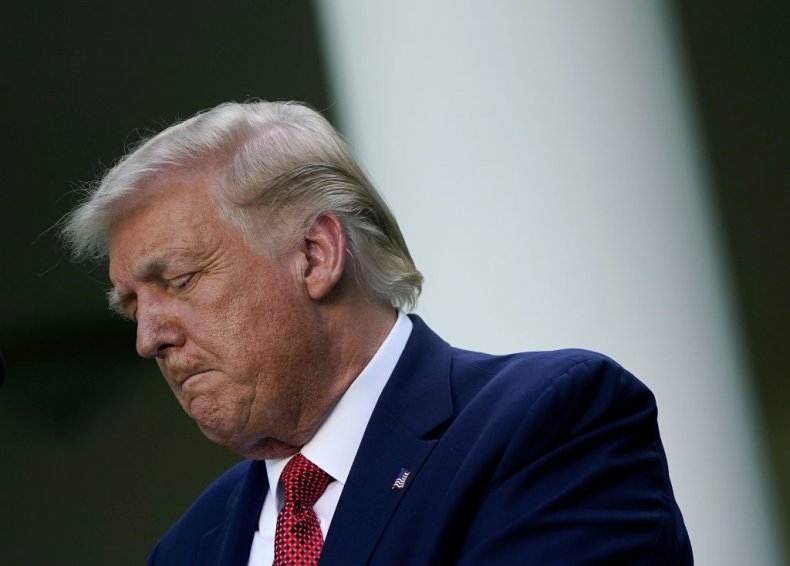 Speculation has been rife that she might negotiate a plea bargain with prosecutors in exchange for testifying against rich and powerful men who visited Epstein.
Prince Andrew's name was among those mentioned by the journalist who posed the question to the President yesterday.
Trump's reply was: "I don't know, I haven't really been following it too much. I just wish her well frankly.
"I have met her numerous times over the years, especially since I lived in Palm Beach and I guess they lived in Palm Beach.
"But I wish her well, whatever it is."
Andrew is accused of having sex with Virginia Giuffre when she was a 17-year-old trafficking victim.
The Duke of York denies wrongdoing and claims he has offered several times to give a statement to the U.S. Department of Justice as a witness.
Ghislaine Maxwell faces allegations she groomed young girls on Epstein's behalf in the 1990s.
Cawthorne said: "It's a bit puzzling. Donald Trump has a long history of distancing himself from friends in trouble.
"Prince Andrew can attest to that as only in December Trump said 'I don't know him, no'.
"You'd think he would try and distance himself from Ghislaine Maxwell too after she was charged."
Maxwell is charge with six counts, including conspiracy to entice minors to travel to engage in illegal sex acts, enticement of a minor to travel to engage in illegal sex acts, conspiracy to transport minors with intent to engage in criminal sexual activity, transportation of a minor with intent to engage in criminal sexual activity, and perjury.