Donald Trump's Lawyer Said President Would End Up In Prison If He Testified: Bob Woodward Book
Donald Trump's former lawyer John Dowd warned the president that he would end up in prison wearing an "orange jumpsuit" if he testified in the Russia investigation and even informed Robert Mueller of the dangers of an interview, Bob Woodward wrote in his new book.
"I'm not going to sit there and let him look like an idiot," Dowd, who led Trump's team for the Russia investigation, is quoted as saying to Mueller during a meeting on March 5. The conversation is recounted in Woodward's new 448-page book, Fear: Trump in the White House. The details of the exchange were first reported by The Washington Post, which received an advanced copy of the book set to be released on September 11.
"And you publish that transcript, because everything leaks in Washington, and the guys overseas are going to say, 'I told you he was an idiot. I told you he was a goddamn dumbbell. What are we dealing with this idiot for?'" Dowd added.
"John, I understand," Mueller told Dowd, according to Woodward.
The meeting took place after a phone call between Trump and Egyptian President Abdel Fatah al-Sissi. During their conversation the foreign leader reportedly expressed his concerns about the Russia investigation, telling Trump: "Donald, I'm worried about this investigation. Are you going to be around?"
The president later went on to tell Dowd that the conversation was a "kick in the nuts," according to Woodward.
Later that month Dowd told the president not to testify in the special counsel investigation, saying "it's either that or an orange jumpsuit."
But Trump told Dowd that he would be "a real good witness," according to Woodward, to which Dowd replied: "You are not a good witness. Mr. President, I'm afraid I just can't help you."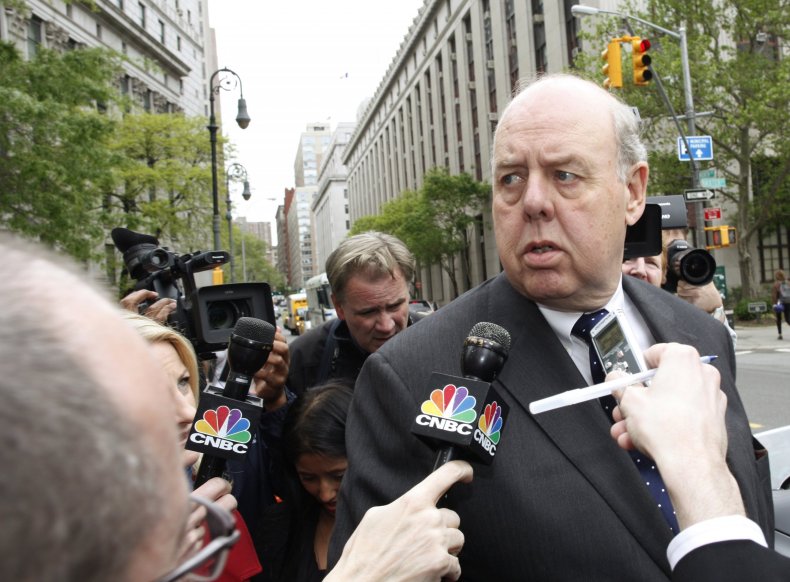 The morning after that conversation Dowd resigned as the president's attorney. In a phone interview with The New York Times shortly after leaving his post, Dowd said: "I love the president. I wish him the best of luck. I think he has a really good case."
Dowd denied the quotes in Woodward's book in emails sent to the Washington Examiner. Trump's ex-lawyer also denied warning the president that he risked wearing an "orange jumpsuit" if he were to sit down for an interview with Mueller.
Woodward is also the co-author of All The President's Men, an award-winning book detailing the Watergate investigation. His account of the Trump administration is just one of the handful of condemnatory books to come out in recent times. Last month, former White House aide Omarosa Manigault Newman released scathing memoir Unhinged: An Insider's Account of the Trump White House, in which she alleged that Trump used the N-word on tape.
Woodward's book also includes accounts of ex-White House strategist Steve Bannon yelling at Ivanka Trump that she was only "a goddamn staffer" and Defense Secretary James Mattis alleging that the president has the understanding of "a fifth- or sixth-grader."
This story has been updated to include John Dowd's denial of the quotes attributed to him in Woodward's book.