Pro-Trump Rallies Aim to Counter Anti-Trump Protests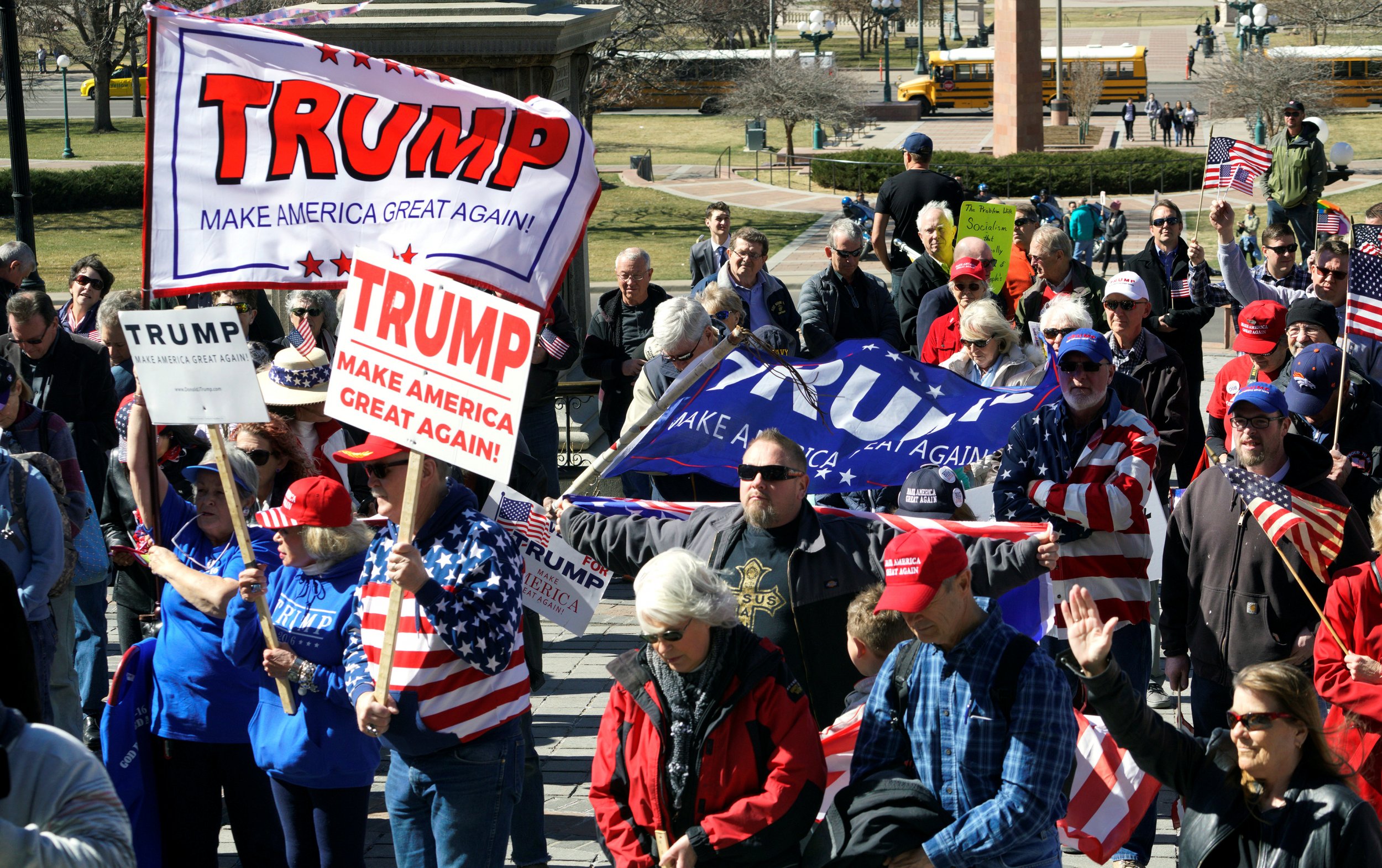 Supporters of U.S. President Donald Trump rallied in communities across the country on Monday, partly as a rebuttal to anti-Trump protests that have taken place since his election in November.
Trump was not scheduled to appear at any of this week's events, which were taking place at venues ranging from a park in the small town of Gravette, Arkansas, to the plaza outside the Georgia State Capitol building in downtown Atlanta.
"I just think we need to support our president," said Vivian Phillips, a 60-year-old retired schoolteacher who drove more than seven hours from her West Virginia home to Atlanta, where about 200 people gathered on an overcast day.
Phillips held a sign reading "adorable deplorable from West Virginia," referring to a disparaging comment made by Democrat Hillary Clinton during the campaign about Trump supporters.
In Denver, about 150 people met on the steps of the state capitol to voice their support for the president, sing patriotic songs and listen to speakers.
Many waved American flags, and some held signs bearing Trump's campaign theme: "Make America Great Again." One woman held a sign with a photograph of Hillary Clinton and the words: "Get Over It."
"I'm here to let the president know he's not alone although it seems like that at times," said Karen Eitzel, 56, a Denver Republican who was accompanied by her husband, Jack, a 62-year-old retired utility worker.
In Brea, California, in traditionally conservative Orange County, about 60 people stood outside a shopping mall chanting "Build the wall" and "God bless America, God bless Donald Trump" and carrying sings that read "Trump loves you" and "Trump all the way."
Demonstrators marched wearing red hats with signs that read "Donald Trump 45h President," and carrying flags and banners, some reading "Make America Great Again." Passing motorists honked and cheered in support.
In Mandeville, Louisiana, outside New Orleans, almost 100 people, many dressed in the red, white and blue colors of the American flag, gathered at a pavilion to voice their support.
The crowd, which included a Trump impersonator, carried signs such as "We Love Trump" and "Support Our President."
Some of the rally organizers came out of the Tea Party movement, a large, informal network of anti-establishment conservatives that has become an increasingly powerful force in Republican politics since its beginnings in 2009.
A group called Main Street Patriots said it helped organize so-called Spirit of America rallies in at least 33 of the 50 states, both on Monday and Saturday. Most of the rallies are scheduled for Saturday, when larger crowds are expected.
Raucous rallies, often filling sports arenas, became a hallmark of Trump's presidential campaign, in contrast with lower-key events staged by Clinton.
Earlier this month, Trump rekindled that energy for the first time since his election in a freewheeling rally in Melbourne, Florida.
But Trump's crowds have rarely regrouped since November's election, while large protests by people who oppose Trump's policies, particularly his crackdown on immigration, have become more frequent.