Donald Trump Promises to Accomplish 'Complete American Energy Independence'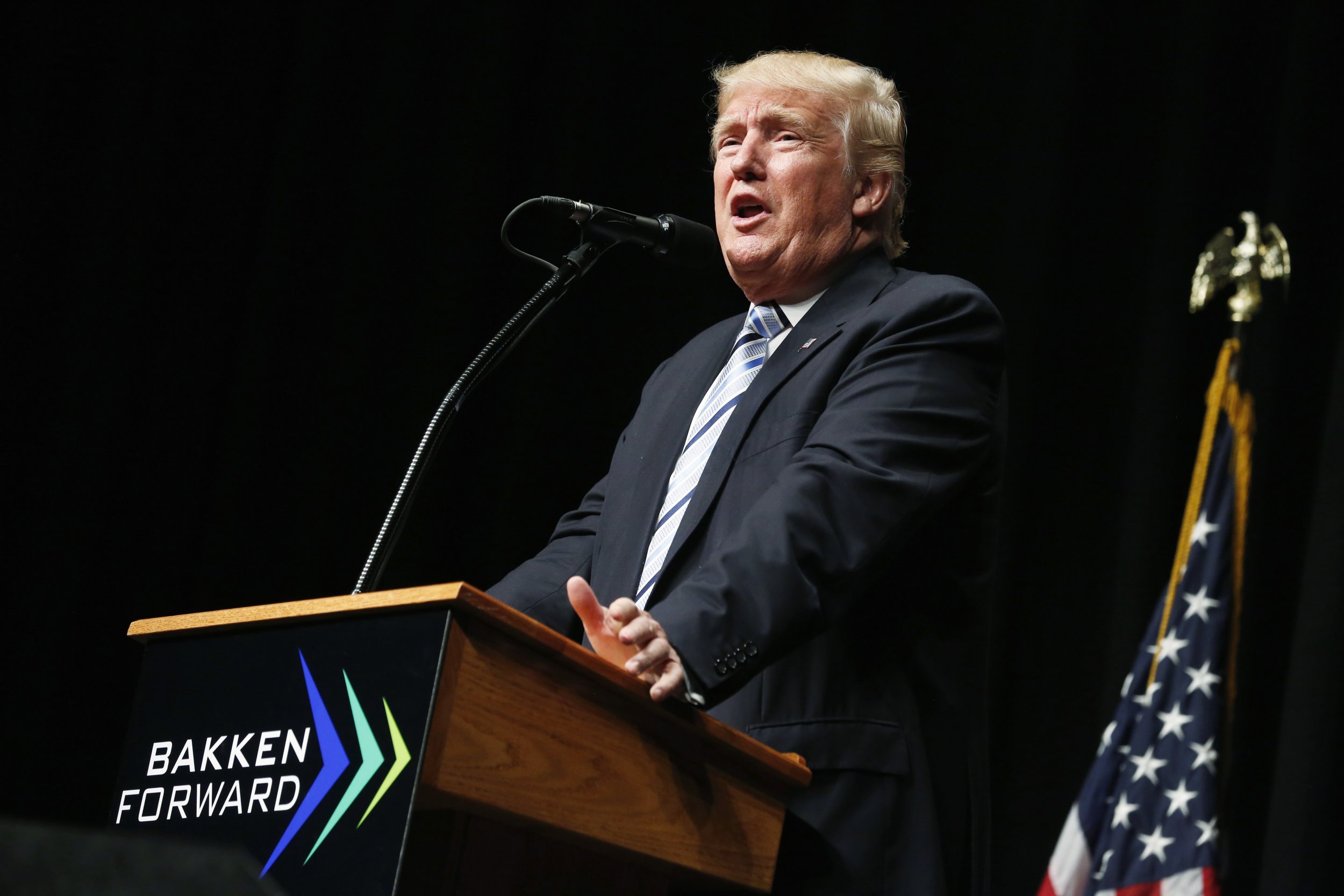 Just hours after he officially secured the Republican presidential nomination, Donald Trump on Thursday promised residents in North Dakota that his administration would make an "America-first energy plan" and seemingly undo President Barack Obama's effort toward reducing U.S. greenhouse gas emissions.
He unveiled details of his policies on energy and climate in a speech in North Dakota, which, along with Texas, is one of the two hearts of U.S. drilling. If he is elected president, the New York billionaire said he will make the country totally independent of oil imported from any nation that is hostile toward the United States. Trump promised to work with Gulf allies to develop a positive energy relationship, as part of an anti-terrorism strategy, and to rebuild roads, schools, bridges and public infrastructure.
"A Trump administration will focus on real environmental challenges, not the phony ones that we've been looking at," he told the crowd, which gathered at the Williston Basin Petroleum Conference in Bismarck, a week before the Organization of the Petroleum Exporting Countries (OPEC) meets in Vienna June 2.
In the past, Trump has called out Saudi Arabia, OPEC's top producer, saying the U.S. should halt oil purchases from the kingdom if it doesn't provide troops to fight Islamic State militants, who control parts of Iraq and Syria.
In a sign that Trump now is fully focused on the general election, he spent parts of his speech attacking Hillary Clinton, who will be his opponent in November if she wins the Democratic nomination. He warned the audience that the former secretary of state will shut down energy production in the country, if she is elected to the country's top role.
"She'll escalate the war against the American worker like never before and against American energy," he said. "Hillary Clinton has her priorities totally wrong. But we are going to turn everything around; we are going to make it right."
He said his plan will do for American people what Clinton will never accomplish. "She will never create real jobs and real wage growth. She can't do it, she doesn't know how to do it," he said.
Trump also pointed a finger at President Obama, who he said undermined "our crisis and our middle class" by eliminating oil and natural gas production in the U.S. The mogul criticized Obama for being dependent on other countries and blocking oil production in the U.S. Obama's "anti-energy orders," he said, have weakened security.
In a repudiation of Obama's efforts, Trump said he plans to ask TransCanada to renew its permit application for the Keystone XL pipeline, which was rejected by the president in November. Ensuring the demise of the pipeline, which aimed to bring heavy tar sands oil from Canada across the middle of the U.S. to a port on the Gulf of Mexico, was a top priority for environmentalists since the plans were first made public.
The Republican nominee also wants to cancel the country's involvement in the landmark Paris Climate Change Agreement, signed by world leaders in April to reduce greenhouse gas emissions. He previously said he would, at the very least, renegotiate the plan because he thinks it's "one-sided." Each participating nation has agreed to work toward limiting the average global temperature rise to 2 degrees Celsius above preindustrial levels, and to submit detailed plans for how it will meet the goals of the pact.
The billionaire vowed to stop all payments of the U.S. tax dollars to United Nations global warming programs. The issue is controversial for him: He long has called global warming a "hoax," but recently was outed trying to persuade government officials in Ireland to allow him to build a seawall to protect his golf courses from the effects of global warming.
"To those living in fear, I say, help is coming, it's coming soon. A Trump administration will return law and order to America," he told the Williston Basin Petroleum Conference crowd on Thursday.
Tom Steyer of NextGen Climate, a San Francisco-based environmental advocacy organization, said Trump's policies would accelerate climate change, protect corporate polluters and block transition to clean energy. And Greenpeace Executive Director Annie Leonard said Trump's comments indicate he's "another fossil fuel shill."
"These proposed policies are nothing but out-of-touch love letters to the oil and gas industry. America needs a president who takes the climate crisis seriously, not someone who can only do what big business tells him to do," Leonard said Thursday. "Trump continues to reveal himself to be a shallow hoax on the American people."