Trump Campaign Official Argues President's Broken Promises Make a 'Great Platform' for 2020
Donald Trump's 2020 campaign director of strategic communications Marc Lotter insisted that the president's failure to fulfill several key promises to voters actually "makes a great platform" for his re-election.
Lotter spoke to CNN's John Berman on Tuesday morning during the network's New Day program. Berman confronted the Trump campaign official with several of the president's 2016 campaign promises that have not been fulfilled, questioning how that squares with the 2020 campaign's slogan "promises made, promises kept."
"All I'm getting at here is you're saying 'promises kept' and I was talking about the debt, eight years erased, that hasn't been kept. Repeal and replace Obamacare, that was a promise made, not kept yet," Berman pointed out. "Correct?"
But Lotter argued this was actually positive going into the 2020 election.
"In a way, that makes a great platform for the president's 2020 campaign to make sure that we can continue to work on those things that he has done," he argued. "It's been a great two and a half years, and we're looking forward to another four more years..."
Earlier in the interview, Berman had gone into more detail about Trump's unkept promises. He pointed out that the president had promised to get rid of the national debt but it has actually increased substantially since he took office. "The national debt has risen from $19.9 trillion to $22 trillion. The deficits up nearly 40 percent," he said.
While Lotter admitted that "it's something that continues to need to be worked on," he tried to blame Democrats in Congress for blocking the Trump administration's efforts to address fiscal concerns. But Berman pointed out that Republicans controlled the House of Representatives and the Senate for the first two years of Trump's presidency.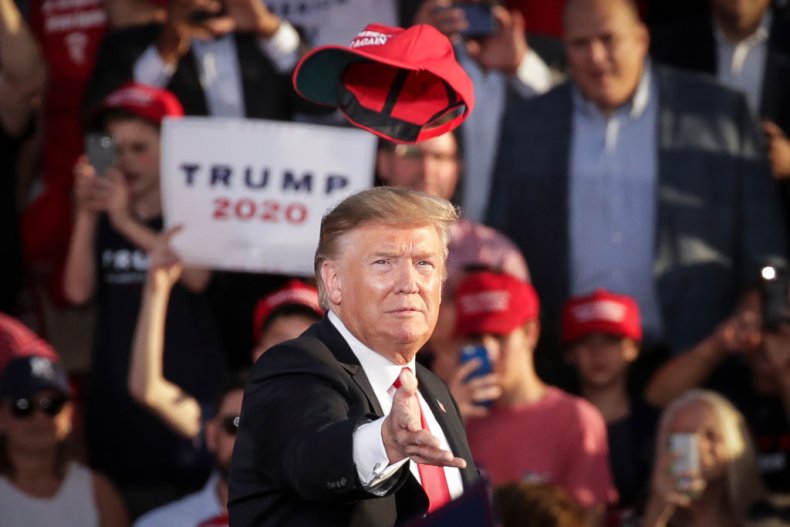 As Berman highlighted, the federal deficit increased by 38 percent in the first seven months of the 2019 fiscal year, which began on October 1. Meanwhile, tax revenues have plummeted as a result of Trump and Republicans' $1.5 trillion tax cut, which primarily benefited the wealthiest Americans and large corporations. Currently, the Congressional Budget Office estimates that tax cuts and interest on the debt will cost upwards of $1.9 trillion over the next 10 years.
Although Republicans and the president insisted that the tax cuts would pay for themselves, promised economic growth and revenues have yet to materialize. While many conservatives insist that the benefits will simply take time to materialize, leading economists have raised concerns about the possibility of a pending economic recession.
Trump Campaign Official Argues President's Broken Promises Make a 'Great Platform' for 2020 | U.S.