Donald Trump Promises U.S. Will be 'Open for Business' Soon, 'This Country Wasn't Built to be Shut Down'
President Donald Trump said Monday during a White House coronavirus task force meeting that American businesses should be back up and going in a shorter time span than originally indicated.
"Once the medical community gives a region the okay meaning the okay to get going, to get back, let's go to work," Trump said. "Our country wasn't built to be shut down. This is not a country that was built for this. It was not built to be shut down."
"I'm not looking at months, I'll tell you that," Trump added later. "We can't keep it closed for years, okay? [Coronavirus] is going away."
Trump's comments came as the Senate attempts to finalize an economic stimulus package that will aid Americans who have been laid off because of coronavirus.
"Congress must demonstrate the same bipartisanship again and join together and pass the Senate bill as written and avoid playing any more partisan games," Trump said. "They have to get together and just stop with the partisan politics. It must go quickly. They don't really have a choice. They must make a deal. This should not be a time for political agendas but rather a time for focusing solely and squarely on the needs of the American people."
"There is no final bill yet," Senate Minority Leader Chuck Schumer's office told Newsweek Monday. "Negotiations continue."
Trump's administration has been touting a 15-day program to help prevent the spread of coronavirus, telling reporters that the White House would look at easing some restrictions at the end of the 15-day timeframe.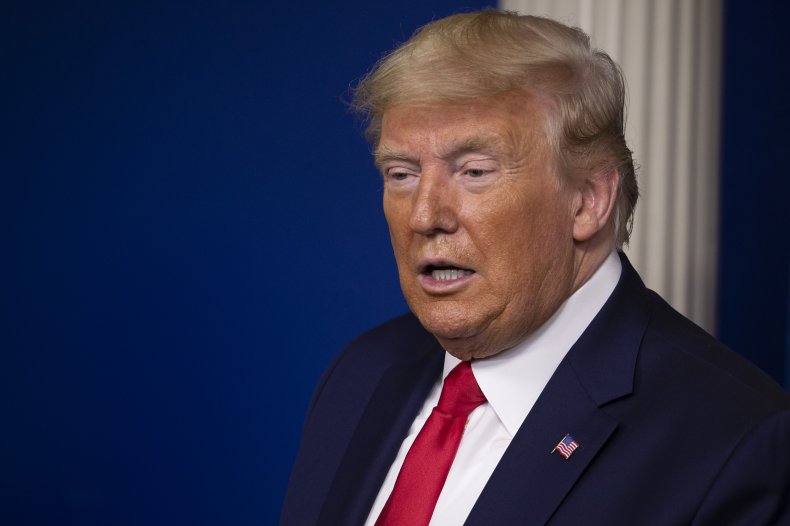 Known as the "15 Days to Slow the Spread" initiative, the administration had advised working or schooling from home when possible, avoiding social groups of more than 10 people and refraining from discretionary travel.
"At the end of the 15-day period we will make a decision as to which way we want to go, where we want to go, the timing, and essentially we're referring to the timing of essentially the opening of our country because we have it pretty well shut down in order to get rid of this invisible enemy," Trump said.
However, no definite timeline was provided for the relaxing of guidelines was provided by President Trump.
"If you had a viable business in January we are committed to ensuring the same is true in the coming weeks," Trump said. "In fact we want to make it even better than it was before. We are doing things to help in that regard America will again and soon be open for business, a lot sooner than the three or four months that somebody was suggesting. We cannot let the cure be worse than the problem itself."
U.S. Attorney General William Barr also spoke at the briefing about new regulations enacted under the Defense Protection Act to prevent hoarding and price gouging of medical supplies. Barr said authorities had already received evidence that some important medical items were already being collected to the point where the supply chain was impacted.
"We're not talking about consumers or businesses stockpiling supplies for their own operation," Barr said, but issued a warning to those hoarding these supplies on an "industrial scale."
"If you have a big supply of toilet paper in your house, this is not something you have to worry about," Barr said. "But if are sitting on a warehouse with surgical masks, you will be hearing a knock on your door."