Donald Trump Claims 'There Are Many, Many Protests in My Favor' As Thousands Take to Streets to Oppose U.K. Visit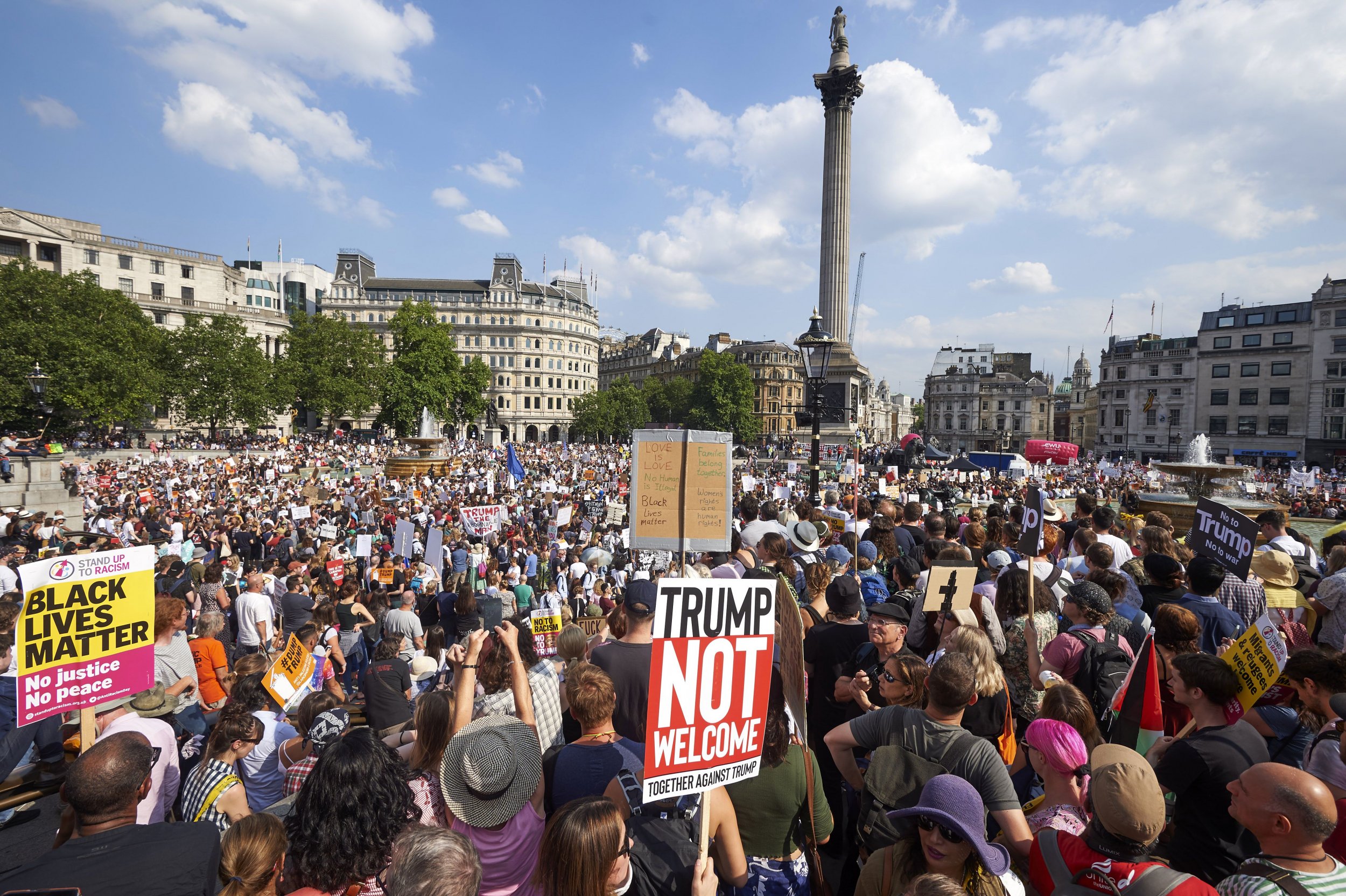 President Donald Trump claimed without evidence that amid the tens of thousands of people protesting against his visit across the United Kingdom, many were protesting in his favor. Trump's first visit to the U.K. as president has proved widely unpopular with a quarter of a million people, according to organizers, taking to the streets in London on Friday to speak out against his policies and rhetoric.
But speaking to Daily Mail columnist Piers Morgan aboard Air Force One on Friday, Trump claimed that many of those were voicing their support for him.
"Some of them are protesting in my favor, you know that?" Trump said. "There are many, many protests in my favor."
There appears no evidence to back up that claim. While there was a small pro-Trump rally that took place in London on Saturday, that was after his interview with the Daily Mail. The rally joined forces with a march in favor of jailed far-right, anti-Muslim activist Tommy Robinson. Two people were arrested during the march.
In contrast, those who took to the streets Friday held signs aloft accusing Trump of racist and sexist policies. Leading the protest in England's capital was a 20-foot inflatable "Trump baby" blimp, depicting an angry president in a diaper."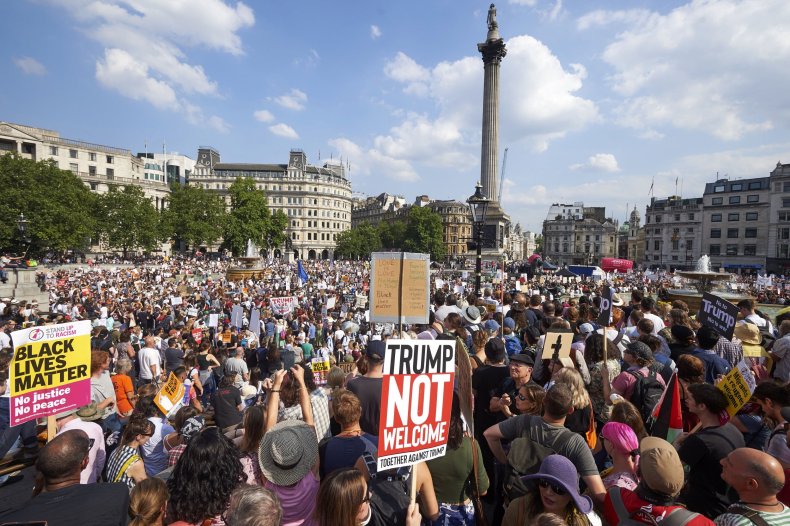 On Saturday, the blimp followed Trump to Scotland where thousands more protesters took to the streets in Edinburgh. Trump was in Scotland to visit his Trump Turnberry golf course.
A poll released as Trump arrived in the United Kingdom Thursday indicated just how unpopular he is in the country. Seventy-seven percent of respondents to a YouGov poll for ITV said they had an unfavorable view of Trump, with just 17 percent voicing a favorable opinion. What's more, nearly half of the British public polled said Trump should not meet with the Queen.
While Trump did meet with the Queen on Saturday, his visit has done little to repair his negative image in the U.K. At the same time as he was dining with British Prime Minister Theresa May on Friday night, an interview the president had conducted with The Sun was released in which he criticized May's "soft Brexit" deal and said it could "kill" any prospect of a trade deal with the United States.
Trump later attempted to walk back his comments during a joint press conference with May the following morning.
"I just think it's really their choice," Trump told the Daily Mail. "And if you speak to the Prime Minister, she's really saying: "No, it is Brexit, it is what it was, but we're leaving certain things."
On the prospects of a trade deal collapsing, he added: "I think it's worse for U.K. than it is for us because we're doing very well, and we're doing very well at trade, and we're doing incredibly well overall, and we're having the best numbers we've ever had as a country —best employment numbers, best GDP numbers."
Donald Trump Claims 'There Are Many, Many Protests in My Favor' As Thousands Take to Streets to Oppose U.K. Visit | U.S.