In These Uncertain Times, We Need Young Leaders to Right the World's Wrongs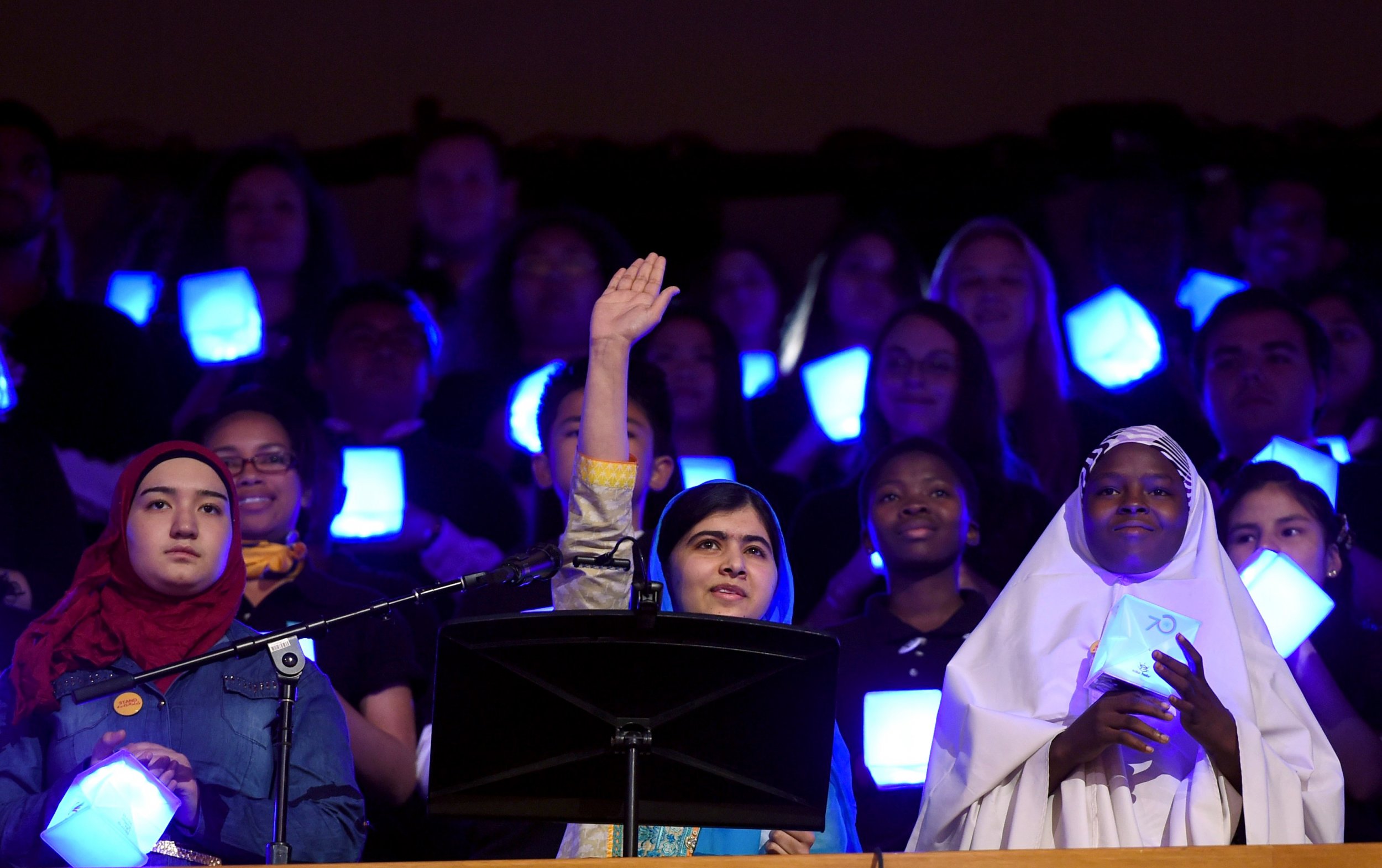 Since Donald Trump became president, the world's pavements haven't had much respite. Across dozens of countries, people have taken to the streets in their thousands to stand up for their rights and their rights of others.
On January 21, the day after Trump's inauguration, the Women's March on Washington was the biggest in U.S. history, with solidarity protests spinning out around the world and lending power to the cause.
A third of people who took to the streets in Washington were first-time protesters, according to estimates by a University of Maryland professor. For many young people, this is the first time they realized their rights are at risk.
This month has been a wake-up call: This isn't the world many of today's young people thought they were getting. We were hopeful that this generation would see borders continue to diminish, not increase. That we would see more international unions made, not dismantled, that our children's generation would see the birth of the genuinely global citizen.
Read more: the brief, radical history of the 'refugees are welcome here' poster
I believed this generation of young people would see women across the world equally remunerated, respected and represented in boardrooms and in governments. I certainly believed we'd seen the end of towering concrete walls dividing communities. I grew up in apartheid South Africa—I thought racially divisive laws were a relic of the past.
The events of the last month have shaken those beliefs, and that vision of the world may seem to be beyond our reach.
It's easy to feel despondent—but that would be dangerous. It would be better to protest, while understanding that anger on our part is the wrong response. I refuse to be cast as a kind of angry villain—by Nigel Farage, White House advisors or anyone else.
The people who voted for Brexit or for Trump are not my enemies and I am not their enemy. I reject anyone and anything that divides me from other people—I am passionate about being one among millions of "we the people." The Brexiteer is a person just like me; so is the Trump supporter. I am one of them, a practicing Catholic, and I look to Muslims everywhere and embrace the fact that they are my family and I am one of them.
I am sick to my soul of leaders and would-be leaders screaming anger at me, at us. I don't care who they are, I am not turning away from my fellow human beings. In the immortal words of Antoine Leiris who lost his wife in the Paris terrorist attacks of November 2015: "You will not have my anger. I will not be angry at fellow man."
However I feel, whatever I think, I will not respond in anger. It's the wrong response and it is exactly what leaders of evil intent are trying to do, to make us angry to divide us from one another.
For the last eight years, as co-founder of One Young World, I have had the privilege of working with thousands of young leaders from 196 countries. These people are throwing all their might at tackling the issues they know threaten the future of the world they want to live in—from climate change, to violent extremism and homophobia.
Their generation does not have it easy. But for all the gloom and doom, there are already many hundreds of young leaders forging new ways to bring progress to all.
But all young people have the ability to play a role in change. I have a simple message for young people: There is work to do. The time for shock and disappointment is over, now is the time to act.
Attending peaceful protests is step one. We must recognize the risks we face, raise our voice, and reach out to all people.
We know it can work. Throughout history, we have seen mass protests bring about sweeping change. From Mahatma Gandhi's Salt March in 1930, to the Civil Rights protests and the Vietnam War rallies in the U.S.; demonstrations have a vital role to play in effecting change.
But in order for protest to work, protesters must not alienate their perceived opponents. They must acknowledge the people. All people. Gandhi and King and Mandela didn't react in anger, they led in peace. Whatever Mandela's jailers threw at him, he reached out to them; he broke them with his dignity and his love for them as human beings.
If step one is protest, step two is about getting out into our communities, committing our time to making change on a small-scale right now. It means working to support the causes that our government is ignoring and encouraging our networks to join us.
Organizations like Indivisible Guide are already springing up in the U.S., providing people with guidance on how to fight for the issues they care about. From organizing and running local groups to using social media to promote your cause, it is based on an acknowledgment that change will come in small steps.
Young people have a pivotal role to play in sparking the new movements that will precipitate positive change—and in seeing them through.
It's not a surprise that people in their twenties have invented imaginative and powerful businesses. The likes of Airbnb and Facebook sprang from minds that hadn't yet been conditioned to the business as usual approach of their seniors. That's the kind of thinking we need. This world is in desperate need of fresh, uninhibited thinkers who are capable of approaching old problems with new ideas.
I hope this generation takes the firepower it needs from these marches, and walks it straight into their local constituencies, to the ballot boxes, and into classrooms and boardrooms all over the world.
For it's what comes after the heroic groundswell of chanting and crowds that matters. The change humanity needs and wants will come but we must ensure that it does with peace and dignity. We are more than a seething emotion; we are better than anger—we are the people.
Kate Robertson is the co-founder of One Young World, the global forum for young leaders.