Ex-CIA Head Says Donald Trump Committed 'Treasonous,' Impeachable Offense During Putin Press Conference
Former CIA Director John Brennan said Monday that President Donald Trump's comments during his press conference with Vladimir Putin amounted to a "treasonous," impeachable offense.
"Donald Trump's press conference performance in Helsinki rises to & exceeds the threshold of "high crimes & misdemeanors," Brennan, a frequent critic of Trump, tweeted toward the end of the joint appearance by the leaders of the United States and Russia. "It was nothing short of treasonous. Not only were Trump's comments imbecilic, he is wholly in the pocket of Putin. Republican Patriots: Where are you???"
During the press conference in Helsinki, Finland, which followed one-on-one and expanded bilateral meetings, Trump repeatedly refused to criticize Putin or Russia over its interference in the 2016 presidential election. In one instance, Trump said, "I don't see any reason why" Russia would have interfered in the election.
In doing so, Trump suggested he believed Putin's denials over the unanimous findings of his own intelligence community and his Justice Department.
Later on CNN, Brennan said he was "at a loss for words" in trying to describe just "how outrageous" Trump's performance had been.
While appearing alongside Putin, Trump bragged about his election victory over Hillary Clinton, discussed the Electoral College and depicted the investigation into Russian interference as an attempt by Democrats to find an excuse for their defeat.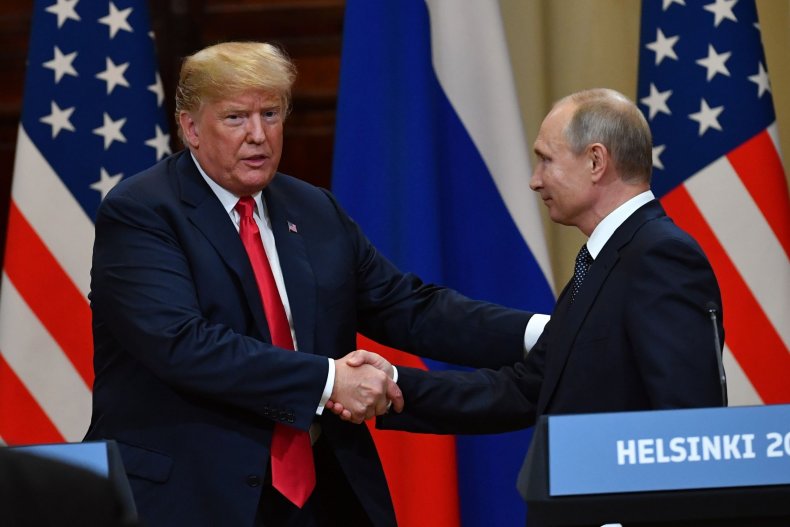 Brennan was far from the only figure to slam Trump's performance, with even members of the president's own party speaking out.
"I never thought I would see the day when our American President would stand on the stage with the Russian President and place blame on the United States for Russian aggression," tweeted outgoing Senator Jeff Flake, an Arizona Republican. "This is shameful."
Republican Senator Lindsey Graham of South Carolina said: "Missed opportunity by President Trump to firmly hold Russia accountable for 2016 meddling and deliver a strong warning regarding future elections. This answer by President Trump will be seen by Russia as a sign of weakness and create far more problems than it solves."
Amid Trump's refusal to criticize him, Putin even suggested, once again, forming a joint task force with the United States on cybersecurity. He also said that special counsel Robert Mueller's team was welcome to come to Russia to question those who have been accused of hacking Hillary Clinton's campaign and the Democratic National Committee.