With Donald Trump, Queen Elizabeth II Has Now Met 13 U.S. Presidents Since 1951
On Tuesday, when President Donald Trump ventured to Windsor Castle for tea as part of his first official state visit to the United Kingdom, he became the 13th United States president to meet with Queen Elizabeth II since 1951. Newsweek took a look at the 12 other presidents to have met the queen, dating back to when she was only a princess. Each meeting had a unique characteristic. One president accidentally kissed Queen Elizabeth, her mother, on the lips and another gave Queen Elizabeth II an iPod.
1951: President Harry Truman
The queen didn't begin her reign until 1952, but she stepped in for her father, King George VI, who was in declining health, for a 1951 state visit to the United States. Princess Elizabeth met with President Harry Truman and his wife, first lady Bess Truman. Prince Elizabeth and her husband, Prince Philip, stayed with the Trumans at Blair House, according to the White House Historical Association.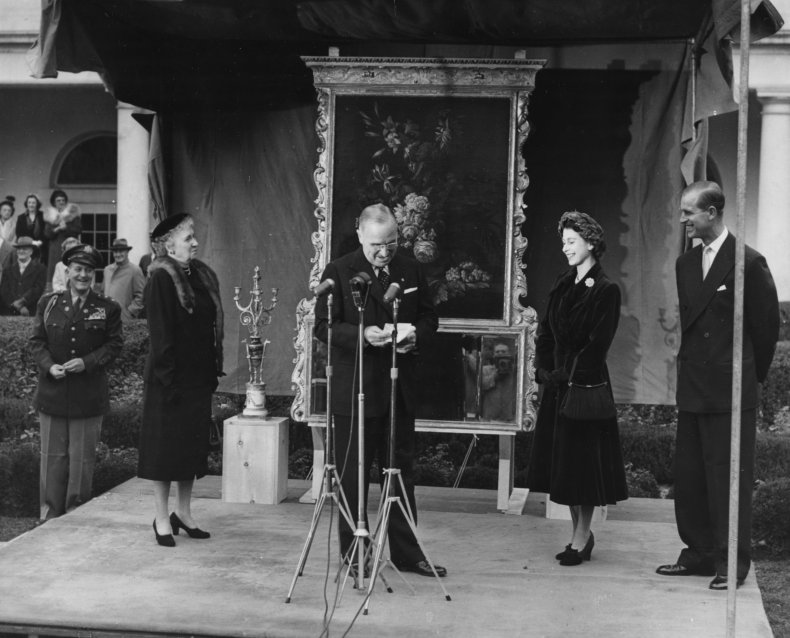 Fun fact: Truman was the only president that the queen met in an official diplomatic capacity when she was a princess.
1957: President Dwight Eisenhower
President Dwight Eisenhower hosted Queen Elizabeth II's first state visit to the United States since her coronation in 1957. She then returned the favor in 1959 when she hosted him as a guest at Balmoral, the royal estate in Scotland, according to BBC America.
"Seeing a picture of you in today's newspaper standing in front of a barbecue grilling quail, reminded me that I had never sent you the recipe of the drop scones which I promised you at Balmoral. I now hasten to do so," the queen wrote to Eisenhower in a letter obtained by BBC America. "We remember with such pleasure your visit to Balmoral, and I hope the photographs will be a reminder of the very happy day you spent with us."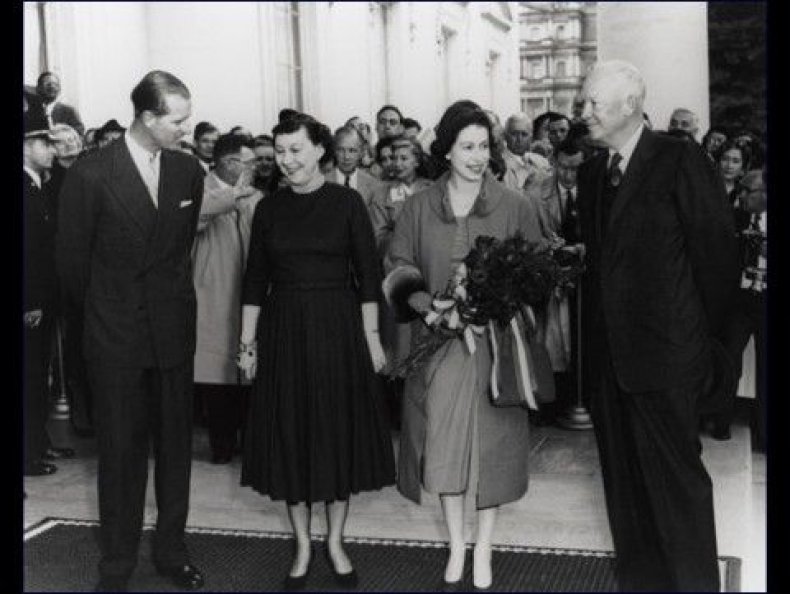 Fun fact: Eisenhower served as Supreme Allied Commander in London and had developed a friendship with the queen when she was still a princess, as well as her parents.
1957: President Herbert Hoover
Former President Herbert Hoover's time in office had already been over for 24 years by the time he and the queen crossed paths. One stop on the queen's royal tour of the United States was a luncheon at New York's Waldorf Astoria, where she gave a speech, according to CNN, and Hoover was seated next to her.
Fun fact: During this visit to America, the queen saw Jamestown, Virginia, the first American settlement.
1961: President John F. Kennedy
During her meeting with President John F. Kennedy and first lady Jackie Kennedy, the queen threw a banquet in their honor, which Kennedy recounted in a birthday note to the monarch.
"May I also at the same time say how grateful my wife and I are for the cordial hospitality offered to us by your Majesty and Prince Philip during our visit to London last Monday," he wrote, according to Southern Living. "We shall always cherish the memory of that delightful evening."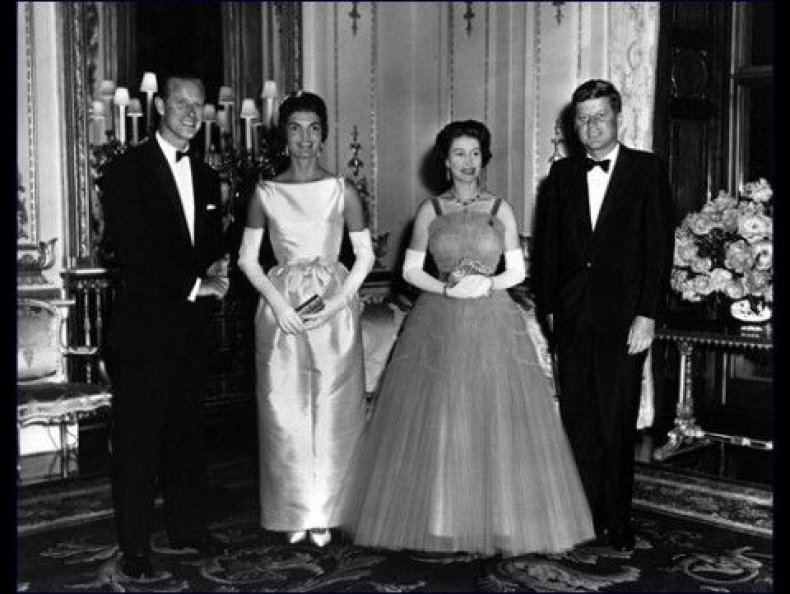 Fun fact: Photographer Cecil Beaton wrote in his diary that Jackie Kennedy told him that she was unimpressed by Buckingham Palace and Queen Elizabeth's dress and hairstyle, according to The Telegraph.
1969: President Richard Nixon
In 1969, President Richard Nixon received a tour of Buckingham Palace from the queen and Prince Philip, according to the Richard Nixon Presidential Library and Museum. In October 1970, first lady Pat Nixon and the president visited with the queen and Prime Minister Edward Heath at Chequers.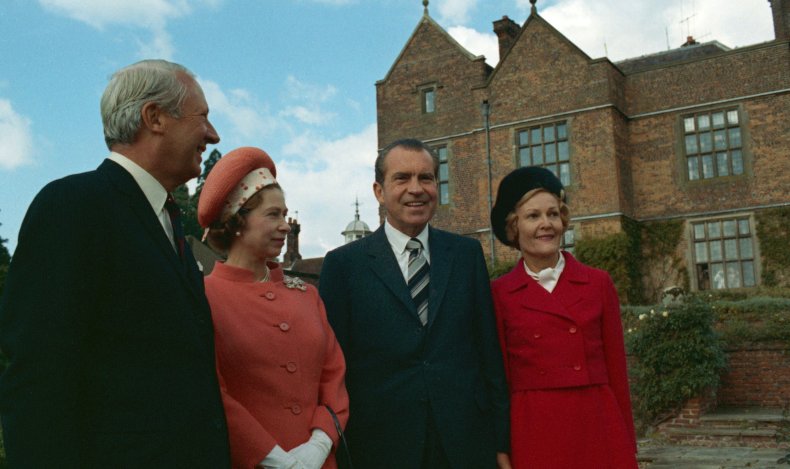 Fun fact: Prince Charles and Princess Anne visited the Nixons at the White House in 1970 before the president and first lady came to England.
1976: President Gerald Ford
President Gerald Ford and first lady Betty Ford hosted the queen and Prince Philip at the White House for a state dinner in July 1976. The celebration was to commemorate the bicentennial of the American Revolution, according to the Gerald R. Ford Library and Museum.
Betty Ford wrote in her memoir that a tent was erected for the queen's dinner because of the number of events. Using the tent allowed the events to carry on without having to close the White House to the public for a large portion of the summer.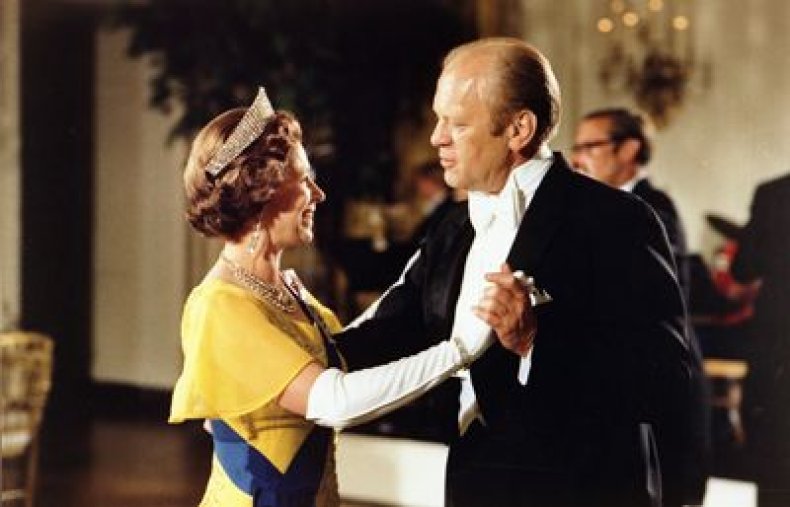 Fun fact: An hour and a half before the queen's dinner, there was a sudden downpour and three trees on the White House's property were struck by lightning.
1977: President Jimmy Carter
The queen hosted President Jimmy Carter at Buckingham Palace in 1977 for a dinner with North Atlantic Treaty Organization (NATO) leaders. The two had previously met the year before when the queen was in Washington, D.C. for the bicentennial when Ford was in office.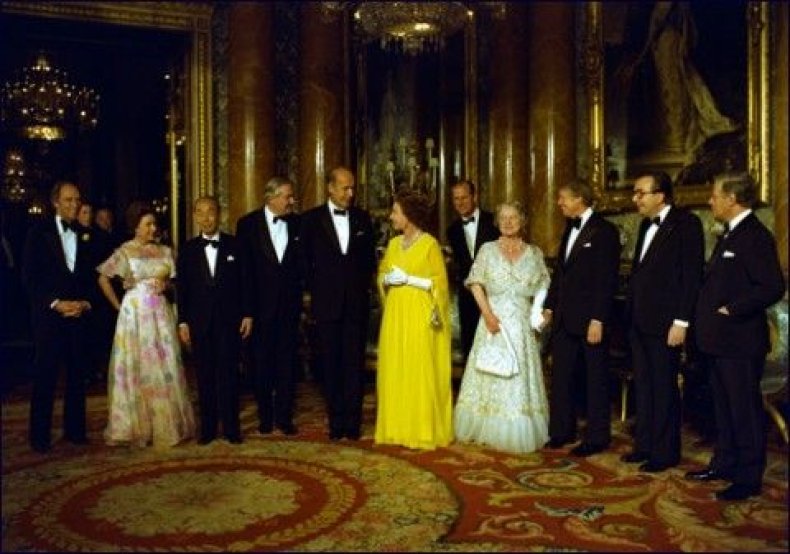 Fun fact: During the visit, Carter kissed the Queen Mother, Elizabeth II's mom, on the lips, according to BBC America.
1980: President Ronald Reagan
During his term in office, Reagan and the queen met on numerous occasions, beginning in 1980, according to BBC America. Reagan also greeted the queen in Santa Barbara, California. Over the next few days, the two bonded, and along with her husband, the queen even celebrated the Reagans' 31st wedding anniversary together, according to the Ronald Reagan Presidential Library and Museum.
Following his time in office, in 1989, Reagan was made an Honorary Knight Grand Cross of the Most Honorable Order of the Bath, the highest honor Britain gives to Americans.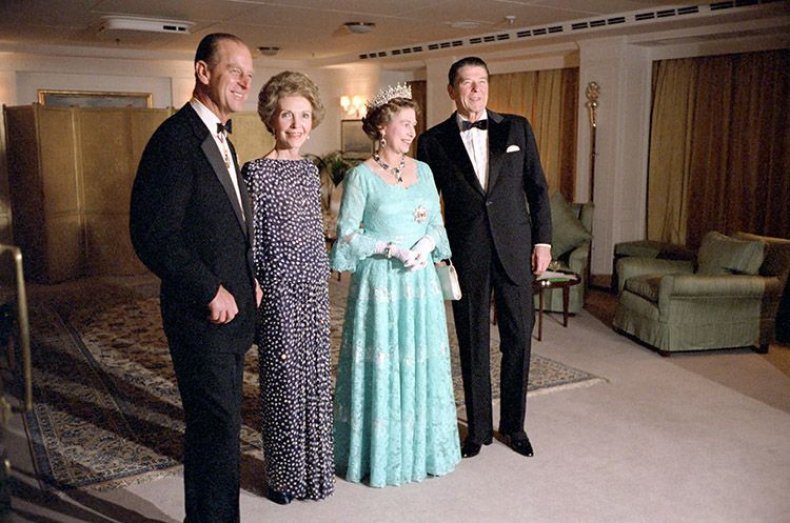 Fun fact: The Reagans were the first presidential couple to be invited to stay overnight at Windsor Castle, in 1982.
1991: President George H.W. Bush
In 1991, President George H.W. Bush and first lady Barbara Bush hosted the queen and prince at the White House for a state arrival ceremony and dinner.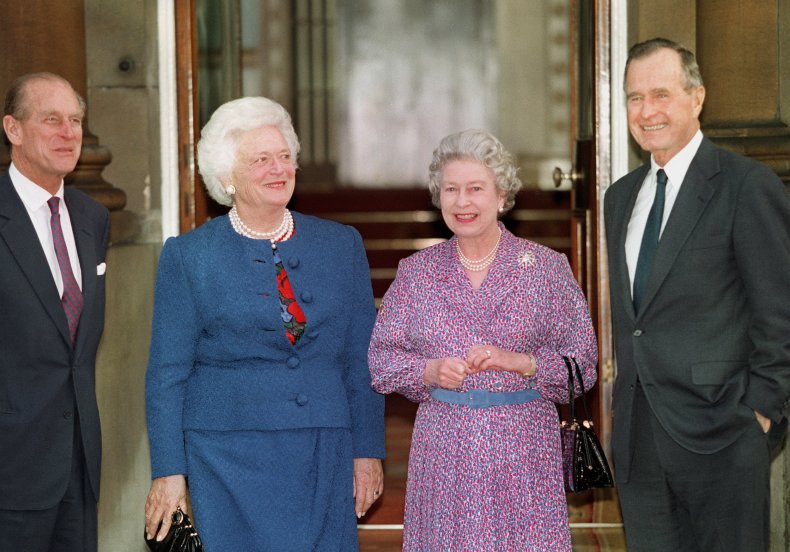 Fun fact: Together, they planted a linden tree to replace one that was planted in 1937 to honor the ascension of Elizabeth II's father, King George VI, but the tree was felled during a storm, according to the White House Historical Association.
1994: President Bill Clinton
President Bill Clinton first met the queen at a banquet held in England in honor of the 50th anniversary of World War II's D-Day, according to Reuters. The president, first lady Hillary Clinton and first daughter Chelsea Clinton also traveled to England in 2000 and visited Buckingham Palace.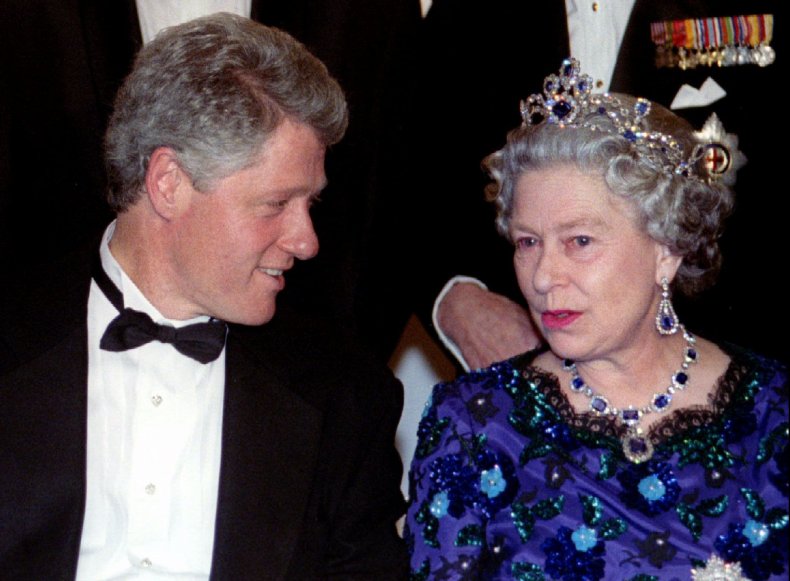 Fun fact: In his autobiography, Clinton wrote that he thought the queen would have been a successful politician or diplomat if she wasn't born into royalty.
2003: President George W. Bush
President George W. Bush traveled to England in 2003 for a state visit, which included a state banquet. During his trip to London, he also met with Prime Minister Tony Blair, and the two ventured to a pub together. Bush also hosted the queen in Washington, D.C., in 2007. During his speech he pointed to the two nations' joint efforts to combat global terrorism.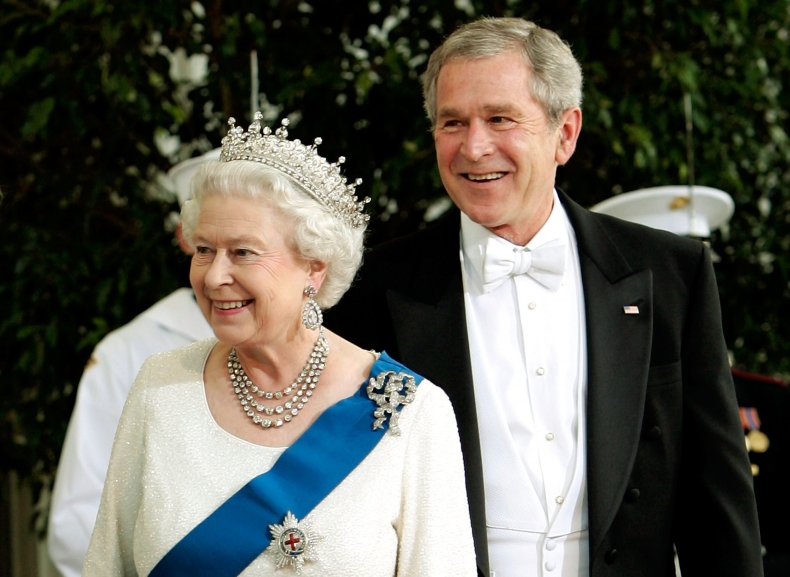 Fun fact: When her son, Prince Charles, visited the president and first lady, he joked that they shouldn't try to set up then first daughters Jenna and Barbara with his sons, Princes William and Harry, according to BBC America.
2009: President Barack Obama
While in London for the G-20 summit, President Barack Obama met with the queen and gave her an iPod that contained videos and photos of her visits to America, as well as songs, according to The New York Times.
The president and his wife, first lady Michelle Obama, visited England on another occasion for a state dinner. They reciprocated by holding a state dinner on U.S. soil.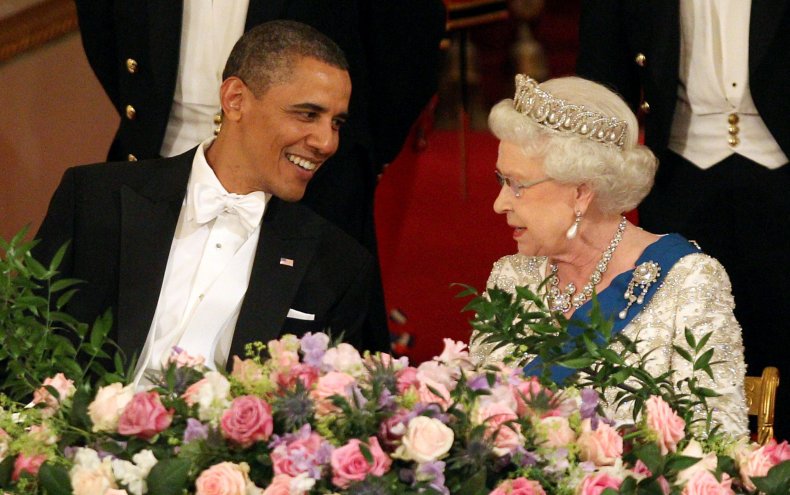 Fun fact: Former Obama national security adviser Ben Rhodes said the president compared the queen to his grandmother because the two are both "courteous," "straightforward" and don't "suffer fools," according to People.
2018: President Donald Trump
In July, President Donald Trump traveled to the United Kingdom following a NATO summit. During his visit to England, he met the queen, whom he said has a "great and beautiful grace about her."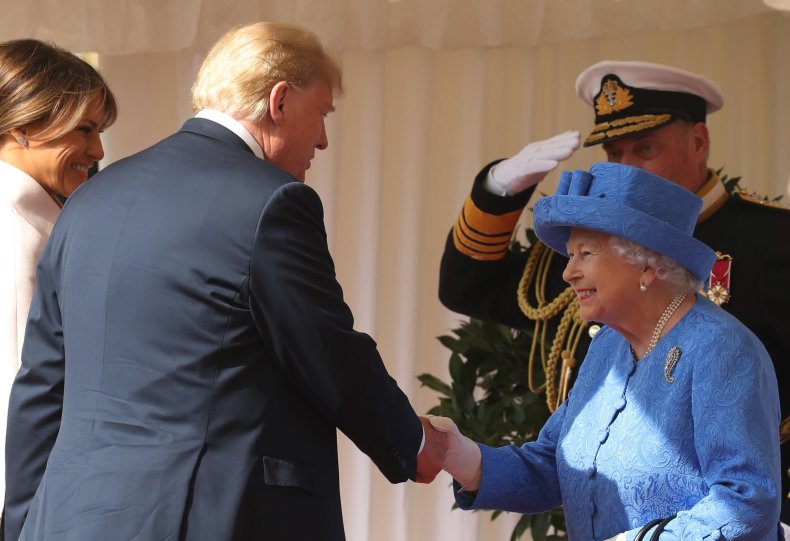 Correction: A previous version of this story said that Donald Trump and the Queen met at Buckingham Palace. This error has been corrected.