Donald Trump Questions Barack Obama Being 'Handsome' and a 'Good Speaker' at PA Rally
President Donald Trump incorporated a handful of critical remarks about former President Barack Obama into his comments during a rally in Lititz, Pennsylvania, on Monday afternoon. Seeming to reference Obama's recent drive-in rallies, hosted to support Democratic presidential nominee Joe Biden's campaign, Trump claimed the events drew few attendees before focusing his comments on Obama's rhetorical capabilities and personal appearance.
"You know how many people he's drawing at these rallies? Like, he's drawing flies. 20, 30, 40 [people]. Not quite this crowd," Trump said. "Oh, did you see the other day? Did you see the other day, Mr. Congressman? He had 41 people, but the press never shows that. They show him speaking."
"And he gets up, and then they say, 'Oh, he's so rhetorically good,'" the president continued. "I never thought he was a good speaker, personally, I really never did. Then, they say, 'He's so handsome. He's so handsome.' Oh, OK. Alright.'"
Trump spent a large portion of his remarks criticizing Biden during Monday's campaign rally. Similar to claims made to a crowd of attendees at an event held in Allentown earlier Monday afternoon, the president insisted his Democratic opponent's proposed environmental policies would damage Pennsylvania's economy. Both Trump and Biden are prioritizing campaign efforts in Pennsylvania, a swing state with 20 electoral votes, in the final stretch of this election season.
Obama, a former U.S. senator and president whose eight years in office preceded Trump's election in 2016, has become an ally to Biden's current presidential bid. Obama endorsed Biden's candidacy early during the Democratic nominee's campaign trail, and spoke at the Democratic National Convention (DNC) this past August, when Biden officially accepted the party's nomination. Last week, Obama hosted his first in-person event supporting Biden, who served as vice president during his two terms in the White House.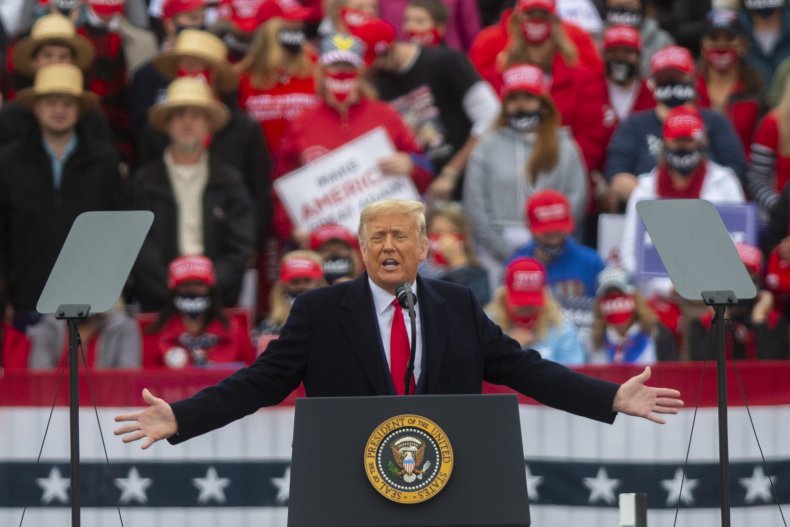 The drive-in campaign event took place in Philadelphia, where Obama delivered a speech that praised Biden and Democratic vice presidential nominee Kamala Harris, and condemned Trump's ideologies, policy positions and interpersonal conduct. At another rally, which took place on Saturday in Miami, Obama reiterated widely-held criticisms of the Trump administration's response to COVID-19, as well as its stance on the economy.
Obama voiced additional criticisms of his presidential successor during remarks at the summer's DNC, and he continues to highlight the ways in which Trump resuming office after the upcoming election could harm the American people. The former president's most recent tweet focused on Trump's efforts to repeal the Affordable Care Act (ACA), which initially passed under the Obama administration in 2010. The Supreme Court is due to hear oral arguments for cases that could threaten the future of the ACA shortly after Election Day.
Newsweek reached out to Trump's campaign for further comment but did not receive a reply in time for publication.