Donald Trump Is an "Idiot" and a "Liar," Americans Say in New Poll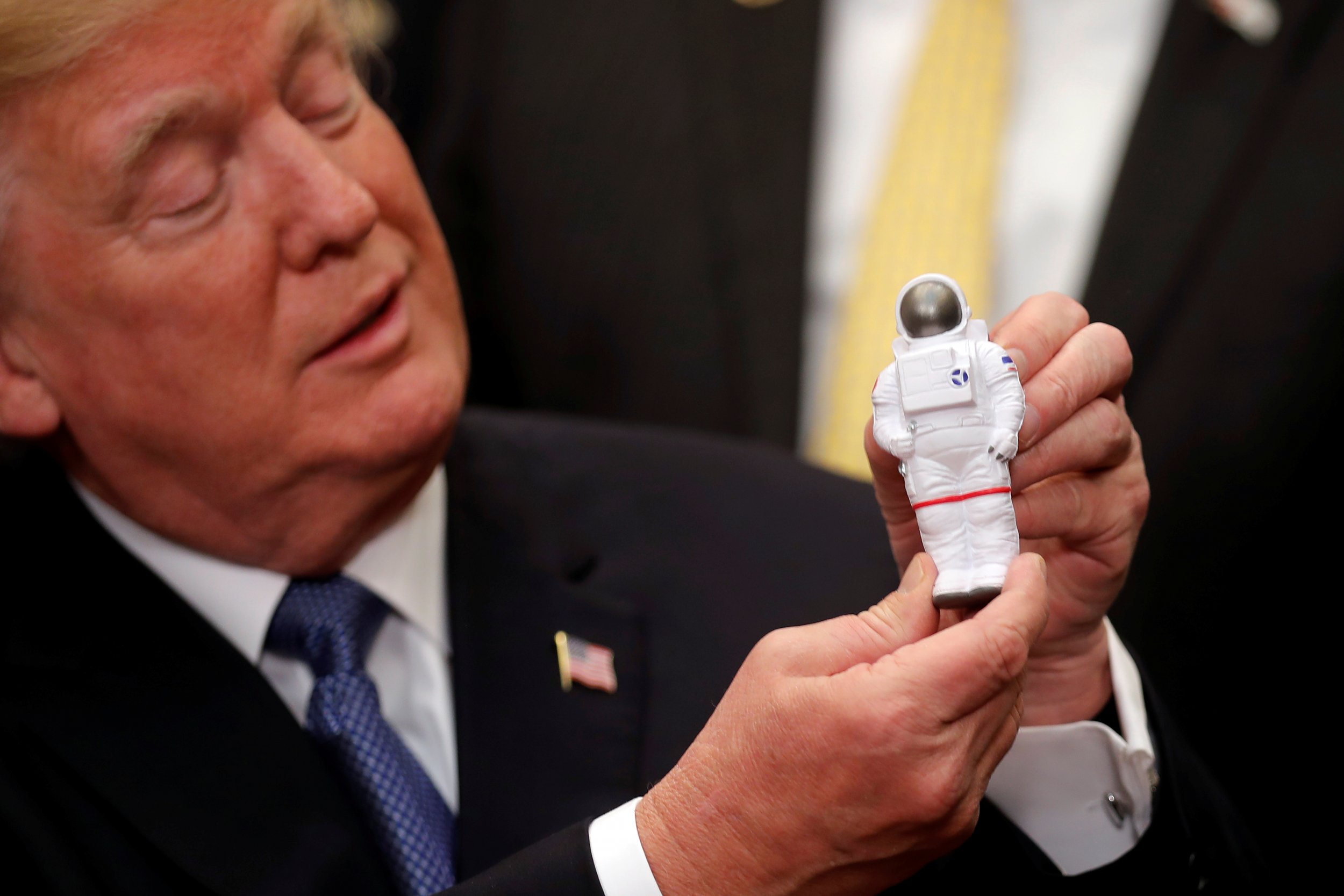 Americans aren't damning President Donald Trump with faint praise, according to a new poll: They're mostly just damning him.
When asked for the first word that pops into their head when they think of the commander-in-chief, U.S. voters gave such glowing descriptors as "idiot," "liar" and "a**hole," according to a new Quinnipiac University survey out Tuesday.
In an open-ended question, Quinnipiac asked respondents over the phone, "What is the first word that comes to mind when you think of President Trump?" A total of 53 people responded with the word "idiot, 44 with "liar" and 36 with "incompetent." Another 26 people gave the response "a**hole," while 19 respondents said "moron," 18 said "arrogant" and 17 said "disgusting."
"President Donald Trump is known for hurling insults, and he's getting slammed right back. 'Idiot' is just one of a string of insults thrown his way by American voters," said Tim Malloy, Quinnipiac University Poll assistant director, in a release about the poll, which echoed the results of a similar survey conducted in May.
Other words the pollsters heard more infrequently about Trump—at least five times each—included "businessman," "jerk," "powerful" and "evil."
To be fair, it wasn't all bad news for Trump, although voters polled by Quinnipiac said they disapproved of the job he's doing by a margin of 57 percent to 37 percent. In the open-ended question about impressions of the first-year president, 35 respondents gave pollsters the word "leader" and the same number picked "strong," while 21 answered "great."
"Of the 48 words used by five or more voters, 30 words are negative," Quinnipiac said in announcing the results.
Trump's highest approval rating, Quinnipiac said, dates back to his 42 percent showing in February, immediately after his inauguration.
American voters also had a dark view of Trump when it comes to the lingering investigation of Russian influence on U.S. politics: Some 57 percent of those polled by Quinnipiac said Trump has tried to "derail or obstruct the investigation into the Russian interference in the 2016 election."
More than half, or 52 percent, said the Trump campaign colluded with the Russian government. Just less than half, or 48 percent, said Trump did not collude with the Russian government to sway the outcome of the election.
Either way, a large majority (73 percent) of American voters believes Russia attempted to influence the 2016 U.S. presidential election. About 41 percent said that interference changed the outcome of the vote.
Quinnipiac released the results as Alabama voters went to the polls to choose a new senator, concluding a campaign that's been rocked by stunning accusations of sexual misconduct against Republican Roy Moore, Trump's anointed candidate.
About 63 percent of Quinnipiac respondents said they disapprove of Trump's support for Moore, and 60 percent said Moore should be expelled from the Senate if he defeats Democrat Doug Jones and wins election.
"American voters to their Alabama cousins: You may want to send Roy Moore to
Washington, but we think the U.S. Senate should send him right back to the Heart of Dixie," Malloy said. "And President Trump takes a big hit for supporting Moore."
Quinnipiac surveyed 1,211 voters nationwide from December 6 to December 11. The poll had a margin of error of plus or minus 3.5 percentage points.