Fox News Pulls Donald Trump's Anti-Immigrant Ad After CNN Calls It 'Racist'
Fox News has followed CNN and NBC by pulling a controversial and racially charged campaign advertisement from President Donald Trump that linked a convicted cop killer to a caravan of Central American migrants making its way toward the southern U.S. border.
"Upon further review, Fox News pulled the ad yesterday and it will not appear on either Fox News Channel or Fox Business Network," ad sales president Marianne Gambelli told CNN Monday.
The statement came hours after NBC said it would also no longer run the ad after the network received criticism when it appeared during its Sunday Night Football broadcast.
"After further review we recognize the insensitive nature of the ad and have decided to cease airing it across our properties as soon as possible," NBC Universal said in a statement.
CNN had become the first of the major networks to refuse to air the commercial.
"CNN has made it abundantly clear in its editorial coverage that this ad is racist," the network said on Twitter in response to a tweet from Donald Trump Jr. "When presented with an opportunity to be paid to take a version of this ad, we declined."
Also on Monday, Facebook announced that it, too, was banning the advertisement.
"This ad violates Facebook's advertising policy against sensational content, so we are rejecting it. While the video is allowed to be posted on Facebook, it cannot receive paid distribution," wrote a spokesperson for the company in an emailed statement to The Daily Beast.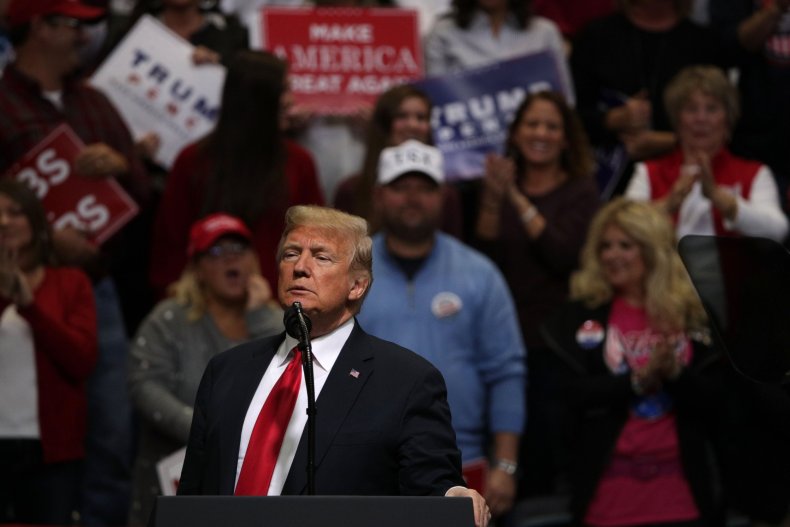 The ad was initially tweeted by the president last week as he continued to stoke fears about the caravan, which he has called an "invasion," ahead of Tuesday's midterm elections.
Depicted in the ad is Luis Bracamontes, an undocumented Mexican immigrant who was convicted of murdering two sheriff's deputies in Sacramento in 2014 and falsely claimed that Democrats "let him into our country." Bracamontes entered the country under Republican President George W. Bush.
Bracamontes's crimes were tied to the caravan, which Trump has repeatedly claimed, without offering any evidence, contained terrorists and other criminals. Trump has directed thousands of troops to the southern border, despite the caravan being hundreds of miles away from the U.S.-Mexico border. Leading Pentagon officials believe the troop deployment was a politically motivated stunt before the midterms, multiple Defense Department sources told Newsweek last week.