As part of an ongoing lawsuit against President Donald Trump's decision to end Temporary Protected Status (TPS) for hundreds of thousands of legal immigrants, lawyers said Wednesday that they issued subpoenas to obtain never-before-seen footage from The Apprentice that would prove the president has used racist slurs.
Attorneys from the group that first began the lawsuit against Trump in February, Lawyers' Committee for Civil Rights and Economic Justice, told Newsweek they believe footage could exist that would prove the president ended TPS for "racially discriminatory reasons."
"We already have ample evidence of the racial discrimination that's in the administration from the president's public statements, tweets and other documents from meetings that we know about," said Oren Nimni, an attorney for the Lawyers' Committee involved in the suit.
The subpoenas were sent to MGM Holdings and Trump Productions, the companies that produced The Apprentice. The news was first reported by Associated Press.
"We, of course, want to bolster that record to get the relief we need for our clients," Nimni said. "So, we're seeking The Apprentice tapes to bolster the claim that the president holds racially biased views and to help people with the claim that the president's view might have influenced the decision to end the immigration program."
TPS is an immigration program that has allowed hundreds of thousands of immigrants from countries facing natural disasters and armed conflicts to legally live and work in the U.S. Many of the immigrants have been in the country for years. The fate of more than 300,000 current TPS residents is in limbo after a federal judge halted the administration's decision to end the program. An end to the protected status would make the immigrants eligible for deportation.
Immigrants from El Salvador, Haiti, Honduras, Nepal, Nicaragua, Somalia, Sudan, South Sudan, Syria and Yemen can qualify for TPS. Nimni said their lawsuit against the Trump administration is on behalf of a group of Haitian, Honduran and Salvadorian immigrants.
Trump Productions, the entertainment wing of the Trump Organization, did not respond on Wednesday to Newsweek's request for comment or to clarify whether the company planned to comply with the subpoena. MGM did not return Newsweek's call requesting comment.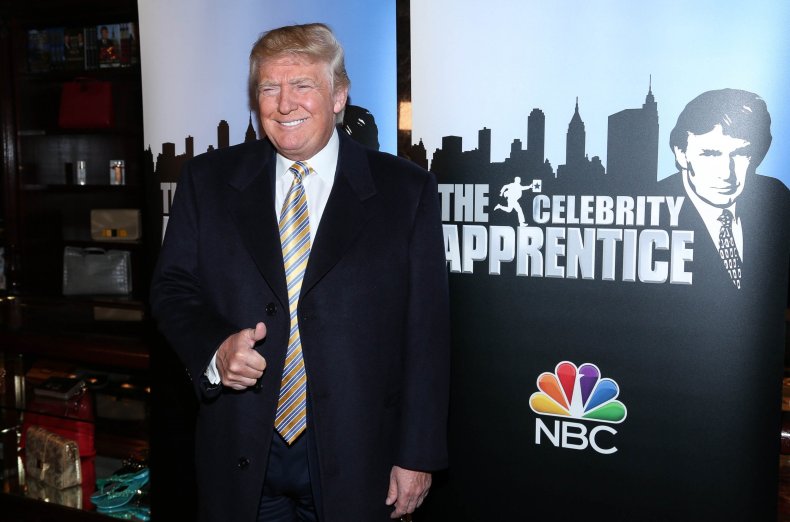 There has not been any concrete evidence to suggest such tapes containing racially charged remarks made during the show exist, but there have been some indicators that suggest such tapes are out there.
Omarosa Manigault Newman, a fired White House aide and former Apprentice contestant, claimed in a tell-all book in August that she had tapes of Trump using the N-word multiple times while filming his former reality TV show. Manigault Newman said the president "truly is a racist."
Manigault Newman has released some tapes that she secretly recorded during her conversations with Trump campaign advisers. In one tape made in October 2016, Manigault Newman could be heard discussing with Trump advisers what possible implications could arise from such tapes containing racial slurs being leaked to the public.
Trump has continued to say the claims are untrue, going so far as to have his campaign file for arbitration against Manigault Newman because it believed the former White House aide broke a nondisclosure agreement by discussing the inner workings of the administration. The president called Manigault Newman a "crazed, crying lowlife" and a "dog."
"There are NO TAPES of the Apprentice where I used such a terrible and disgusting word as attributed by Wacky and Deranged Omarosa," Trump tweeted in August. "I don't have that word in my vocabulary, and never have. She made it up."
In an Access Hollywood clip from 2005 that was leaked publicly leading up to the 2016 election, Trump could be heard bragging about groping women.
"There's been multiple comments by Omarosa and by [a producer]," Nimni said when asked about why he believes such tapes exist. "We felt that those comments were enough to think that these clips exist and to issue subpoena asking MGM and Trump Productions to search their records."
Nimni said that their lawsuit against the president was in the discovery phase, which was the reason for the timing of the subpoena. Nimni has not yet had any contact with either entertainment organization about the subpoena. A response is required by MGM and Trump Productions by December 13.
If the companies say they don't believe they need to search and produce such tapes, or can't because of other legal obligations, a legal battle will likely ensue.