Video: Donald Trump Rally Crowd in Pennsylvania Boos Fox News—'What's Going on With Fox, By the Way?'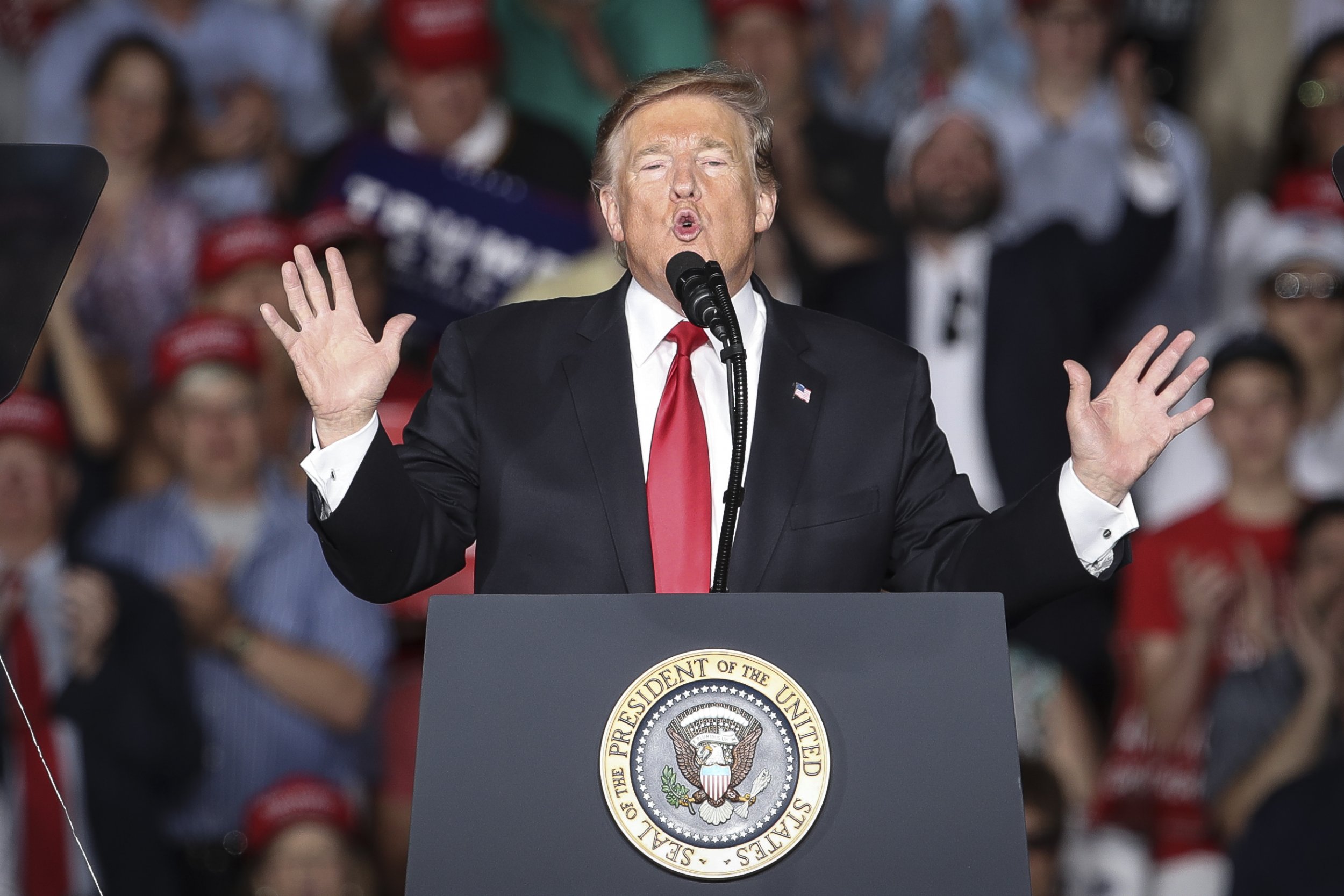 Speaking at a Pennsylvania rally Monday night, President Donald Trump took aim at an unlikely target: Fox News. The president seemed unhappy with Fox News for its town hall debates with the Democratic Party's candidates for the 2020 nomination.
Trump referred specifically to the town hall with Pete Buttigieg, the mayor of South Bend, Indiana, calling him the Alfred E. Neuman, the Mad magazine character with whom he bore a slight resemblance.
During that town hall, Buttigieg, a 37-year-old Afghanistan veteran, criticized two of the network's most popular hosts, Tucker Carlson and Laura Ingraham, for their rhetoric on immigration. Buttigieg also said many Fox News hosts were not acting in good faith.
"Last night I watched Alfred E. Neuman," Trump told supporters at the Montoursville rally. "What's going on with Fox, by the way? What's going on there? They're putting more Democrats on than you have Republicans. Something strange is going on at Fox, folks. Something very strange," Trump said as some in the crowd began to boo.
"Did you see this guy last night? I did wanna watch. I always have to watch the competition, if you call it that. And he was knocking the hell out of Fox. And Fox has put him in. Somebody's gonna have to explain the whole Fox deal to me."
Fox News and the Trump 2020 campaign did not respond immediately to Newsweek's request for comment.
During his town hall on Sunday, Buttigieg addressed those from within his own party who had criticized him for choosing to appear on Fox News because of its pro-Trump stance. "I get where that's coming from, especially when you see what goes on with some opinion hosts on this network," he said.
"I mean, when you've got Tucker Carlson saying that immigrants make America dirty. When you've got Laura Ingraham comparing detention centers with children in cages to summer camps. Summer camps. There is a reason why anybody has to swallow hard and think twice before participating in this media ecosystem."
But Buttigieg defended his decision to appear on Fox News. He argued that while some of the network's hosts weren't operating in "good faith," many of the viewers were, and should be able to hear the Democratic message.
"There are a lot of Americans who my party can't blame if they are ignoring our message because they will never hear it if we don't go on [Fox News] and talk about it," Buttigieg said.
"So it's why whether it's going into the viewership of Fox News, or whether geographically it's going into places where Democrats haven't been seen much. I think we've got to find people where they are—not change our values but update our vocabulary so that we're truly connecting with Americans from coast to coast."