Trump Claims Record-Breaking Support Among Evangelicals: 'There's Never Been Anything Like This in the Church'
Speaking at a rally in Toledo, Ohio on Thursday, President Donald Trump touted his support base within the Evangelical community, saying leaders had suggested he had record-breaking support within the church.
"The evangelicals called, some of the greatest pastors, ministers, preachers," Trump said. "They just called today, five of the most respected people, and they said things that were incredible."
"They said, there's never been anything like this in the church that they can [remember]. Some of them had been doing it for 30, 40 years. They said we have never seen enthusiasm like we see for this president and for this presidency, all of us, like we have right now."
Newsweek has contacted Trump's campaign team for more information on the calls and who the president had specifically spoken with. Newsweek has also reached out to prominent members of the Evangelical community for comment.
While it is true that Trump appears to enjoy widespread support among the Evangelical community, he has also faced growing scrutiny, with evangelical publications including the late Reverend Billy Graham's prominent outlet Christianity Today calling for the president to be removed from office.
"The typical CT approach is to stay above the fray and allow Christians with different political convictions to make their arguments in the public square, to encourage all to pursue justice according to their convictions and treat their political opposition as charitably as possible," the article said. "We want CT to be a place that welcomes Christians from across the political spectrum, and reminds everyone that politics is not the end and purpose of our being."
However, it said, "we do feel it necessary from time to time to make our own opinions on political matters clear—always, as Graham encouraged us, doing so with both conviction and love."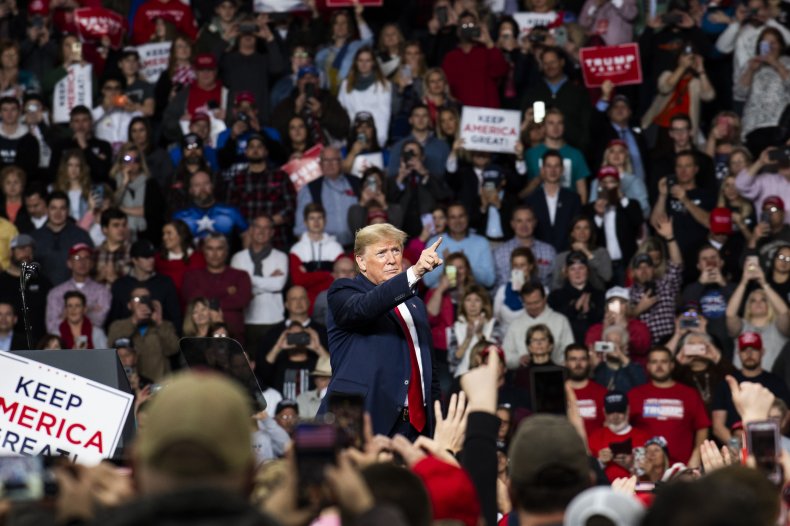 While the piece said that CT loves and prays for the president, "as we love and pray for leaders (as well as ordinary citizens) on both sides of the political aisle," ultimately, it said: "The facts in this instance are unambiguous."
"The president of the United States attempted to use his political power to coerce a foreign leader to harass and discredit one of the president's political opponents. That is not only a violation of the Constitution; more importantly, it is profoundly immoral," it added.
While Trump's impeachment scandal already appears to have had a clear impact on his support within the community, a group of conservatives opposed to Trump have further sought to turn the tide.
The Lincoln Project, a group made up of conservatives against Trump, including George Conway, the husband of White House counselor Kellyanne Conway, recently released advertisements aimed at evangelicals who support the president.
Hitting out at what it branded "The MAGA Church," the advertisements show video of Trump speaking at a rally last week in which he said, "evangelicals, Christians of every denomination and believers of every faith have never had a greater champion—not even close—in the White House."
At the same time, a warning appears on the screen citing a verse from the Book of Matthew: "Beware of false prophets, which come to you in sheep's clothing, but inwardly they are ravening wolves."