Even Fox News Doesn't Show Donald Trump Rallies Live Anymore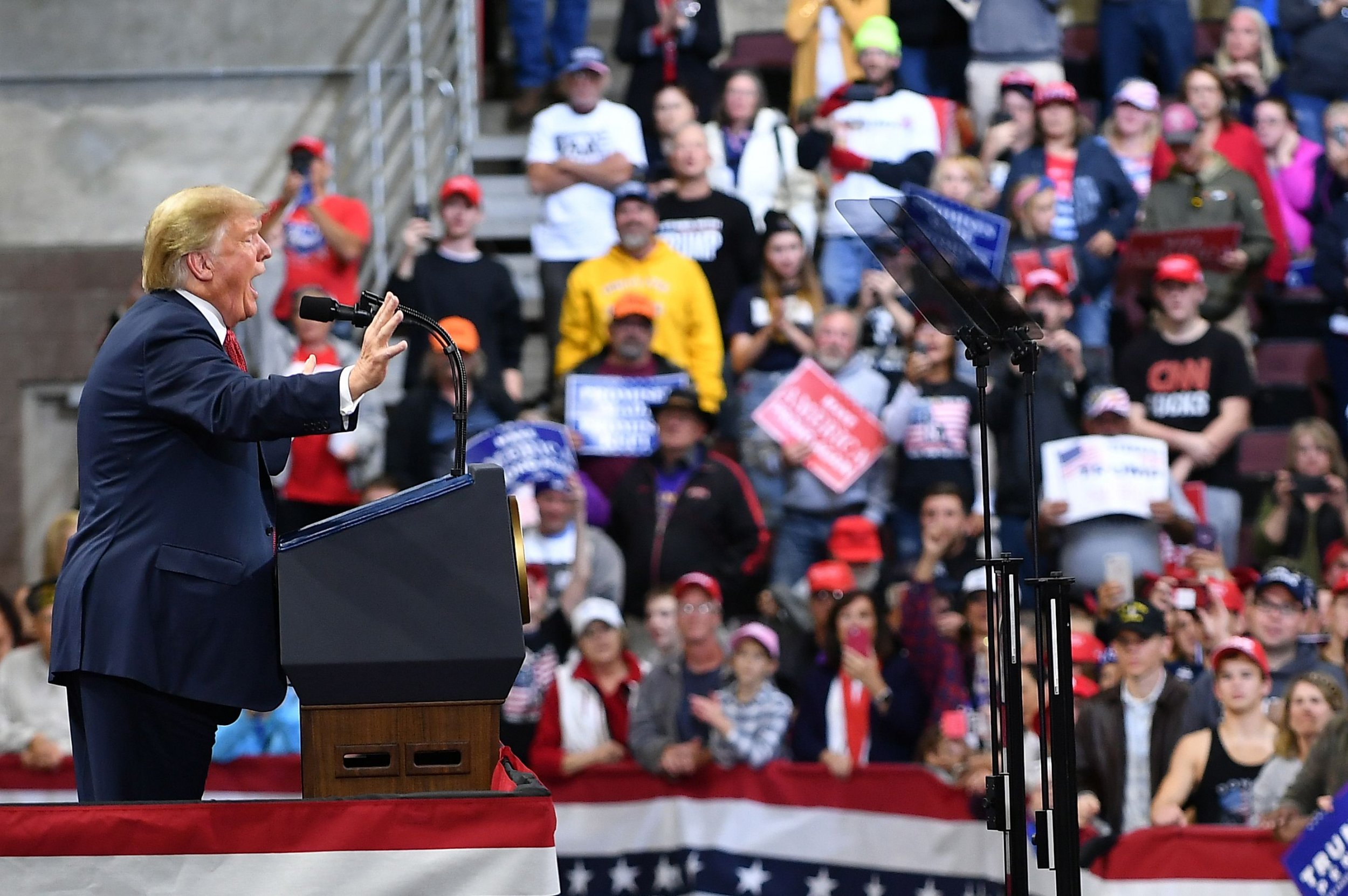 President Donald Trump frequently remarks on the number of cameras at his rallies across the country, suggesting that the media, even as he denigrates it as "fake news," like nothing better than to lap up his speeches before throngs of raucous supporters.
"They can't get enough," Trump often says, before suggesting that if he were to lose his bid for re-election in 2020 many of the top media outlets would go out of business. Trump also frequently tells the lie that the major networks, including CNN, only cut away from his speeches when he starts blasting them as "fake news."
In reality, many of the major networks, including CNN and MSNBC, have long since stopped covering Trump rallies live as a matter of course. And this week, even the network that has continued to devote its programming to the president decided to follow suit.
On two occasions this week, Fox News opted to just show parts of Trump's rallies, instead having producers monitor the action in order to show key excerpts rather than devoting a key chunk of the network's primetime schedule. On both Tuesday, when Trump held a rally in Mississippi, and Thursday, when the president was in Minnesota, Fox News opted instead to go with their regular primetime show Tucker Carlson Tonight.
On Tuesday, Carlson did cut away from his show in order to show a clip of Trump mocking Christine Blasey Ford, the California professor who has accused the president's Supreme Court nominee Brett Kavanaugh of sexual assault.
The comment showed Trump's capacity to still make headlines during his rallies, as he did in September 2017 when speaking about NFL players protesting police brutality and racial injustice and imploring owners to "get that son of a botch off the field right now."
But, for the most part, Trump's rallies, while always unscripted, have come to follow a familiar pattern of boasting about the economy, tariffs and immigration while blasting his opponents—Democrats the media and Hillary Clinton.
The frequency of Trump's rallies are also dramatically increasing as the crucial 2018 midterm elections approach in November. Trump will hold his fourth rally in a week in Kansas on Saturday and will hold another four over the coming week as he seeks to prevent Republicans from losing control of the House and/or the Senate in a month's time.
Of course, while Trump may no longer have the opportunity to broadcast in full to the Fox News audience, the network's primetime lineup, encompassing Carlson, Sean Hannity and Laura Ingraham, has continued to offer the president favorable coverage.
And, while Fox News, may not be devoting itself to Trump rallies anymore, C-Span has remained an ever-reliable option to offer Americans the chance to keep abreast of the president's speeches.