Donald Trump Rally Turns Violent Amid Protests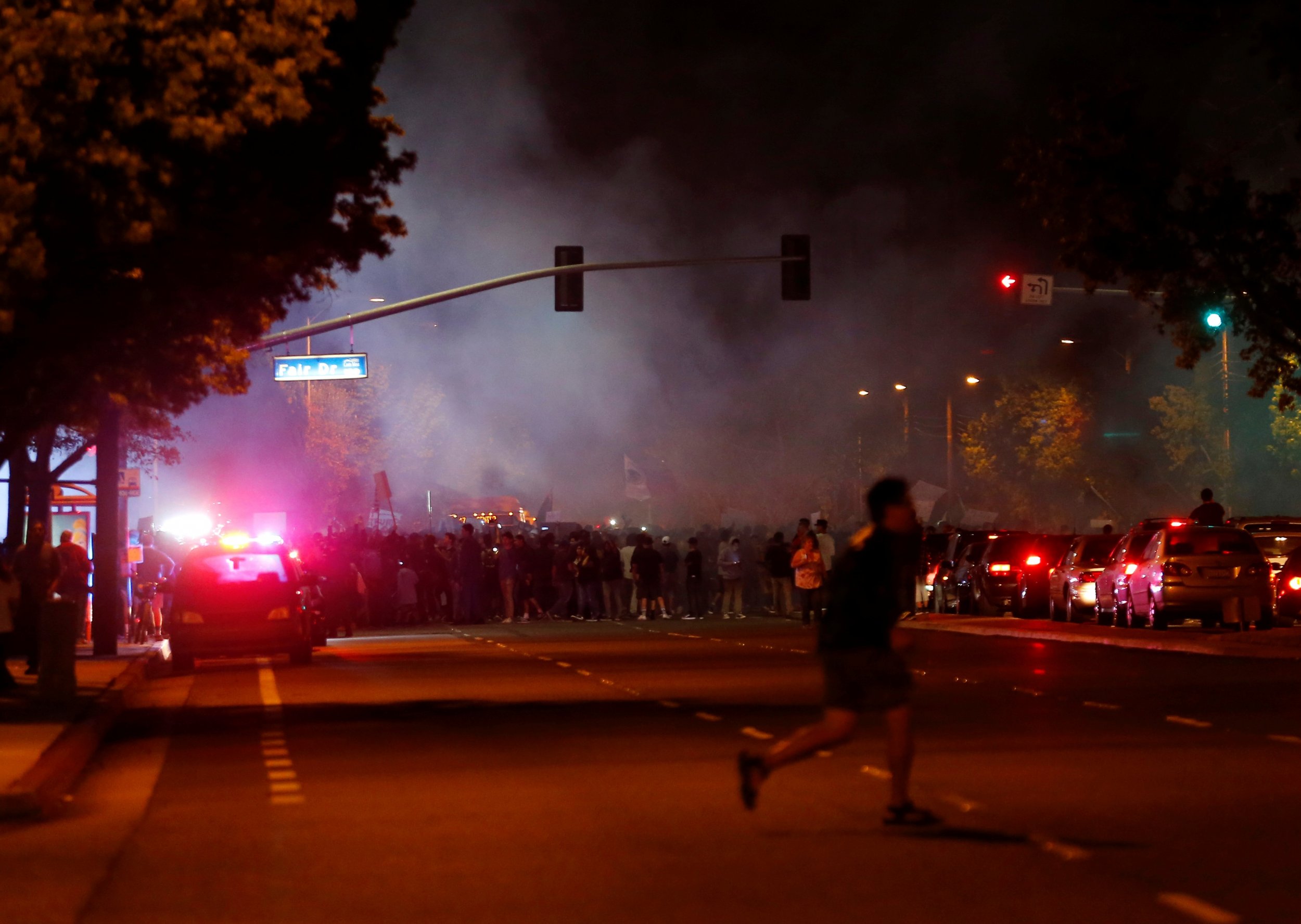 Chaos erupted outside of a Donald Trump rally in California Thursday night, as hundreds of demonstrators incited by the GOP front-runner's candidacy took to the streets and clashed with his supporters in what apparently devolved into a bloody spectacle.
The anti-Trump demonstrators attempted to roll over cars, including a police cruiser, outside of the OC Fair & Event Center in Costa Mesa, where Trump was campaigning ahead of California's June 7 primary. Protesters broke car windows, jumped on street signs and threw bricks, according to NBC News Los Angeles. They trapped drivers and shut down streets outside of the event, while police on horseback and dressed in riot gear attempted to disperse the crowd.
Costa Mesa police arrested as many as 20 people and ultimately broke up the crowd around 11 p.m. local time, two hours after the protests erupted, the Orange County Sheriff's Department tweeted late Thursday. No major injuries were reported, but images of a Trump supporter with blood and bandages covering his face were widely circulated on social media and on the news.
The protest was the tensest incident since the Trump campaign canceled an event in Chicago in March after the scene outside between protesters and the New York billionaire's supporters turned chaotic.
Trump has been criticized for other acts of violence taking place at his rallies—namely when former Breitbart reporter Michelle Fields accused his campaign manager, Corey Lewandowski, of grabbing her arm and pulling her to the ground. Fields later tweeted an image of the injuries she suffered in the incident.
Trump has declined to condemn the chaos at his events and says it's often initiated by the protesters. He has frequently encouraged his supporters to use violence against demonstrators, and at least once the candidate himself said he would punch a protester with his own hands. In March, a white Trump supporter was arrested and charged with assault and battery and disorderly conduct after a video appeared to show him punching a protester, who was African-American, at a rally in Fayetteville, North Carolina.
Trump tweeted that 31,000 people attended his rally Thursday night. But the event's website cites its capacity to hold 18,000 attendees. The candidate spoke to a massive, sold-out crowd, highlighting his plan to tackle illegal immigration by building a wall at the U.S.-Mexico border and saying that no other state has suffered worse from open borders than California.
Trump also took aim at his key opponents. "Lyin' Ted Cruz. We know lyin' Ted, right?" he said. He also mocked John Kasich's eating habits—a fresh line of attack that Trump brought into the spotlight after the Ohio governor was photographed on the campaign trail in New York City eating subs, pasta and soup.
Trump also went after Democratic front-runner Hillary Clinton, whom he is likely to face this fall. "She's crooked as you can be," he said. He also called reporters "among the most dishonest people I have ever met in my life."
Trump has won all six of the state primary contests that have taken place since April 19. Earlier this week, he named himself the "presumptive nominee" and called on Cruz and Kasich to end their bids for the nomination.
Senior GOP figures have been openly plotting to prevent Trump from becoming their presidential nominee. But after he swept the Northeast, some establishment Republicans, including former House Speaker John Boehner, have admitted he could be their party's option in the November election. On Wednesday, Boehner called Cruz "Lucifer in the flesh" and vowed to support Trump if his name is on the ballot this fall.