Trump Rally in Milwaukee, Wisconsin, Live Stream: How to Watch President's 2020 Campaign Stop
President Donald Trump will address supporters on Tuesday at a Milwaukee rally, and those who can't be there in person can tune in online.
The event at the University of Wisconsin-Milwaukee Panther Arena is scheduled to start at 8 p.m. EST. C-SPAN will broadcast it live on its website as well as on TV via its C-SPAN 2 channel.
As Trump touts his presidential successes at the rally, the remaining Democratic candidates will face off against each other in Iowa during the first Democratic debate of 2020. To qualify, candidates had to raise money from 225,000 unique donors and hit one of two polling requirements.
Polling qualifications required candidates to receive either 5 percent of support in four separate polls taken nationally or in Iowa, New Hampshire, Nevada or South Carolina or receive 7 percent in two of the state polls.
Although the field has slimmed down a bit, with author Marianne Williamson, Senator Kamala Harris and former Housing and Urban Development Secretary Julian Castro dropping out, 13 Democrats are still in the running. Of those candidates, only six qualified for the debate: Senators Elizabeth Warren, Amy Klobuchar and Bernie Sanders; former Vice President Joe Biden; former South Bend, Indiana, Mayor Pete Buttigieg; and billionaire Tom Steyer.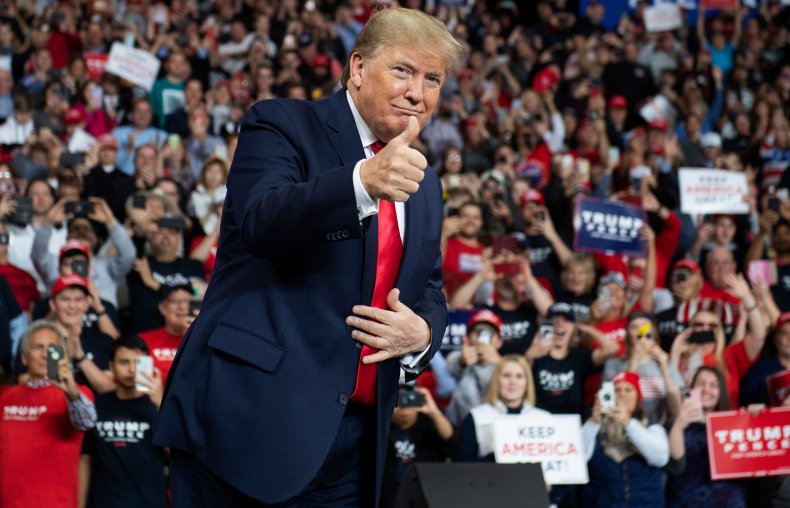 Both the debate and Trump's rally are being held in battleground states that candidates will have to work hard to win. During the 2016 election, Trump won both states, but in Wisconsin it was by only a slim margin: 1 percentage point.
Ahead of the rally, Fox News polled Wisconsin voters and found that Democratic candidates have only a slight advantage over Trump in 2020. Biden had the biggest lead over the president, by 5 percentage points. The closest competition was between Buttigieg and Trump, as the Democratic contender had only a 1 percentage point lead over the president.
However, Fox News noted that all of the matchups were within the poll's margin of error, so the results weren't definitive in terms of the candidates voters will actually favor in the election.
In announcing the rally, Michael Glassner, chief operating officer for Trump's campaign, touted the president's job creation success and said in a statement that Trump looked forward to returning to Wisconsin to celebrate "his message of 'Promises Made, Promises Kept.'"