'This Is Illegal': Donald Trump and Rand Paul Are Inciting Violence by Calling for Whistleblower's Identity, Former GOP Strategist Says
Kentucky Sen. Rand Paul set Twitter alight on Monday after calling on the media to reveal the identity of the anonymous intelligence official whose complaint sparked the impeachment investigation into President Donald Trump.
The president and his GOP allies have been agitating for the official to be identified, even though legal experts warn such a step would violate federal laws protecting whistleblowers.
The investigation—into whether Trump solicited Ukrainian interference in the 2020 election in exchange for military aid—has moved on from the whistleblower, with multiple named officials testifying to House investigators and corroborating the concerns of the anonymous complainant.
Regardless, Trump and his supporters have sought to keep the focus on the official, citing their anonymity as evidence of Democratic opacity.
Get your unlimited Newsweek trial >
On Monday, Trump was joined by Paul as both men attacked the whistleblower, the Democrats and the impeachment investigation.
Paul told the Kentucky audience that he knew the name of the whistleblower, according to USA Today. Citing unverified reports in conservative media outlets, Paul claimed that the official "worked for Joe Biden at the same time Hunter Biden was getting money from corrupt oligarchs."
He continued: "I say tonight to the media, do your job and print his name. And I say this to my fellow colleagues in Congress, to every Republican in Washington, step up and subpoena Hunter Biden and subpoena the whistleblower!"
Twitter users were quick to condemn Paul's assertions, warning that uncovering the identity of the whistleblower would be both unethical and illegal.
Get your unlimited Newsweek trial >
National security lawyer Bradley Moss suggested that all Trump allies calling for the official's name to be revealed would be culpable if any harm came to them.
"If any harm befalls the whistleblower, or someone erroneously identified as the whistleblower, we will not soon forget your call to out them and place them in harm's way," he wrote on Twitter.
Moss added that he is struggling "to find consistency between the purported libertarian philosophy of Rand Paul and his desire to place a lawful whistleblower in harm's way."
Former GOP strategist Sophia Nelson warned that what Paul was proposing violates federal laws that date back to 1777. "This is illegal," she told a CNN panel. On Twitter, she added, "Let me be clear: Senator #RandPaul & the President of the United States are inciting others."
Former Illinois representative Joe Walsh—who is also running a 2020 presidential campaign challenging Trump—criticized Paul's apparent kowtowing to the president and his capture of the GOP.
"I call on Rand Paul to have the courage to immediately find the other Rand Paul," he wrote. "The Rand Paul I used to admire. The Rand Paul who wasn't emasculated by Donald Trump."
On the other side of the political spectrum, Democratic Coalition co-founder Scott Dworkin suggested that any U.S. lawmaker calling for whistleblowers to be exposed "should resign immediately." He added, "Rand Paul, let's start with you."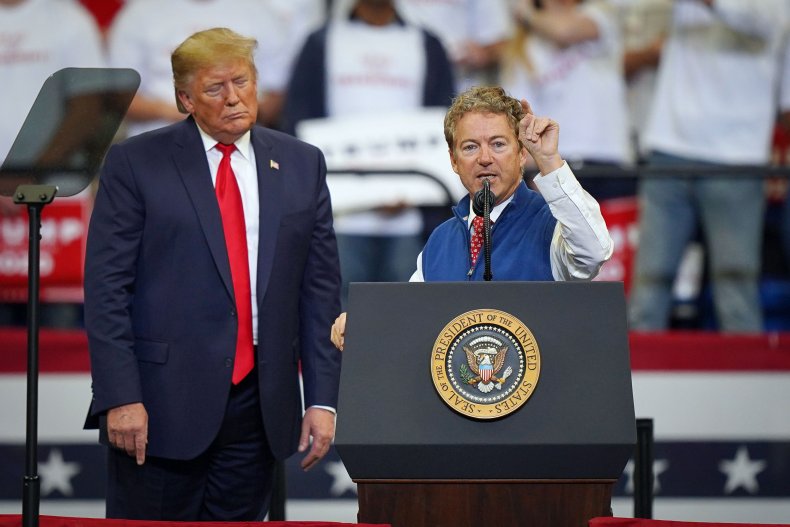 'This Is Illegal': Donald Trump and Rand Paul Are Inciting Violence by Calling for Whistleblower's Identity, Former GOP Strategist Says | Politics