Donald Trump Reacts to Facebook Ruling, Says 'Radical Left Lunatics' Are Afraid of Truth
Former President Donald Trump has likened his social media bans to the revocation of his First Amendment rights, a move he said was done because the "radical left lunatics are afraid of the truth."
Trump was permanently banned from Twitter and indefinitely banned from Facebook after the January 6 riot at the U.S. Capitol. While he hoped to regain access to his Facebook page, on Wednesday the company's Oversight Board upheld Facebook's decision to suspend him. Now, the only way Trump can return is if Facebook decides to give him the go-ahead.
Hours after the independent Oversight Board announced its decision, Trump issued a statement calling the actions by Facebook, Twitter and Google "a total disgrace and an embarrassment to our country."
"Free Speech has been taken away from the President of the United States because the Radical Left Lunatics are afraid of the truth, but the truth will come out anyway, bigger and stronger than ever before," Trump said.
The former president added that people won't "stand for it" and that "corrupt social media companies must pay a political price." He added that the companies "must never again be allowed to destroy and decimate our electoral process."
Newsweek reached out to Facebook, Twitter and Google for comment but did not receive responses in time for publication.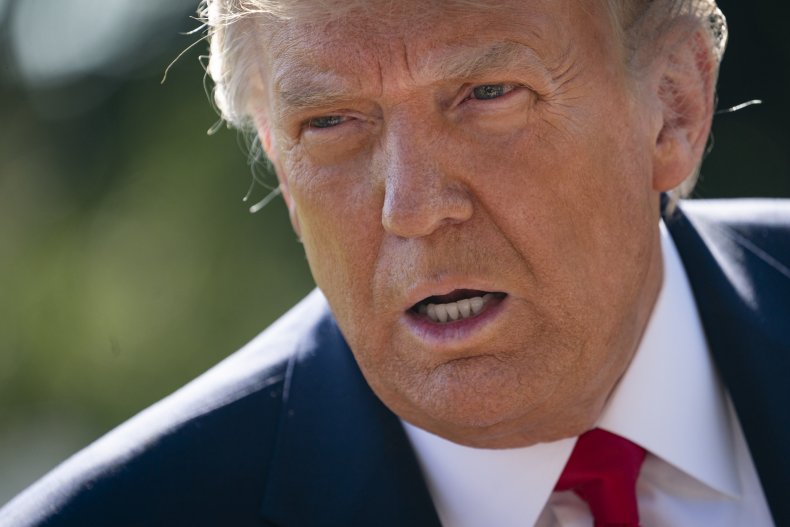 Trump has made it clear he's no fan of some of America's biggest tech companies and has criticized their platforms for being biased against conservative voices. During an interview on Dan Bongino's podcast last week, he took issue with the prominence that negative news stories about him have on Google.
While he was in office, his administration criticized Twitter for removing and adding warnings to some of his tweets, saying they were a form of censorship. Presidents enjoy a level of freedom on Twitter that civilians do not, and the platform noted that once Trump left office he would be bound by the same rules that apply to everyone else.
This raised speculation that Trump could be banned from Twitter after returning to civilian life, but a few months later he was already off the platform. Twitter imposed a permanent ban on Trump's account after he tweeted during the Capitol riot, and Facebook imposed an indefinite suspension.
Trump appealed Facebook's decision to suspend him, but after reviewing both sides of the case, the Oversight Board decided against allowing him back on the platform. Members of the board said that Trump's comments "very seriously" violated community standards and that Facebook was right in restricting access to his account.
Had the board sided with Trump, Facebook would have reinstated access to his accounts. But since the board upheld the suspension, the former president needs Facebook's approval to return to the platform.