Is Donald Trump Ready to Meet Kim Jong Un or Is He Just Buying 'Magic Beans' From North Korea?
Senator Chuck Schumer expressed concern Wednesday that President Donald Trump's unpredictable foreign policy strategy may have negative effects on the nation and its allies.
During a Senate meeting Wednesday, the New York Democrat wondered if White House officials ever spoke with one another to establish a "coordinated strategy" as opposed to U.S. foreign policy "being completely subject to the president's fleeting whims, changing as they do day to day, moment by moment." Schumer criticized Trump's decision to become the first sitting U.S. president to meet a North Korean supreme leader, saying the White House should first demand assurances that Kim Jong Un was planning to give up his nuclear weapons.
Related: What does North Korea's Kim Jong Un want from Trump? Three steps the U.S. can take to solve nuclear crisis
"We should all root for diplomatic solutions in the decades-long North Korean conflict. That's why the U.S. should pursue a diplomatic opening, including through direct diplomacy with Pyongyang," Schumer said.
"But thus far we've not seen any indication that North Korea is willing to take concrete measures toward denuclearization. Now, we've read this book before, and I'm concerned that the administration, without a clear or coherent strategy, is buying a pile of magic beans at the cost of our allies and our partners and our own security," he added.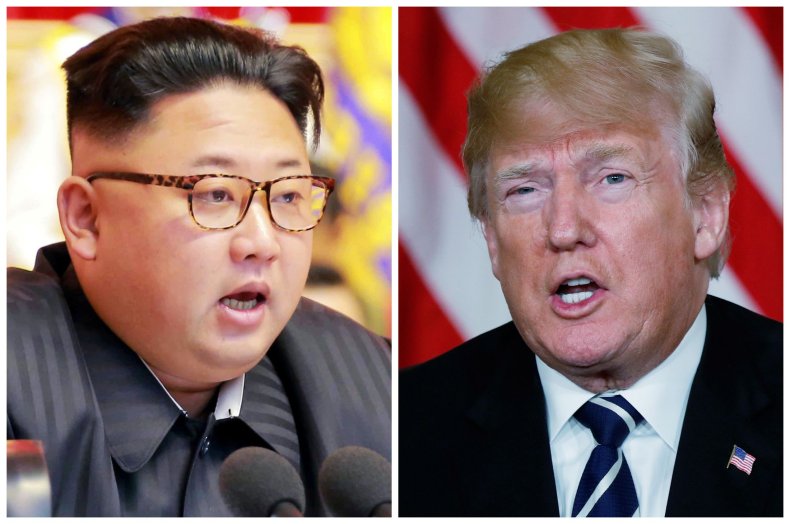 Trump surprised observers—and reportedly his own advisers—by accepting Kim's invitation last month to hold unprecedented direct talks. Trump said Tuesday the meeting, initially set for May, "will be taking place probably in early June or a little before that." On Wednesday, he revealed on Twitter that Mike Pompeo, the CIA director and prospective secretary of state, "met with Kim Jong Un in North Korea last week," saying the "meeting went very smoothly and a good relationship was formed."
These remarks were a stark contrast to last year's nuclear-fueled war of words between the two leaders, who have charged one another with disrupting the international order and creating obstacles for peace on the Korean Peninsula. The U.S. has long demanded Kim and his predecessors abandon their nuclear aspirations, but previous breakthroughs have eventually devolved into dueling accusations and mutual distrust.
Trump took a hardline stance early in his presidential career by sending warships to the Asia-Pacific and warning Kim not to test the nuclear weapons he considered vital to his country's survival. Kim reacted by demonstrating his country's ability to launch intercontinental ballistic missiles (ICBMs) and detonate a hydrogen bomb for the first time ever. Hostility between the leaders began to mount in a very public—and sometimes personal—way.
However, as Trump increasingly endorsed the current inter-Korean peace talks, even North Korea has toned down its harsh anti-U.S. rhetoric, with various state-run media outlets largely absent from the routine insults and slights against Washington. Trump has frequently hailed his own "maximum pressure" campaign of military pressure and intense sanctions for bringing about North Korea's diplomatic outreach, but Kim has remained mostly silent about his feelings toward Trump and the upcoming summit in general.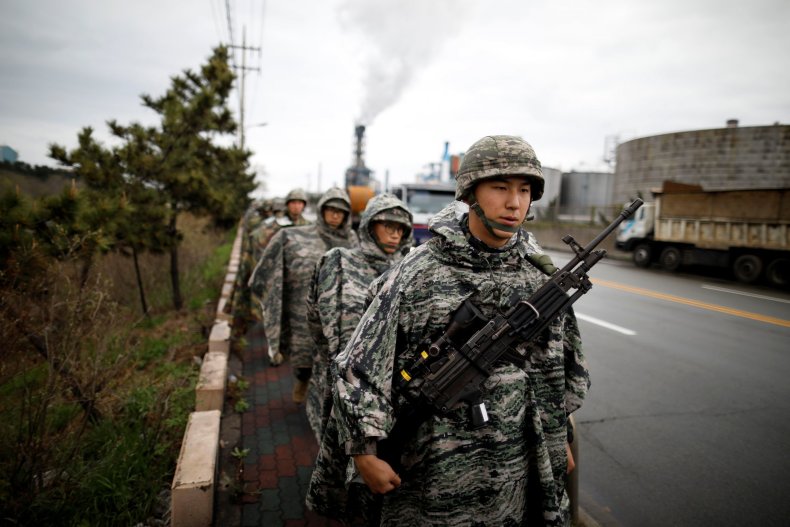 Kim first mentioned his planned sit-down with Trump during a meeting of the ruling Korean Workers' Party last week. Rodong Sinmun, the official newspaper of the party's central committee, reported that Kim "made a profound analysis and appraisal of the orientation of the development of the north-south relations at present and the prospect of the DPRK-U.S. dialogue."
South Korean officials who met with Kim have said the young leader, who inherited power after his father's death in 2011, was ready to denuclearize if the U.S. ended its "hostile policy" toward Pyongyang. North Korea has long argued it would be willing to shutter its nuclear program in exchange for peace, but as the failed attempts of previous administrations showed, meeting these demands was a complex task even for seasoned diplomats.
As Kim prepared to first meet with South Korean President Moon Jae-in, a Rodong Sinmun commentary hailed "the rosy future" of the two Koreas, praising the supreme leader and asserting that "no persistent move of the anti-reunification forces can block the Korean nation vigorously advancing along the road of independent reunification under his leadership."