Donald Trump Brags Military is 'Being Completely Rebuilt' at White House Easter Egg Roll as Bunny Claps
President Donald Trump took the opportunity at the White House Easter Egg Roll on Monday morning to boast that the U.S. military "is literally being completely rebuilt," and received clapping support from the White House Easter Bunny.
"Our country has never done better and do we love our military. Our military is literally being completely rebuilt," Trump said from the White House balcony overlooking the South Lawn. Next to him stood first lady Melania Trumpand a person dressed in a white bunny costume, seemed to be there to applaud the president's remarks.
"We are completely rebuilding our military," Donald Trump reiterated. "It was very depleted as you know. A lot of the military folks can tell you. And it is being rebuilt to a level that we have never seen before."
The president said the rebuild was happening "all with great product, the best product in the world.
"And you know where it's made? It's made in the USA. That's where it's made. It's all made right here," he said. "So again, Happy Easter, enjoy yourselves."
Donald Trump has long claimed that the military was depleted because of years of budget cuts, and has called for it to be rebuilt.
"We're at $700 billion for the military. And, you know, they were cutting back for years. They just kept cutting, cutting, cutting the military. And you got lean, to put it nicely. It was depleted, was the word," he told Coast Guard members in December 2017. "And now it's changing."
But a Washington Post fact check gave Trump's claim three Pinocchios to indicate the degree of falsity in his claim. Decreases in the military budget accompanied the end of the Afghanistan and Iraq Wars, and the total budget is still greater than in 2000 before the wars started.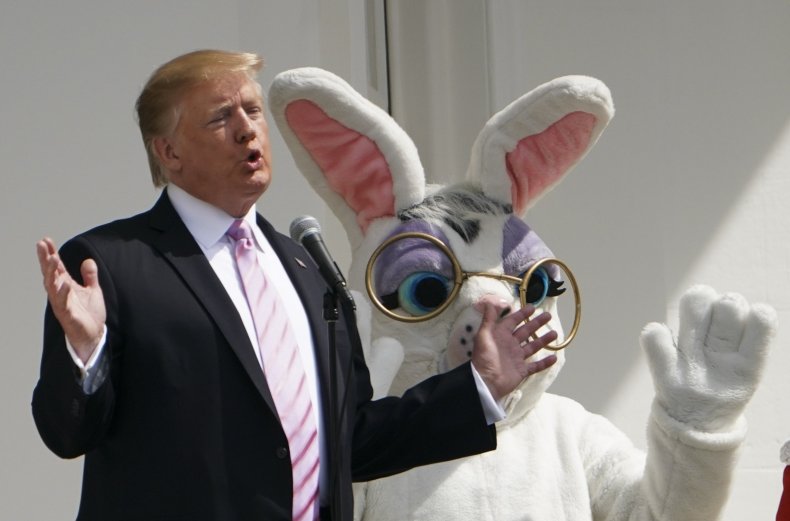 But Trump has continued to find opportunities to repeat his claim of a "depleted" military. When asked to comment on former first lady Michelle Obama's new book last November in which she said that she would "never forgive" Donald Trump for pushing the birther movement, Trump pushed back in kind.
"Oh, Michelle Obama said that? I haven't seen it. I guess she wrote a book, she got paid a lot of money to write a book, and they always insist that you come up with controversial," Trump said. "Well, I'll give you some controversy back.
"I'll never forgive him [Barack Obama] for what he did to our United States military by not funding it properly. It was depleted. Everything was old and tired, and I came in and I had to fix it, and I am in the process of spending tremendous amounts of money. So I'll never forgive him for what he did to our military."