Donald Trump Rebukes WSJ After Editorial Board Suggests the GOP Look Past His Presidency
Donald Trump has hit back at The Wall Street Journal after the newspaper published a recent editorial questioning the former president's usefulness to the Republican Party after its losses in the 2020 election cycle.
"The Wall Street Journal editorial page continues, knowingly, to fight for globalist policies such as bad trade deals, open borders, and endless wars that favor other countries and sell out our great American workers, and they fight for RINOS [Republicans in name only] that have so badly hurt the Republican Party," Trump said Thursday.
He added: "That's where they are and that's where they will always be. Fortunately, nobody cares much about The Wall Street Journal editorial anymore. They have lost great credibility."
The statement comes days after the editorial board noted that during the four years Trump was in power, Republicans on Capitol Hill lost control of the White House, the House of Representatives and the Senate.
"Mr. Trump had one landmark victory in 2016 but he has cost the GOP dearly since," the Journal wrote.
The paper also added: "Mr. Trump's base of support means he will play an important role in the GOP. But as the Biden months roll on and the policy consequences of the 2020 defeat become stark, perhaps the party's grassroots will begin to look past the Trump era to a new generation of potential standard-bearers. As long as Republicans focus on the grievances of the Trump past, they won't be a governing majority."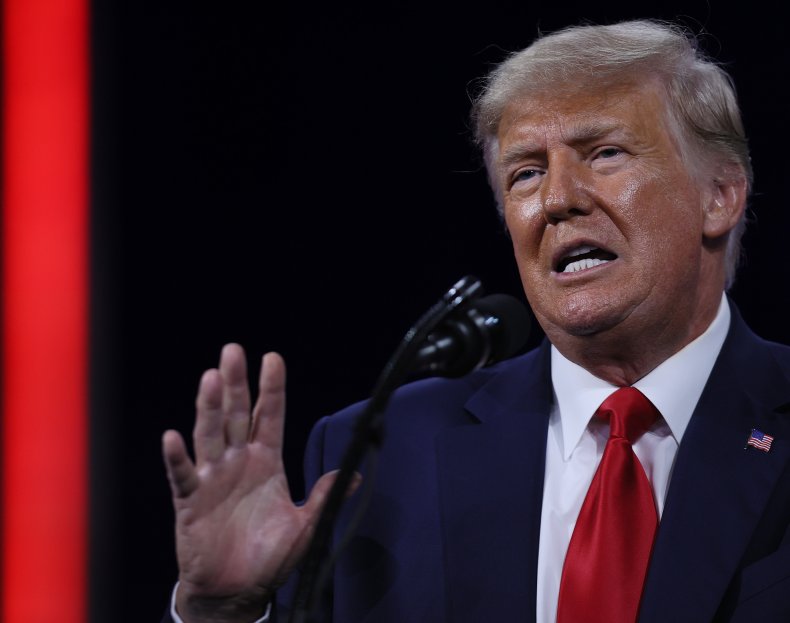 Trump pushed back on the 2020 election losses, stating there were "two reasons the Senate races were lost in Georgia."
The first, he said, was that Republicans didn't vote because they were "so angry and disappointed" with Governor Brian Kemp and other prominent GOP officials. He also continued to allege that the Georgia contest was a "rigged election." Trump was the first Republican presidential nominee to lose the Peach State in 28 years.
The second reason, Trump claimed, was then-Senate Majority Leader's Mitch McConnell's "refusal to go above $600 per person on the stimulus check payments when the two Democrat opponents were touting $2,000 per person in ad after ad."
He added: "This latter point was used against our Senators and the $2,000 will be approved anyway by the Democrats who bought the Georgia election—and McConnell let them do it!"
Newsweek has reached out to the Journal for a response to Trump's statement.