Donald Trump Receives Standing Ovation From Republican Senators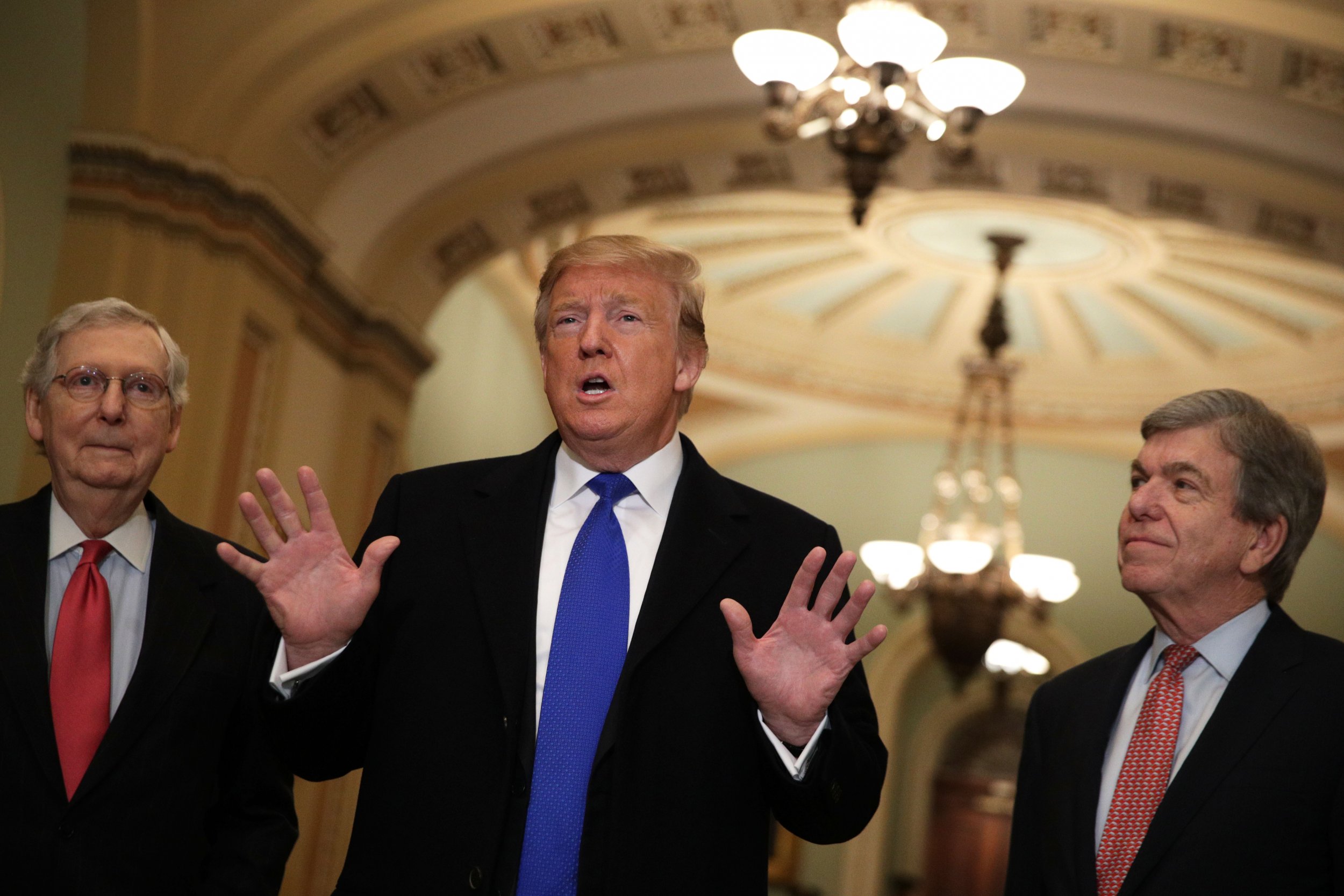 President Donald Trump was welcomed to a Senate Republican Conference lunch meeting on Tuesday with a standing ovation to celebrate special counsel Robert Mueller's findings of no Russian collusion in the 2016 presidential election.
Several Republican senators told The Hill that Trump seemed almost giddy as he thanked Senate Republicans for backing him over the past "two years" of impeachment speculation while Mueller had been conducting his investigation into Russia interference in the 2016 election.
"The Mueller report was great, it could not have been better, it said no obstruction, no collusion," the president said.
Commenting on the event, Sen. Kevin Cramer (R-N.D.) recalled that Trump "definitely had a little extra step, a little bounce in his step." "[The president] appreciated that we stood with him, and he said it can never happen again. The words he used is 'clean bill of health,' referencing Mueller," he said.
"He was in good spirits," Sen. Marco Rubio (R-Fla.) added.
The event, which took place in the Mansfield Room just off the Senate floor, was reportedly hosted by Senate Republican Policy Committee chairman Sen. Roy Blunt (R-Mo.), who believes U.S. Attorney General William Barr's summary of Mueller's report exonerated Trump.
In his brief summary of Mueller's findings released Sunday, Barr said the special counsel's report found no evidence of collusion between Trump or his campaign team with Russian officials to influence the 2016 presidential election. However, Mueller neither exonerates nor indicts Trump in regards to obstruction of justice. Due to the findings, the Attorney General also indicated that he sees no reason to move forward with any criminal proceedings against the president.
Trump first spoke out about Mueller's findings in a tweet on Sunday afternoon, writing: "No collusion, No Obstruction, Complete and Total EXONERATION. KEEP AMERICA GREAT!"
White House Press Secretary Sarah Huckabee Sanders retweeted Trump's statement and then shared her own, saying: "The Special Counsel did not find any collusion and did not find any obstruction. AG Barr and DAG Rosenstein further determined there was no obstruction. The findings of the Department of Justice are a total and complete exoneration of the President of the United States."
"A great day for America and for President @realDonaldTrump," Sanders added in a later tweet. "After two years of wild anti-Trump hysteria, the President and his millions of supporters have been completely vindicated."
Some Democrats were quick to point out that there must be a reason why Mueller's findings, which took 22 months to reach, did not explicitly exonerate the president on obstruction and called for the special counsel's full report to be released.
"There must be full transparency in what Special Counsel Mueller uncovered to not exonerate the President from wrongdoing," Rep. Jerry Nadler (D-N.Y.) tweeted. "DOJ owes the public more than just a brief synopsis and decision not to go any further in their work."
"Special Counsel Mueller worked for 22 months to determine the extent to which President Trump obstructed justice," the Democratic New York congressman added. "Attorney General Barr took 2 days to tell the American people that while the President is not exonerated, there will be no action by DOJ."
Blunt did not immediately respond to Newsweek's request for further comment about the lunch event.