Donald Trump Sent Record 12,200 Tweets in 2020, Ends Year With Stock Market Boast
President Donald Trump ended his Twitter year the way he started it—by issuing a boast. He also set a new personal record with over 12,200 tweets, smashing through his previous best of 7,700 set in 2019.
Trump's first message of 2020 that was not a retweet saw him share a Fox News article about Iranian-backed militia withdrawing from a siege of the U.S. Embassy in Baghdad. Trump tweeted at 8.32 p.m. ET on January 1 2020: "Best equipment & finest military in the World. On site quickly!"
In a year which started with a trial for impeachment for which he was acquitted and ended with an election defeat that he has refused to acknowledge, Trump's final message for the year gave props to the stock market and expressed optimism about the state of Americans' pensions.
"Finished off the year with the highest Stock Market in history. Setting records with your 401k's, just like I said you would. Congratulations to all!" he tweeted on Thursday night at 10.44 p.m. ET.
In a year in which Trump was highly critical of the social media giant, Trump tweeted or retweeted 12,234 times, according to the Trump Twitter Archive. This is far higher than the more than 7,700 tweets and retweets he posted in 2019 and the over 3,500 tweets and retweets from 2018.
2020: 12,234 tweets found.
2019: 7,783 tweets found.
2018: 3,556 tweets found.
2017: 2,593 tweets found.
2016: 4,222 tweets found.
The graphic below from Statista shows Trump's use of Twitter before the election.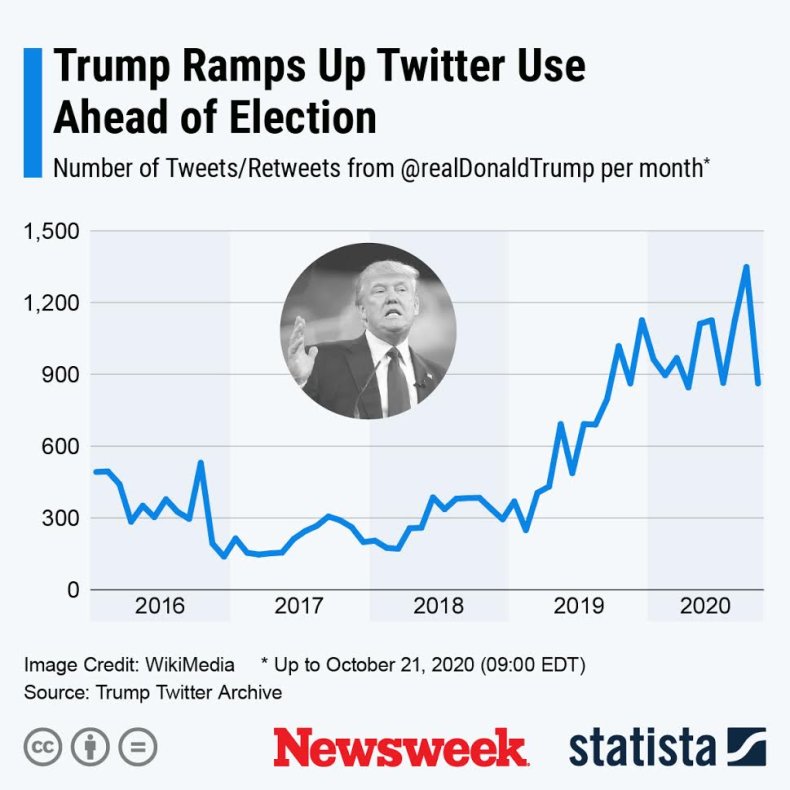 Stock markets did get a boost this week but the gains followed Trump's decision to back away from his threat to block a $2.3 trillion government spending and coronavirus relief package.
On Monday, the Dow and the Nasdaq both rose 0.7 percent, while the S&P 500 rose about 0.9 percent, with each of the three major indices hitting record intraday and closing highs and adding to gains in the final week of 2020.
In his closing address during the final pre-election presidential debate in October, Trump appealed to retirement savers to back him, saying that if they voted for President-elect Joe Biden, "Your 401(k)s will go to hell."
A survey conducted in December by CNBC found that most Wall Street investors thought that a Biden presidency would mean lower stock-market returns.
Some two-thirds of chief investment officers and portfolio managers said they believed that the four years of a Biden presidency would be worse for stocks than during Trump's term, which was marked by a landmark corporate tax cut that swelled profits and share buybacks.
Trump followed up his stock market brag on New Year's Eve a few minutes later with a tweet praising Missouri Senator Josh Hawley who has said he will reject on January 6 the Electoral College results to certify Biden as the election winner.
Sharing a story posted on the right-wing news outlet Breitbart about Hawley's spat with Walmart, Trump tweeted: "America is proud of Josh and the many others who are joining him. The USA cannot have fraudulent elections!"
Like many of Trump's post-election tweets disputing the election result, Twitter slapped a health warning on the president's claim.