Trump Launches 2020 Campaign By Accusing Democrats of Making Up Kavanaugh Sexual Assault Accusations
President Donald Trump accused Congressional Democrats of making up false accusations of sexual assault against Supreme Court Justice Brett Kavanaugh in order to "radicalize our judiciary," during his re-election rally Tuesday evening.
At least three women came forward to accuse Kavanaugh of sexually inappropriate behavior of their own accord.
"They want to radicalize our judiciary," the president said of Democrats at his rally in Orlando, Florida. "Look at what they did to a great gentlemen, Justice Kavanaugh, highly respected. They didn't just try to win, they tried to destroy him with false and malicious accusations," the president claimed. "They tried to ruin the family of now Justice Kavanaugh, they tried to ruin his career they tried to ruin his life, they even wanted to impeach them on fraudulent charges. He did nothing wrong."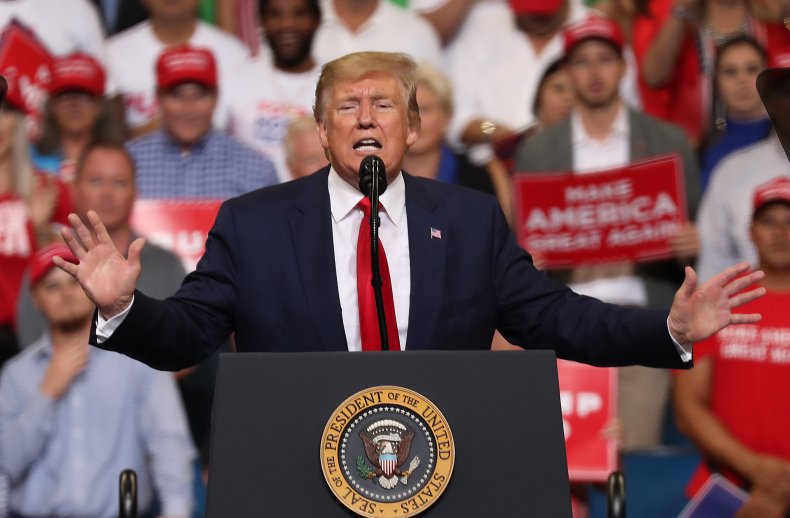 The president said that Congressional Democrats, who invited Christine Blasey Ford, a psychology professor at Palo Alto University, to testify during Kavanaugh's confirmation hearing after she publicly accused him of sexual assault, did it "all in pursuit of political domination and control." Just imagine, said Trump, "what would happen if this angry left-wing mob were in charge of this country. Imagine if we had a Democrat[ic] president and a Democrat[ic] congress in 2020, they would shut down your free speech, use the power of the law to punish their opponents, they'll always be trying to shield themselves and strip Americans of their constitutional rights."
The president went on to say that Democrats have been conspiring to "flood the country with immigrants" in the hope that they'll one day become a voting base for the left.
Non-citizens are not allowed to vote in federal elections and no state has allowed noncitizen voting since 1926.
This is not the first time that the president has accused the women coming forward against Kavanaugh of participating in a Democratic conspiracy. In October of 2018, Trump said that this was a "very scary time for young men in America, when you can be guilty of something you may not be guilty of."