Donald Trump Refuses to Answer if He's Tested Negative for COVID, Wants to Do Rally This Weekend
President Donald Trump said that he is planning on holding an in-person campaign rally in Florida on Saturday night, despite testing positive for COVID-19 last Thursday night and refusing to say whether he has tested negative since then.
Trump made the remarks during a Thursday interview with Sean Hannity on Fox News. Hannity mentioned comments from Dr. Sean Conley, physician to the president, who suggested that Trump may be able to safely return to public events by Saturday, before asking the president if he had recently tested negative for the virus.
Trump tossed aside any concerns that he could still be contagious while claiming that he might be able to safely mingle with the public "sooner" than Conley said. He also ignored the question about being tested before announcing that he hopes to hold more than one in-person campaign rally this upcoming weekend.
"I think I'm going to try doing a rally on Saturday night if we can, if we have enough time to put it together," Trump said. "We want to do a rally in Florida, probably in Florida on Saturday night. Might come back and do one in Pennsylvania in the following night. And it's, uh, incredible what's going on. I feel so good."
Hannity then asked Trump for a second time if he had been recently tested for COVID-19, with the president again failing to say whether he tested negative and offering a vague answer instead.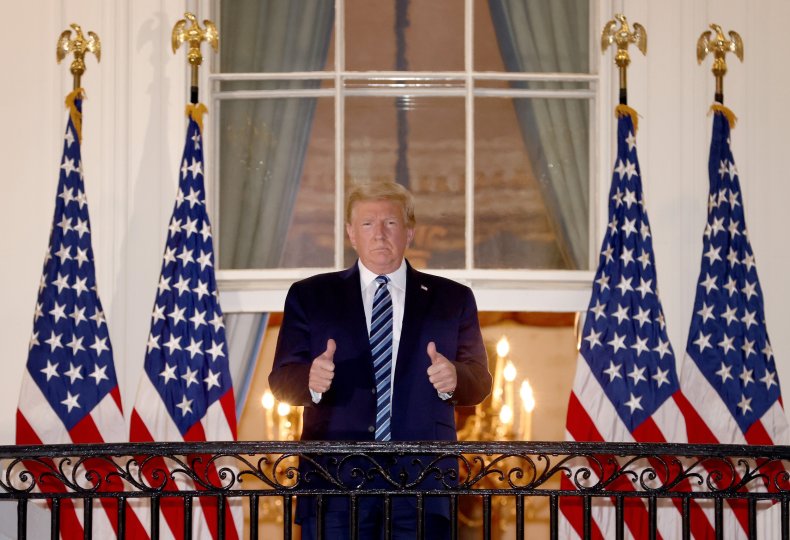 "Well, what we're doing, probably the test will be tomorrow, the actual test, because there's no reason to test all the time," said Trump. "But they found very little infection or virus, if any. I don't know if they found any, I didn't go into it greatly with the doctors. We have these great doctors at Walter Reed, and you do rely on them, they're really fantastic talents."
Trump returned to the White House from Walter Reed Medical Center on Monday night. White House Press Secretary Kayleigh McEnany called Trump that "the most tested man in America" in July, while insisting that the president was tested for the virus "multiple times a day." However, White House officials have refused to say when Trump last tested negative before his positive result last Thursday night.
During a Fox Business interview hours before his appearance with Hannity, the 74-year-old Trump said that he had rebounded from the virus because he is "a perfect physical specimen and I'm extremely young." He also said that he would "love to do a rally tonight" and remarked that he didn't believe he was "contagious at all." Doctors consider testing negative for the coronavirus to be important information in determining whether a COVID-19 patient is still contagious.
Conley issued a memorandum on Thursday that said he would "fully anticipate" Trump will be able to make "a safe return to public engagements" by Saturday "based on the trajectory" of his illness. The Centers for Disease Control and Prevention recommends that COVID-19 patients isolate for 10 days after the onset of symptoms, remaining potentially contagious after that unless they have had no fever, without the use of medication, for at least 24 hours.
Trump campaign manager Bill Stepien, who tested positive for the virus shortly after the president, insisted that Trump "will" be medically cleared by Saturday in a statement demanding that his planned second debate with Democratic presidential nominee Joe Biden be made an in-person event again after Trump refused to participate when the debate was modified to a virtual format.
Newsweek reached out to the Trump campaign for comment.