President Donald Trump has reignited his 2016 election vow to see Mexico pay for the construction of his long-promised border wall between the U.S. and Mexico.
Speaking to supporters at a campaign rally at the Wildwoods Convention Center Oceanfront in Wildwood, New Jersey, on Tuesday, the president celebrated a recent court victory allowing him to push forward with plans to use $3.6 billion in military construction funds for the development of his border wall.
"The money is won," Trump said. "And we are now building that beautiful wall."
The wall, the president said, "is going up at record speed," with the project having just surpassed 100 miles.
"And next year, we'll be over 400 miles and shortly thereafter it will be complete," Trump said, despite having previously vowed to see at least 450 miles of the border wall built by the end of 2020.
While Trump fell short of reiterating his 450-mile goal, he did reignite another promise from the past: to make Mexico pay for his wall.
"But, Mexico is, in fact, you will soon find out, paying for the wall, okay?" Trump said.
"The wall is ultimately and very nicely being paid for by Mexico," he added.
The claim comes after the U.S. Customs and Border Protection agency reported that the price tag for the president's border wall had, so far, come to at least $11 billion.
In a status report issued earlier this month, CBP said it had identified $11 billion in order to construct 576 miles of new "border wall system."
In his presidential announcement speech, Trump had vowed to "build a great wall" and "have Mexico pay for that wall." In the years since, however, the president has backed away from that promise, with the possibility of Mexico agreeing to even contribute to the barrier's construction appearing increasingly unlikely.
It is unclear whether Trump has any evidence to support his renewed claim that the U.S.'s southern neighbor will, in fact, be footing the bill.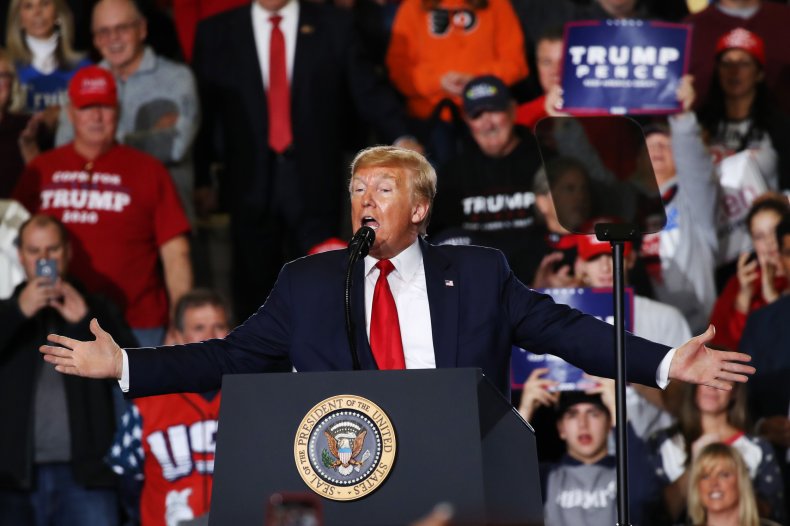 The president had previously claimed that Mexico would pay for the wall through the U.S.-Mexico-Canada Agreement (USMCA), however, as Politifact noted in an article fact-checking Trump's campaign rally on Tuesday, as it stands, there is no such provision for the wall in the U.S.-Mexico-Canada trade agreement.
So far, the Trump administration has managed to see just over 100 miles of the border wall constructed. The Department of Homeland Security marked the milestone by installing a plaque on the 100th mile of wall.
Still, in order to meet Trump's initial vow for at least 450 miles to be constructed before the end of 2020, the Trump administration would still need to see roughly 350 miles built before the end of the year.
Newsweek has contacted Trump's campaign team, as well as the White House and Mexican government for comment.