Nine Insights Into Trump's Artless Relationship With the Arts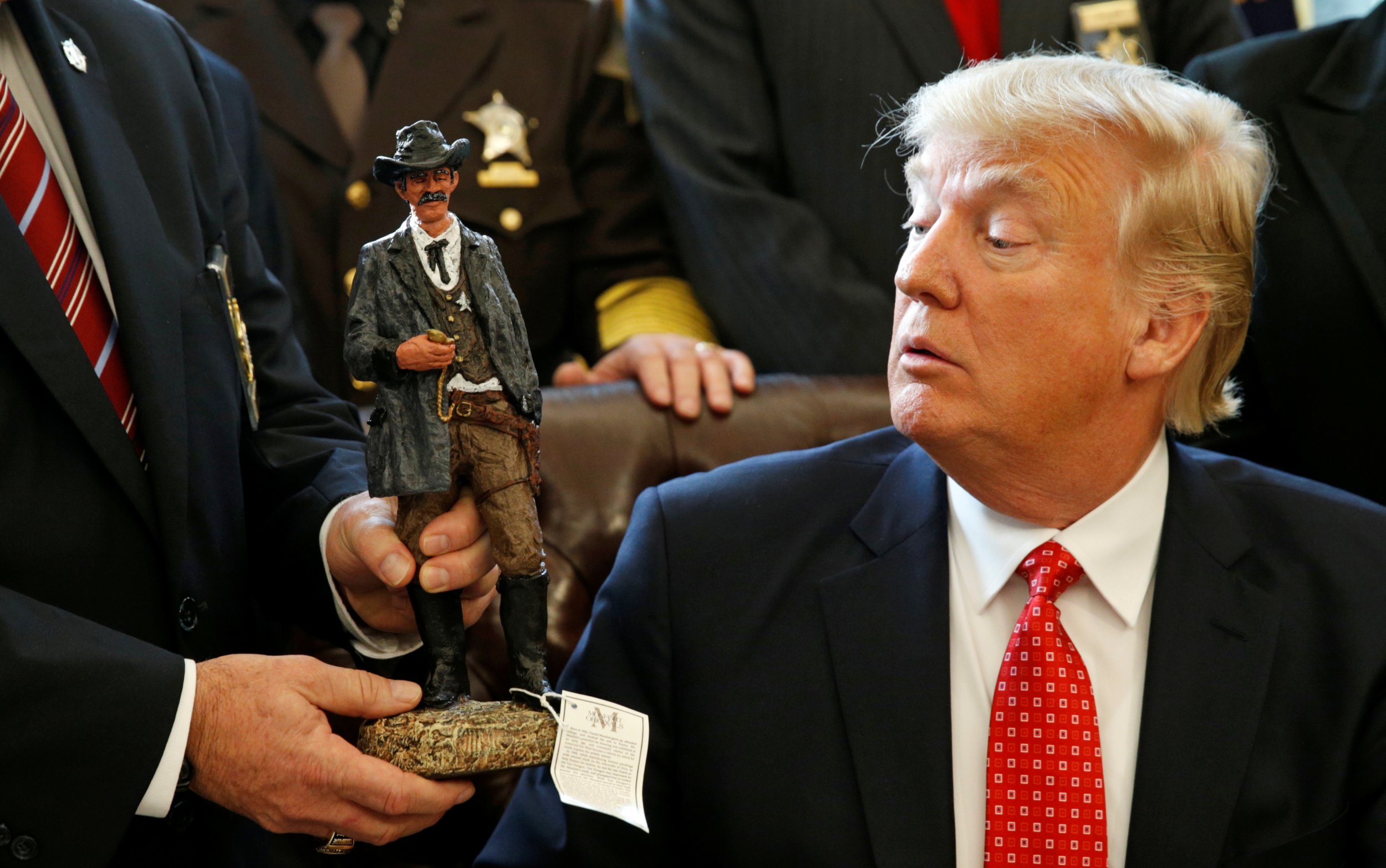 The art community has feared for months the impact a Trump administration might have on federal arts funding. On Thursday, those fears were realized. The president's first budget proposal features the all-out elimination of the National Endowment for the Arts, the National Endowment for the Humanities and the Corporation for Public Broadcasting.
Related: Trump's budget plan to include major cuts to State Department, EPA
The proposal is still only a proposal, but given some of the issues on which the GOP—which currently control the House and the Senate—has acquiesced to Donald Trump, it isn't likely they will fight to preserve federal funding for the arts. Trump is the first president to propose cutting it altogether.
Trump has never exhibited refined taste. He drapes everything in gold. He orders his steaks well-done. He uses Scotch tape to hold his ties together. But as a prominent member of New York City's social elite (more or less) over the past 30-plus years, it's been impossible for him to avoid the art world. In an effort to better understand Trump's relationship with the finer things in life, we've compiled some of those interactions.
It Runs in the Family
It might not have been art, exactly, but Steeplechase Park was a beloved Coney Island institution with a marvelous glass façade. Fred Trump purchased the amusement park in 1965. A year later, he demolished it, and did so without much respect for its standing in the community. Despite efforts to landmark the site, Trump threw a demolition party in which attendees were invited to throw bricks through its iconic glass panels. What survived the bricks was razed to make way for a waterfront housing complex. Nothing was ever built, though, because the land was not zoned for residential use, a hurdle Trump mistakenly assumed he would be able to clear. He eventually sold the land for a $1.2 million profit.
So significant was Trump's callous destruction of Steeplechase Park that in 2016 the Coney Island History Project hosted an exhibit mourning the 50th anniversary of the loss.
His First Public Controversy Involved Destroying Two Art Deco Reliefs
To make way for Trump Tower in 1980, Donald Trump demolished the Bonwit Teller Building. Gracing its facade were a pair of stone art deco reliefs, which the Metropolitan Museum of Art wished to preserve. Trump agreed, as long as it didn't cost too much to salvage the sculptures. It wouldn't have, and there was no legitimate reason the then-unknown real estate developer shouldn't have accommodated the Met's request. As The Washington Post points out, a spokesman for New York Mayor Ed Koch said at the time that Trump had a "moral responsibility to consider the interests of the people of the city."
But Trump decided to go ahead and jackhammer the statues anyway. Following the demolition, Trump, under the guise of his "spokesperson" Jack Barron, claimed that three different appraisers had deemed the reliefs worthless. Later, under his own name, Trump said that his biggest concern was the safety of pedestrians, who might have been killed if one of the reliefs were to have been mishandled. So thoughtful.
His Relationship With Andy Warhol
If you can imagine it, Trump crossed paths with Andy Warhol several times in the '80s, and even visited the pop artist in his famed Factory. According to Warhol's diaries, it was suggested that Warhol create a portrait of Trump Tower to hang above the entrance to the building's residential section. Without a formal deal in place, Warhol made a series of eight silkscreens of the building to show to Trump, but they weren't to the real estate developer's liking. "I still hate the Trumps because they never bought the paintings," Warhol wrote in 1984.
Though he wasn't pleased with Warhol's interpretation of his signature building, Trump did admire a particular quote of Warhol's about the art of business. "There's a certain amount of bravado in what I do these days, and part of that bravado is to make it look easy," Trump says in Think Like a Champion: An Informal Education in Business and Life. "That's why I've often referred to business as being an art. I've always liked Andy Warhol's statement that, 'Making money is art, and working is art, and good business is the best art.' I agree."
He Called Chris Ofili's The Holy Mary Virgin "Gross, Degenerate Stuff"
In 1999, the Brooklyn Museum exhibited a work by British painter Chris Ofili called The Holy Virgin Mary. It depicts a black Virgin Mary and features pictures of female genitalia cut out of pornographic magazines. Oil paint, glitter and elephant dung were all used to compose the piece. Then-mayor Rudolph Giuliani took issue with the exhibition, saying, "There's nothing in the First Amendment that supports horrible and disgusting projects!" He even tried to cancel the museum's lease with the city.
Coming to Giuliani's defense was Donald Trump, who said that "as president"—this was in 1999—he would cut funding for such "obscene" art. "It's not art," he added. "It's absolutely gross, degenerate stuff. It shouldn't be funded by government."
His Lack of Respect for the Cast of Hamilton
Trump hasn't exhibited much tolerance for those speaking out against him, including artists. After Trump was elected in November, Mike Pence attended a performance of Hamilton in New York. After the show ended, the cast delivered a message to the future vice president in which they expressed concern that the administration "will not protect" the diverse Americans that make up the production's cast. The message was tactful and respectful, and Pence said that he was not offended by it. Trump, on the other hand...
At least he thinks the theater is special.
His Lack of Respect for 16th-Century Tapestries
Before Trump owned Mar-a-Lago, it belonged to Marjorie Merriweather Post, the socialite owner of General Foods. After she died in 1973, she left the Palm Beach estate to the federal government, with the hopes that it would become a presidential retreat. This never happened, and Trump bought it in 1985.
As was revealed in a New York Times piece about Trump's former butler, Mar-a-Lago contained a pair of 16th-century Flemish tapestries that Post would preserve by closing the drapes during the day, so as to prevent sun damage. Trump did not care to do this, and the tapestries were ruined. Or, as the Times puts it, they "faded after Mr. Trump bought the place and blasted the living room with sunlight."
Though he failed to care for the tapestries, Trump did, of course, turn Mar-a-Lago into a presidential retreat.
The Portraits
Speaking of Mar-a-Lago, it was at the Palm Beach club where in 2007 Melania Trump spent $20,000 on a 6-foot-tall portrait of her husband at a charity auction. The sum was paid not by Trump, however, but by Trump's charitable foundation, which he also used to pay $258,000 in legal fees and to buy a football helmet autographed by Tim Tebow for $12,000. Here's the portrait in question:
There's also this comically majestic portrait, which currently hangs in Mar-a-Lago. For years, it did so without a left hand.
Donald Judd Floor Piece or Coffee Table?
In 1999, New York Times architecture critic Herbert Muschamp took Donald Trump to the Museum of Modern Art to view Andy Warhol's Gold Marilyn Monroe. "To my eyes, however, [Trump's] public persona is itself a cultural artifact of museum quality," wrote Muschamp. "I want to study his condition in this context."
We head upstairs and clip through the galleries. When we reach the room where the Marilyn is hanging, I point it out. ''Philip gave that. Isn't it great?'' There's a large sculpture in the middle of the room, a brass floor piece by Donald Judd. Evidently Mr. Trump mistakes it for a coffee table, for he uses it as one, tossing his overcoat and some binders full of pictures on top of it as we walk over to the painting. Mr. Trump barely glances at the Marilyn, but this doesn't matter. My goal is to capture them together in the same frame. He's a work of art himself, as well as a piece of work, a living self-portrait with a trademark signature sought by foreign banks, condo dwellers, autograph hounds, advertisers and publishers. Warhol's dream was to live off putting his signature on soup cans. Mr. Trump has more or less fulfilled it.
Donald Judd, not surprisingly, was not a fan of Trump. "He says in Life that he only buys 'Old Masters and that contemporary art is a con,'" the artist wrote in 1989. "And of course 'real-estate development' is a good honest business."
The Budget Proposal Isn't the First Time He's Screwed the National Endowment for the Arts
Trump bought the Old Post Office Pavilion in Washington, D.C., in 2013 and opened it as a hotel last October. Before it could be renovated, however, its previous tenants had to clear out. One of those tenets was the National Endowment for the Arts, which had called the historic building home since 1983. The NEA is currently headquartered in the Constitution Center, but if Trump's budget proposal is approved, they'll be moving out of there as well.