Trump Tells Louisiana Being Ranked 50 in Economic Development is 'Fine.' Twitter Reminds Him of the Number of States
President Donald Trump ignited mockery on Thursday after telling Louisiana voters they were "doing fine" on economic development despite being the worst-ranked state in the country for the metric.
Twitter users were quick to point out the number of states in America after the president told voters in the state that being ranked fiftieth was an acceptable place to be.
Trump's comments came as he spoke at a rally at the CenturyLink Center in Bossier City where he endorsed first-time Republican candidate Eddie Rispone for governor—a seat the GOP would love to take from Democrats after losing out in the Kentucky governor race last week.
Trump had in fact first told attendants in the southern state that they were doing "lousy" economically, before quickly scaling back his remarks.
"A vote for John Bel Edwards,"—the Democratic incumbent in the race—"is a vote for radical leftists who despite your values, hate your beliefs and want to crush the workers of the state," Trump said.
"You're doing lousy," Trump said, before quickly deciding to change tack and justify his remarks. "Compared to others," he said.
"Look, the whole country's doing great. We're having a great, great surge like we've never had in the history. Our country is the strongest it's ever been... but you're ranked 50 in economic development. So you're doing fine but you're not doing like you should be doing."
A number of people on Twitter told Trump that being ranked fiftieth meant Louisiana was the worst-performing state.
Trump's comments came two days before the state will go to the polls on Saturday and it was the third time the president had visited Louisiana in the course of the race.
Edwards, a popular Democrat for a traditionally red state, responded by saying Trump's visit was a sign of weakness for Rispone's campaign, adding that his rival needed the president to "prop him up."
"Obviously he's trying to nationalize the race because that's the only shot he has," Edwards said, reported The Center Square. "He cannot win this race based on Louisiana issues because he hasn't demonstrated any knowledge about how state government works."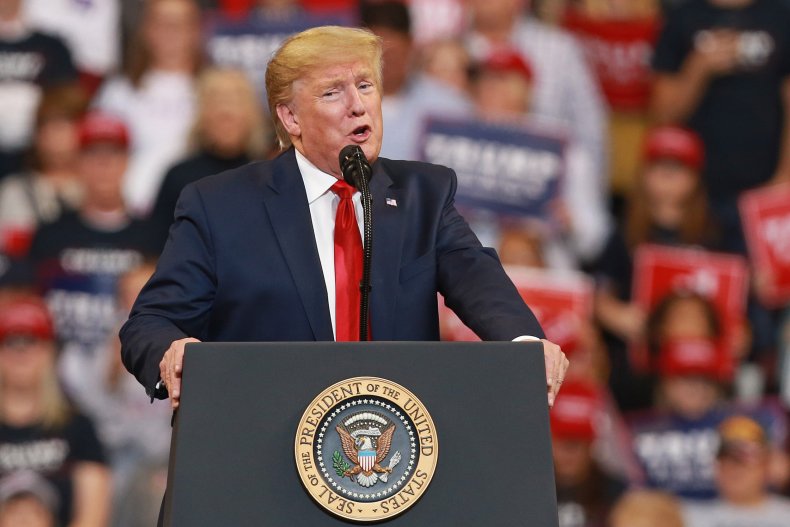 Louisiana was formerly an agricultural powerhouse with booming cotton, sugarcane and lumber industries, but started to fall behind after it failed to modernize its economy at the same rate as its southern neighbors.
One example of this, according to a study of Louisiana's economic prosperity by Legatum Institute, was how local sales taxes are collected by each parish directly and the rates differ across the state. This makes it difficult for large-scale businesses to operate as efficiently and has been a source of complaint by business leaders for some time.
The state also charges relatively high insurance premiums—in part caused by Hurricane Katrina—and frequent litigation also drives up the costs, driving down the attractiveness of Louisiana, according to the report highlighted by The Advocate.
Edwards argues that the flailing economy was improving under his stewardship, although it continues to lag behind on growth, employment and a range of other factors.
In spite of Trump's assertions that Edwards was a "radical leftist," he is in fact one of a few Democrats who does not support impeachment of the president and also signed into statute one of the country's strictest anti-abortion laws—a law nicknamed the Heartbeat Bill which bans abortions once a heartbeat is detectable with no exceptions for rape or incest.
Edwards leads Rispone by 48 to 46 percent ahead of Saturday's vote, according to polling carried out by Mason-Dixon Polling & Strategy. The poll of 625 registered Louisiana voters, was conducted between November 5 and 7 on behalf of WAFB9 News