Donald Trump's Approval Rating Among Republicans Drops to 'Career Low' Months After 'Career High': Poll
President Donald Trump's approval rating among Republicans has hit a "career low" after sliding 13 percentage points in just three months, according to a new poll.
The commander-in-chief still enjoys the approval of most Republicans, but satisfaction with his performance in office among the GOP dropped from a "career-high" 87 percent in July to 74 percent at the end of October, the latest ABC News/Washington Post poll has found.
The survey conducted by Langer Research Associates between October 27-30 also found that 67 percent of conservatives, a separate group to Republicans, approved of Trump's performance, a fall from 77 percent in July.
More than a quarter of Republicans and 32 percent of conservatives further said they disapproved of Trump's handling of impeachment proceedings when they were polled in the run up to the House vote to formalize the inquiry.
Newsweek subscription offers >
Trump's overall approval numbers were stable, if low, with just 38 percent of the 1,003 adults surveyed saying they approved of the president's performance.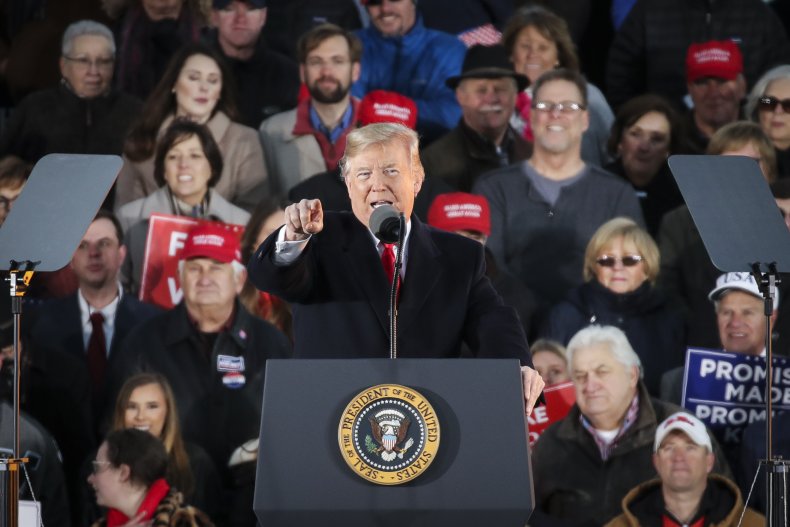 The survey's recording of a steep decline in approval of the president within his party differs from other polling numbers.
A Reuters/Ipsos Mori poll released earlier this week put Republican registered voter approval of Trump at 84 percent, while an Economist/YouGov survey conducted between October 27-29 found that 88 percent of the GOP either strongly or somewhat approved of the president.
Newsweek subscription offers >
But the latest ABC/Washington Post poll's findings could still cause some concern in the White House, which has sought to discredit the impeachment inquiry against Trump by labeling it a Democratic "witch hunt" and "stitch up" lacking credibility.
After the House of Representatives yesterday voted 232-196 in favour of a resolution that established the framework of the impeachment process going forward, Press Secretary Stephanie Grisham was quick to put similar lines to the media.
"The President has done nothing wrong, and the Democrats know it," she said. "Nancy Pelosi and the Democrats' unhinged obsession with this illegitimate impeachment proceeding does not hurt President Trump; it hurts the American people."
In a blow to the ongoing inquiry, the latest ABC News/Washington Post poll, which has a 3.7 point margin of error, found that the U.S. was split almost down the middle on the question of whether Trump should be impeached and removed from office, with 49 percent in favour and 47 percent against.
By comparison, ABC/Washington Post polls from 1998 found "consistent majorities" of the public were opposed to the impeachment of Bill Clinton, according to Langer Research Associates.
Views on the threat of Trump being impeached unsurprisingly differed along party lines in the new poll. Just 18 percent of Republicans felt the president should be impeached and kicked out of the White House—compared to 82 percent of Democrats.
A Real Clear Politics polling average for the impeachment inquiry shows the proceedings have a net approval rating of 6.4 percentage points at the time of writing.
Donald Trump's Approval Rating Among Republicans Drops to 'Career Low' Months After 'Career High': Poll | U.S.