Donald Trump Keeps Strong GOP Support Ahead of 2020, While Only 18 Percent of Americans Would View 'Socialist' Candidate Positively: Poll
The latest 2020 campaign polls show President Donald Trump commands overwhelming support from Republicans, but overall data shows he hasn't expanded his base, with only four-in-ten overall voters saying they plan on re-electing him next year.
A Wall Street Journal/NBC News poll comparing January and February presidential candidate support showed Trump's job approval ratings have remained fairly stable throughout his tenure in office. About 58 percent of overall voters said they don't think he's been honest about Russia and 60 percent disapprove of his national emergency declaration for the border wall. But a majority of Americans don't believe there will be a recession next year, and nearly 90 percent of Republicans approve of the job Trump is doing in office.
Democratic pollsters said the dynamics of the race and polling numbers will undergo a large shift once a single Democratic opponent to Trump has been decided. But no matter how analysts look at the campaign, the 2020 race is shaping up to be yet another close, partisan contest.
"It's a 45-55 against the president at this stage of the game," Democratic pollster Peter Hart, told NBC News.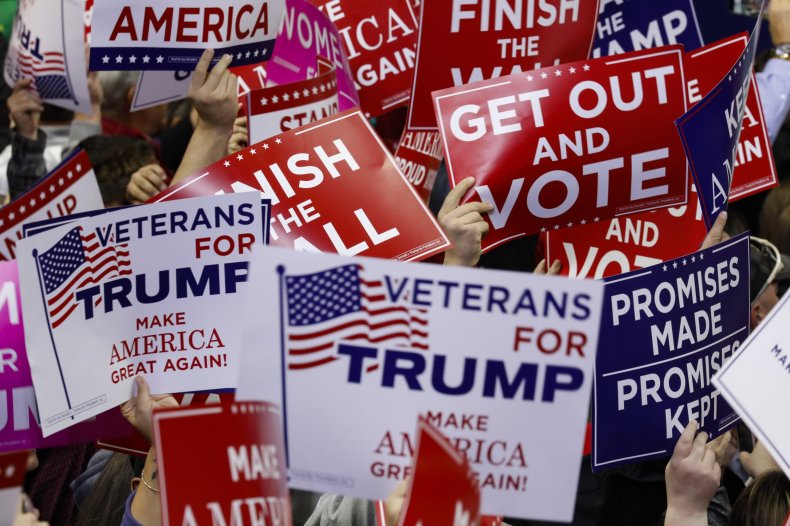 The WSJ/NBC poll, conducted February 24 through Wednesday February 27, showed Trump's disapproval has remained overwhelmingly high among the same demographics while his approval has also remained high among separate groups of people.
Nearly nine-in-10 African Americans (88 percent) say they disapprove of the job Trump is doing as president, with nearly two-thirds of Latinos (64 percent) agreeing. Overall, 61 percent of women disapprove of Trump's presidency.
But among those approving of Trump's job as president, 88 percent of Republicans say they support him as well as 60 percent of rural residents. A majority of overall white Americans (54 percent) say they approve of the job Trump is doing as president.
The NBC/WSJ poll looked at characteristics voters want in a candidate. The most popular attribute is being African-American, with a combined 87 percent of all voters saying they are "enthusiastic" or "comfortable" about having a black candidate. A white man received 86 percent of approval and a woman received 84 percent. A gay or lesbian presidential candidate received only 68 percent of support, though that number is up from 43 percent in 2006.
A person who is Muslim and a candidate who is a socialist received the least amount of support, with only 18 percent of Americans said they view a "socialist" candidate positively. Half of Americans view the term "negatively," according to the poll.
Overall, 41 percent of registered voters surveyed said they will "definitely" or "probably" vote for Trump in 2020. And about 48 percent of voters said they "definitely" or "probably" vote for a Democratic candidate in 2020.