Donald Trump Controls 'Afraid' GOP Who Cater Only to 'Constituency of One' Says 'Washington Post' Columnist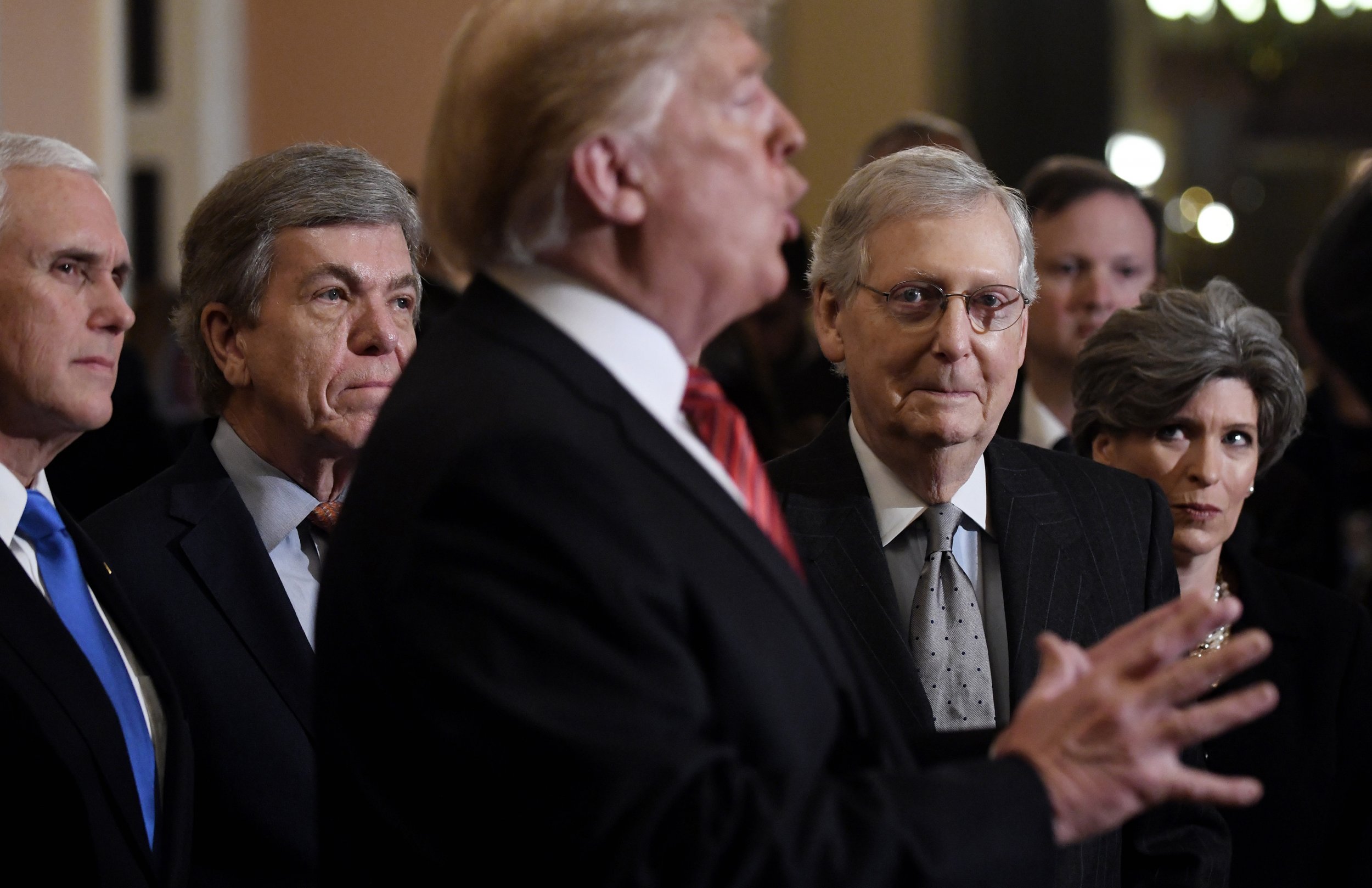 President Donald Trump has fully co-opted the Republican Party, whose elected members now put greater priority on mollifying the president than on serving their constituents, a columnist argued.
Writing for The Washington Post, Dana Milbank said that continued Senate Republican support for Trump's southern border national emergency declaration enabled the president to raid funds earmarked for Republican voters.
"This is how far Republicans will go in submissiveness to President Trump," Milbank wrote. "They will vote to surrender military spending projects in their own home states and districts to avoid displeasing him."
The Senate will vote this week whether to uphold Trump's national emergency declaration, which Trump made last month after Congress refused to allot the funds he demanded for his proposed border wall, despite a 35-day federal shutdown over this dispute. The national emergency would allow Trump to tap federal funds that Congress approved for other uses, including those allocated to the Pentagon.
Although the Senate is expected to have enough votes block the declaration—a decision Trump said he would veto as soon as it reaches his desk—most Senate Republicans will vote to support the controversial maneuver.
"In upholding Trump's emergency declaration, they are giving him blanket authority to take $3.6 billion from any of nearly 400 already approved military construction projects of his choosing in 43 states—and to spend it on a border wall," Milbank wrote. All but 13 House Republicans have already acquiesced to Trump's demands, though the Democrat-majority House as a whole voted to overturn the order.
The Post reported that Trump had his eye on as much as $6 billion in Pentagon funds, which alone would be more than his demand for $5.7 billion that triggered the government shutdown. Details have been sparse, but the military has already suggested that about $1 billion would come from money set aside for recruiting and pensions.
Milbank said the plan represented "a raw display of Trump's power over Republican lawmakers: They would sooner take away money already promised to military families and constituents than anger Trump."
The columnist argued that Republicans' acquiescence to Trump—at the cost of their supposed principles—had become common. In its economic, foreign, health care and law and order policies, Milbank said the Republican Party had quickly become unrecognizable.
"The one-time party of fiscal discipline just received a budget from Trump proposing years of trillion-dollar deficits," he noted. "The party of free trade is now condoning Trump's trade wars. The party of law and order blesses Trump's attacks on the Justice Department and the FBI, and the party of personal responsibility accepts his payment of hush money to an adult-film actress.
"The party of internationalism complies with Trump's rapid pullouts from Afghanistan and Syria… A party that professed a commitment to the United States's social compact is now silent as Trump proposes deep cuts to Medicare.
"Now we see the party of limited government assenting to executive overreach—potentially at the expense of their own constituents."
Milbank attributed Republicans' support of the president's national emergency to their fear of "crossing a man who warns that those who do put themselves at great jeopardy. Either way, it's not that these lawmakers are ignoring their constituents—it's that they are heeding a constituency of one."