Fox News Poll Shows Nearly 1 in 5 Republicans Wants A Different 2020 Presidential Nominee Than Donald Trump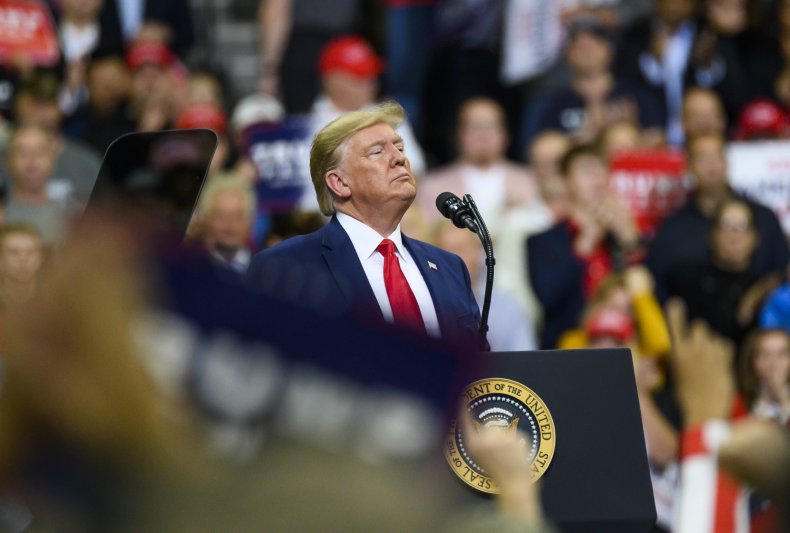 Nearly one in five Republican primary voters would prefer to see a nominee other than incumbent President Donald Trump helm the GOP ticket in 2020, a new Fox News poll has found.
Seventeen percent of Republican voters told Fox News's pollsters they would prefer that someone other than Trump be the party's nominee, although 77 percent remained steadfastly behind the president.
This small but notable opposition to the president's re-election within his own party remains unchanged since February, when Fox News measured an identical response to the same question. Support for the president's re-nomination within his own party has solidified, however, increasing by five points since February.
Newsweek subscription offers >
The nominee-preference question had a margin of error of five points.
Despite some interparty antipathy, Trump enjoys remarkably high and consistent job approval ratings from Republicans. Gallup has routinely measured his approval numbers within the GOP as high as 89 percent in recent months. Although, these solid numbers may be owed, in part, to a declining Republican base.
Lee Miringoff, of the Marist Institute for Public Opinion, theorized ahead of the 2018 midterms that Republicans distancing themselves from the party could be leaving behind a smaller, yet more committed base of support for Trump.
"In addition to [President] Trump's approval rating, it's the damaged brand right now, and that's what the Republicans have to worry about," Miringoff told The Hill. "The base is shrinking because there are fewer Republicans. So the base is more solid than it was, but there's fewer of them."
Newsweek subscription offers >
The Fox survey also measured inclinations towards general election candidates in head-to-head matchups against Trump. Both former Vice President Joe Biden and Senator Elizabeth Warren, who are vying for the 2020 nod, were found to best Trump by ten points in the popular vote. Biden's margin has slumped in recent months, while Warren's has increased markedly, according to Fox News's polling. Senator Bernie Sanders, the other Democratic frontrunner, was measured at nine points ahead of Trump in a hypothetical race.
Sanders was also found to be the most trustworthy among the top candidates. Fifty-nine percent of registered voters think he is honest and trustworthy, compared with 50 percent for Warren, 48 percent for Biden and 35 percent for Trump.
But despite the groundswell candidacies of Warren and Sanders, the poll found that 43 percent of Democratic voters still think Biden has the best shot at beating Trump in 2020.
Fox News Poll Shows Nearly 1 in 5 Republicans Wants A Different 2020 Presidential Nominee Than Donald Trump | Politics