Did Obama Wiretap Trump? No, But It Was Just One Of The President And GOP's Top Conspiracy Theories In 2017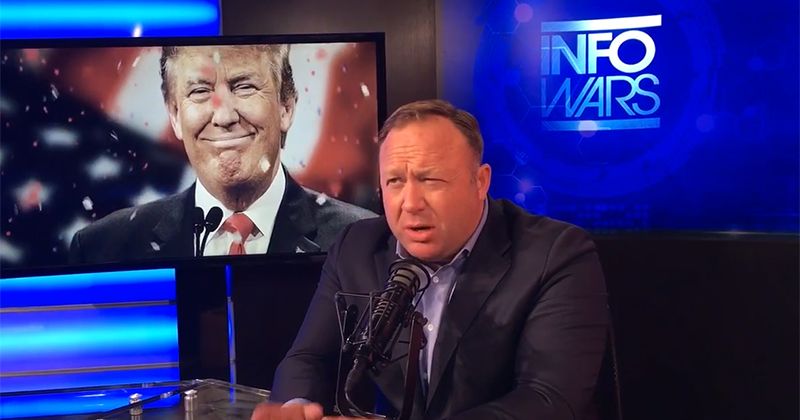 The Trump administration is known for being friendly to ideas that are a little out there. The president has said repeatedly that President Obama was born not born in the United States, regularly retweets Nazis and bigots and even questioned the validity of the Access Hollywood tape on which he said he liked to grab women "by the pussy."
So it's no wonder that a number of far-right conspiracy theories have made their way to Congress and the White House this year. Here's a roundup:
Barack Obama is operating a shadow government
Obama's post-presidency plans are to continue living in Washington D.C. until his youngest daughter, Sasha, graduates high school in 2019. But on Fox & Friends, Ed Klein, an author who has been accused of fabricating claims about politicians, said that Obama and his aides were "setting up what they're calling a shadow government," in the house. In February 2017, The New York Post reported that Obama was controlling "an army of agitators" and running a shadow government "from a bunker less than two miles from the White House." The claim spread across far-right blogs and websites.
In a March, 2017 town hall meeting, Representative Mike Kelly of Pennsylvania claimed that Obama was operating an insurgency from his Washington D.C. home. Obama is using his home "for one purpose and one purpose only," he said. "And that is to run a shadow government that is gonna totally upset the new agenda."
A Obama official confirmed that the former president wiretapped Trump Tower
On March 2, 2017, a conservative radio host outlined what he believed was a plot by the Obama administration to sabotage Trump's campaign by wiretapping Trump Tower. A day later, Breitbart reiterated the claim. On March 4, Trump tweeted about the story, saying of the fabricated scandal, "This is Nixon/Watergate. Bad (or sick) guy!"
Later in the month a YouTube account called "The Leaping Frog" made a video saying Obama official Evelyn Farkas admitted his administration spied on Trump. The video, which misrepresented what Farkas had said, was picked up by Fox & Friends and later cited by then-press secretary Sean Spicer.
Trump thought protesters were paid
President Trump has claimed multiple times that the protesters who took to the streets to rally against his victory, his refusal to release his taxes and more were paid to be there. After his November election win, Trump tweeted that those marching against him were "professional protesters," who were "incited by the media."
Later in April, Trump called for an investigation into protesters who asked to see the president's tax returns. "Someone should look into who paid for the small organized rallies," Trump tweeted days after thousands marched across 150 cities.
Hillary Clinton and Obama set up the far-right rally in Charlottesville
The August "Unite the right" rally in Charlottesville to protest the removal of a Robert E. Lee statue quickly descended into a white nationalist gathering. Neo-Nazis waved weapons while harassing minorities, leading to the death of one counterprotester by a reported white supremacist.
The Southern Law Poverty Center wrote a profile on the man who organized the rally, Jason Kessler. In it, the group noted that he claimed to have once supported Obama.
Far right news outlets grabbed onto this fact and called Kessler a "liberal double agent," and said the protest was a "false operation."
In September, Representative Dana Rohrabacher of California told The San Francisco Chronicle that it was a former Hillary Clinton and Bernie Sanders supporter who tricked "dumb Civil War reenactors" into taking part in the protest. "It was left-wingers who were manipulating them in order to have this confrontation."
Roy Moore's accusers were bribed
In November, The Washington Post reported that then-Alabama Senate candidate Roy Moore had inappropriately touched or tried to seduce underage girls decades ago. Subsequent women came forward with similar stories, including one woman, Beverly Young Nelson, who claimed that Moore had even signed her high school yearbook.
Thomas Wictor, a right-wing author, claimed without proof that the signature was falsified and far-right media outlet Gateway Pundit picked up his statement. Shortly after, Moore's campaign also claimed the signature was false.
Two weeks afterwards, Alabama Representative Mo Brooks said he had no doubt the signature was fake and that "the evidence is almost incontrovertible about whether the yearbook was forged." President Trump reportedly also agreed.
Nelson did add the place and date to the yearbook, but she mainted that the signature was real, and handwriting experts backed her claims.
The FBI is organizing a coup
In mid-December, Fox News host Jesse Watters criticized Robert Mueller's Russia investigation at the FBI, saying that it was "crooked," referring to Peter Strzok, a senior FBI official who had been part of Mueller's investigation until he was fired after the discovery that he had sent text messages before the 2016 election calling Trump a "douche," "utter idiot," and "loathsome human."
"We have a coup on our hands in America," said Watters. Later in the show, during an appearance by the president's counselor Kellyanne Conway, the lower-screen text read, "A coup in America?"
"The fix was in against Donald Trump from the beginning, and they were pro-Hillary," Conway said. "They can't possibly be seen as objective or transparent or even-handed or fair."
Trump hasn't backed the theory of a coup, but he did issue a series of tweets on December 23 accusing FBI leadership of having clear bias and not doing their jobs well.
"How can FBI Deputy Director Andrew McCabe, the man in charge, along with leakin' James Comey, of the Phony Hillary Clinton investigation (including her 33,000 illegally deleted emails) be given $700,000 for wife's campaign by Clinton Puppets during investigation?" he wrote.
Prominent Democrats have publicly worried that this is part of a campaign to discredit Mueller and eventually fire him. Senator Mark Warner, the top Democrat on the Senate Intelligence Committee, took to the Senate floor in December to warn that "firing the special counsel or interfering with his investigation by issuing pardons of essential witnesses is unacceptable and would have immediate and significant consequences."
Hillary Clinton sold us out to the Russians
Uranium One is a false story about how Hillary Clinton engineered the sale of nuclear materials to Russia to get kickbacks to her husband's foundation.
The story comes from the book Clinton Cash by Peter Schweizer, a former Breitbart editor whose work was partly funded by a political action group with ties to Steve Bannon. In reality, the deal was approved unanimously by the nine members of the Committee on Foreign Investment in the United States. The Secretary of State does get a vote on the panel, but the votes typically rubber-stamp foreign trade deals. Clinton played no role in the deal itself, experts say. State Department officials have corroborated her story.
The plan also required approval from the Nuclear Regulatory Commission, which Clinton did not oversee or sit on.
The book claimed that around the time of the deal, the Clinton Foundation accepted more than $100 million in contributions from nine people with ties to Uranium One. But $131.3 million contributed to the Clinton Foundation by Frank Giustra came years after he had sold his share in the Canadian company, Uranium One, in 2007, before Hillary Clinton became Secretary of State.
Nonetheless, in late December, the Justice Department and Attorney General Jeff Sessions reportedly opened an investigation.