Donald Trump, Paul Ryan and the Republicans Lost on Obamacare. What Now?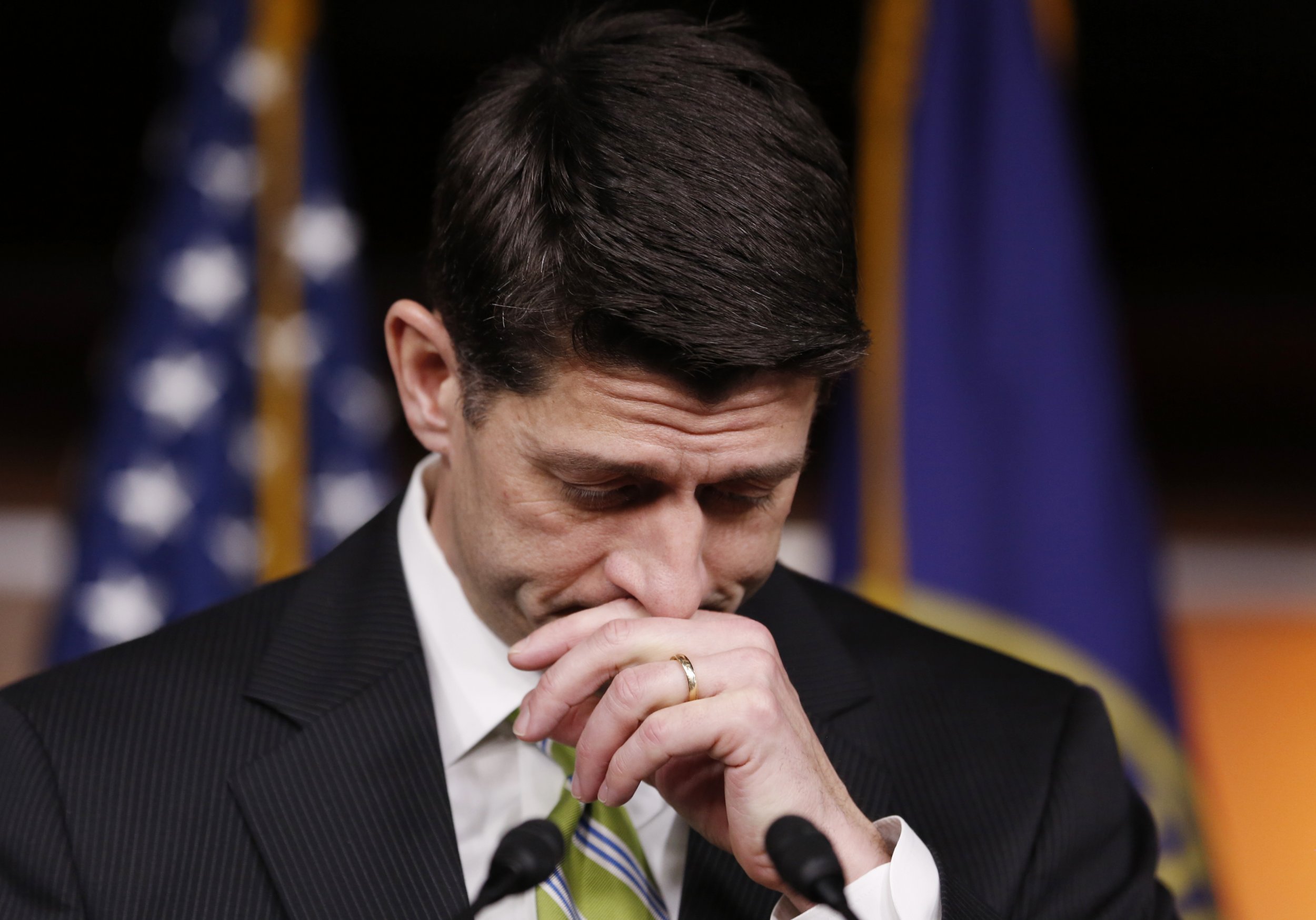 When it came to bringing Republicans together to repeal and replace Obamacare, President Donald Trump's sweet talk, threats, horse trading and ultimatums were not enough. "At some point, you can only do so much," a resigned White House Press Secretary Sean Spicer said on Friday.
Related: Health Care Overhaul Tests Trump's Negotiating Skills
Despite last-minute changes, and an overnight delay, there were still too many Republican opposed to the White House-backed plan to unravel the 2010 health law known as Obamacare on Friday. Party leaders tried to appeal to conservatives by repealing requirements that health insurance plans cover "essential benefits" like maternity care and hospitalization, but opponents from the right-wing Freedom Caucus insisted the bill still maintained too much of the original architecture and would not sufficiently lower costs. More moderate Republicans, meanwhile, balked at the legislation because of the number of people projected to lose insurance coverage, among other things.
The House GOP ultimately opted to pull the bill from the floor rather than hold a scheduled vote and suffer an embarrassing defeat. The result was still humiliating for Republicans in Congress, who've been promising they could produce a better plan for healthcare for seven years. The bill's failure may be even more humiliating for the president, a self-styled master dealmaker whom Spicer noted had been "calling members as early as six in the morning and going to 11 o'clock at night the last several nights," pleading with them to support the proposal.
"I will not sugarcoat this, this is a disappointing day for us," Speaker House Paul Ryan told reporters after the vote was cancelled. "All of us, myself included, will need time to reflect on how we got to this moment, what we could have done and do it better."
The questions now are twofold: is a Republican healthcare overhaul dead? And where does the party go from here? The president insisted, in an ultimatum to congressional Republicans Thursday night, that if the vote failed, the White House would leave Obamacare in place and move on to other issues. But by Friday Trump was backpedaling, predicting "we'll end up with a truly great healthcare bill in the future after this mess known as Obamacare explodes." And he blamed Democrats, not Republicans, for sinking the legislation. "With no Democratic support we couldn't quite get there," Trump lamented.
Republicans in Congress also expressed hope they could revisit healthcare, though no one offered a timeline. Senate conservatives like Mike Lee of Utah and Rand Paul of Kentucky, who opposed the House bill, cheered its collapse. In a statement, Lee said "We will begin working collaboratively here in the Senate and with our friends in the House to produce a bill that will…will reduce costs, save taxpayers money, and make our healthcare system great again." Virginia Congressman Morgan Griffith, who planned to vote "yes" on the bill, agreed the party will need to revisit the issue. "We have to do something because Obamacare is in complete freefall," Griffith said. "It's better that we put something together, we take time, we get it right."
In the meantime, however, Ryan conceded that Obamacare would remain in place indefinitely. "I don't know how long it's going to take us to replace this law."
In the interim, both Trump and Ryan expressed confidence they can move on to other items on their agendas, starting with tax reform. "We will probably start going very, very strongly for the big tax cuts and tax reform, that will be next," the president told reporters. Ryan insisted the healthcare plan's failure is not "prologue for other future things."
But the reality is not that simple. Laying out the stakes in an interview with conservative radio host Hugh Hewitt earlier in March, Ryan warned that not passing the Obamacare repeal would be "momentum-killing." He likened Republicans' legislative plans to "a bunch of trains" on one train track, explaining that "If you don't get these trains through the system, it slows everything else down."
More telling, perhaps, was why Ryan said Republicans needed to move on healthcare first—despite the political divides within the party and the obvious minefields involved. Republicans' tax cut plans, he said, hinge on repealing the existing healthcare law. "If we don't do this and reduce or get rid of the trillion dollar tax increases in Obamacare, that just puts tax reform a trillion dollars further out of our reach," Ryan said.
Trump, too, has indicated his real interest in passing a healthcare overhaul has more to do with checking that box than anything else. "We want a very big tax cut," Trump said at a rally in Louisville, Kentucky on Monday, "but we cannot do that until we keep our promise to repeal and replace the disaster known as Obamacare." Later, the president said he was eager to make changes to U.S. trade policy "as soon we get the healthcare finished."
In the aftermath of the healthcare bill's defeat, however, tax reform will be much more difficult, analysts say. As Jared Bernstein, former chief economist to Vice President Joe Biden, recently explained in the Washington Post, the budget savings Republicans hoped to get from slashing Medicaid in their Obamacare repeal, won't be able to fund deeper tax cuts.
The political repercussions for the party could be even more serious. The failure of the Obamacare overhaul—Republicans' first attempt to pass a major piece of legislation since it took control of the White House and Congress—suggests the same political divides that bedeviled congressional Republicans under President Barack Obama remain. Except that with Trump in the White House, the GOP majorities in the House and Senate can no longer blame their policymaking failures on Obama's veto.
And while it's true that there's more consensus within the party on pending issues like taxes, several flashpoints now loom for the GOP. The first is keeping the government funded after April 28, when the current spending bill expires. Already, mainstream Republicans have balked at the steep spending cuts Trump has proposed. But the same hardline conservatives that helped sink Trumpcare like those cuts—and they're now even more emboldened. Those deep divides, reinforced in this healthcare fight, only deepen doubts that the party can actually govern.
Trump's failure to rally the votes for the healthcare bill is also a severe blow to his political brand. Throughout the 2016 presidential election, he campaigned as a savvy businessman who could work the system to cut deals that traditional politicians couldn't. Despite dozens of meetings with various members of Congress, however, the president did not prove to be a "closer" as he and GOP leaders had boasted. In his remarks to the press on Friday, Trump alluded to the lack of "loyalty" among some Republicans. But the real issue appeared to be the president's lack of leverage. Threats of a conservative primary opponent or support from groups like the Koch-funded Americans for Prosperity were much more powerful motivators than abstract threats of retribution from the president—especially a president with historically low approval ratings.
On Friday, Ryan conceded that Republicans still have not figured out how to govern. "We were a ten-year opposition party where being against things was easy to do … And now, in three months time we've tried to go to a governing party, where we actually had to get 216 people to try and agree with each other on how to do things," he observed. "We weren't just quite there today. We'll get there."
The next few months will show if he's being overly optimistic.