Donald Trump Should 'Consider Resigning' to Save His Children From Mueller, Spiro Agnew Lawyer Says
President Donald Trump should be thinking about resigning from office to keep his children and family from being prosecuted by special counsel Robert Mueller, a former lawyer for ex-President Richard Nixon's vice president opined Friday, as more of Trump's longtime confidants began cooperating with federal prosecutors.
"He should consider resigning, because it's only going to get worse," Martin London, who represented former Vice President Spiro Agnew, who resigned, said Friday on MSNBC's Morning Joe show.
"We already have everybody, you know. The rats are leaving the ship. He's lost [Rick] Gates, [George] Papadopoulos, [Michael] Cohen, [Michael] Flynn, now [David] Pecker," London said. "He'll probably lose [Allen] Weisselberg and others from the Trump Organization."
Shortly after London's comment, reports emerged that Weisselberg, the chief financial officer for the Trump Organization, was granted immunity by prosecutors in exchange for providing information on Trump and his former "fixer" Michael Cohen's hush payments to women before the 2016 presidential election.
Cohen pleaded guilty to eight criminal counts and directly implicated Trump in campaign finance law violations on Tuesday, around the same time Trump's former campaign manager Paul Manafort was convicted on eight fraud charges. Pecker, CEO of American Media Inc., was granted immunity in exchange for information on Thursday. Former Trump campaign official Gates was a witness in Manafort's guilty verdict. Trump's former national security adviser Flynn pleaded guilty to lying to the FBI. Papadopoulos, who served as an unpaid Trump campaign foreign affairs adviser, also pleaded guilty in Mueller's probe.
"And we don't know a quarter of what's in the pocket of the prosecutor," London said.
Of Trump, London said, "If he has any interest at all in not only saving his skin but the skin of his child, his children, his son-in-law, his grandchildren, his daughter—this is a time when he's got to seriously think about that."
Trump has reportedly become more concerned that Mueller could reach his family, in particular his eldest son, Donald Trump Jr., whose claim, that he never told his father about a 2016 Trump Tower meeting he had with a Russian attorney promising damaging information on Hillary Clinton, was contradicted by Cohen and others in Trump's inner circle.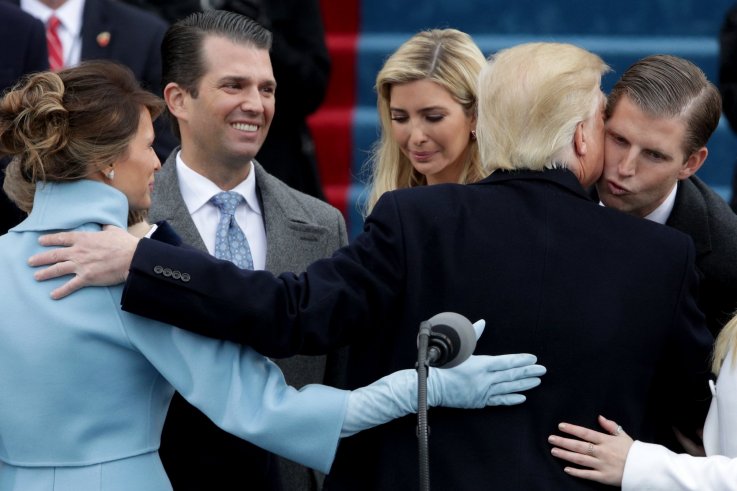 "Now, is he capable of that, of serious thinking? Frankly, I doubt it," London said about Trump and a resignation consideration. "If he's going to be advised by people like clown [Rudy] Giuliani and people who don't know that the truth is truth, then he's not going to get anywhere."
London added that Agnew, who faced a bribery scandal and stepped down 10 months before Nixon resigned, did so driven by "the national interest."
Donald Trump Should 'Consider Resigning' to Save His Children From Mueller, Spiro Agnew Lawyer Says | U.S.