To Resist President Trump, I Left My Home in London to Move to Washington, D.C.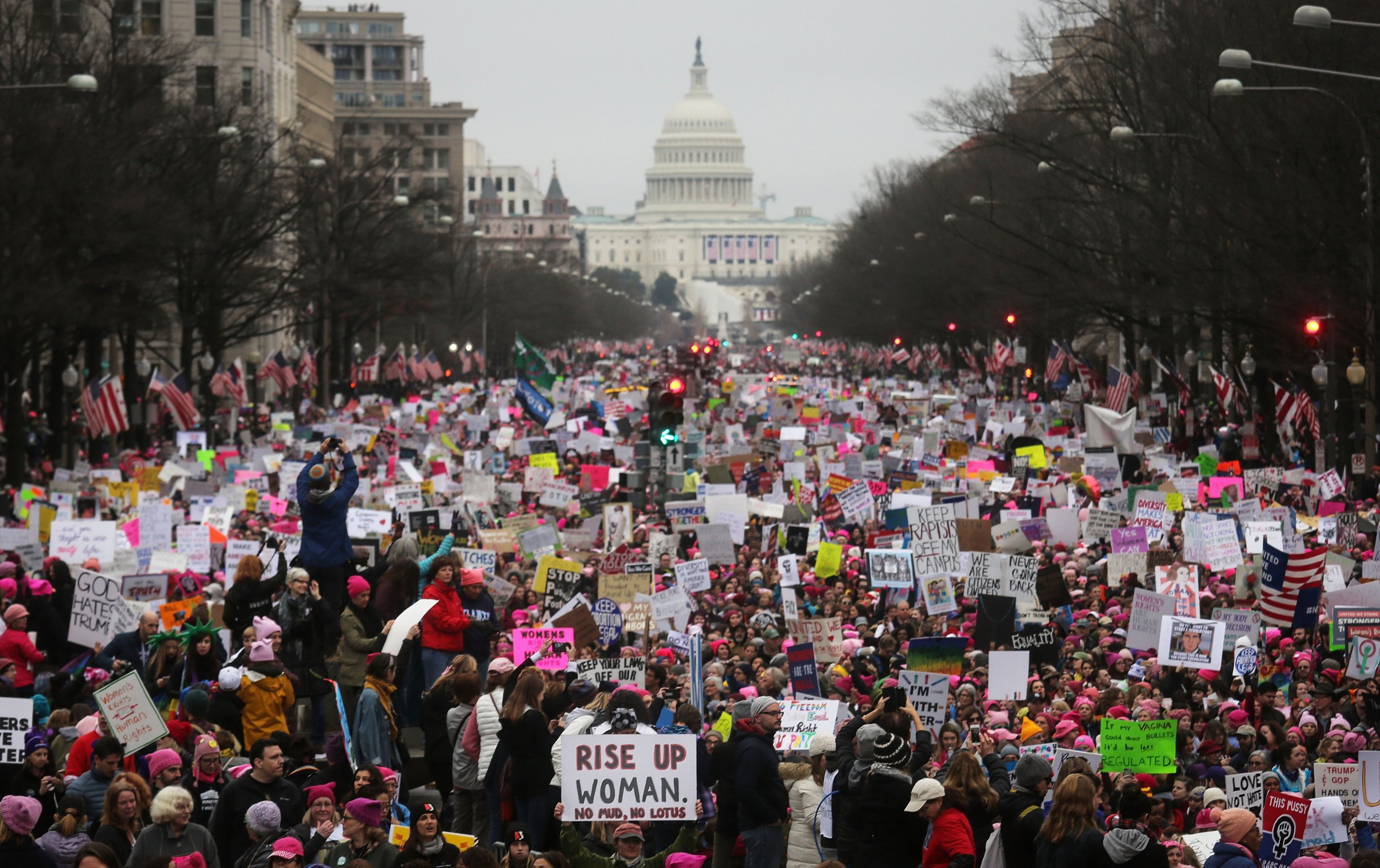 We weren't planning to leave London. My husband and I love it there; it's where we made our home and raised our children. But the outcome of the U.S. election has changed things. Irritable at being unable to do much from so far away, we've moved to Washington, D.C. to try to protest acts that will weaken our democracy and put the fundamental principles of our Republic at risk.
I've been here just under a week, and the news cycle is spinning so fast, it's likely that by the time I write the concluding sentence of this piece, my country will have changed in at least one, if not two or three, consequential ways.
It has become chillingly clear that this administration is intent on changing not only, as Donald Trump vowed on the campaign trail, the way government "does business," but the very nature of our system. And it's just as clear that the Republican party's control over both the legislative and the executive has weakened the system of checks and balances that exist to prevent the emergence of an authoritarian regime. Despite mass demonstrations, tens of thousands of calls from worried Americans, and legal challenges from the federal level on down, the Republican party has so far demonstrated an unflinching loyalty to its president.
Read more: This is California's plan to revolt against Donald Trump
My husband and I feel keenly the passion of people trying to resist Trump. Throughout our nearly 20 years in London, we helped organize Americans in support of candidates with progressive agendas on issues from voting rights and civil liberties to climate change and responsible stewardship of our armed forces. And after each election cycle, win or lose, we would resume our work as soon as a fresh slate of candidates appeared.
But this time felt different. Throughout the campaign we felt a looming threat to everything we've worked to protect and promote, everything that has given us pride in our country. And now those threats are being turned into actions. So here we are, working alongside friends and cohorts equally committed to opposing a malign autocrat's clear attempt to bully this country into submission.
The mass demonstrations occurring in cities and airports throughout the country have come to represent the resistance. They are necessary and they must continue, not only to impress on lawmakers the vehemence and resolve of the opposition but to inspire and encourage others to consider what's at stake, and take a stand. But the resistance is assuming remarkably ingenious forms as well.
After Trump imposed gag orders on several federal agencies, rogue Twitter accounts sprung up, promising to voice the facts Trump would rather ignore. It is unclear who is behind the tweets—federal employees, for example, supposedly created @AltNatParkSer before handing it over to non-government employees. @RoguePOTUSStaff on the other hand, claims its tweets are coming from inside the White House.
My personal resistance takes three main forms. I'm lobbying hard to preserve America's longstanding commitment to a two-state solution to the Israeli-Palestinian conflict and to oppose the appointment of a U.S. ambassador to Israel who has demonized liberal Jews and vilified Muslims.
As the mother of a young Naval officer, I'm working with the non-partisan organization Blue Star Families to ensure that active military personnel and their dependents have the support they need to thrive in a country that relies on an all-volunteer force. Additionally, I am appealing for the wise stewardship of our armed forces, including the passing of legislation that will require congressional approval before our uncommonly impulsive president can call up our troops to fight.
Around the country, other like-minded Americans are choosing their battles as well, thinking and working hard in the face of colossal threats to our collective values.
As you'll hear chanted with full-hearted conviction if you happen to observe any of the hundreds of demonstrations around the U.S.: "This is what democracy looks like".
Diana Shaw Clark lived in London for 17 years where she organized Americans in support of progressive candidates for office in the US. She has recently moved to Washington, D.C. to work to challenge the policies of President Donald Trump.