Donald Trump Responds to Manafort Conviction, Cohen Plea: 'Doesn't Involve Me'
President Donald Trump attempted to swat away any suggestions of mounting pressure during his most bruising day in office yet, by distancing himself from two of his closest former aides after they were found guilty or admitted financial crimes.
In a hectic afternoon for the White House, Michael Cohen, Trump's former lawyer, implicated the president in a criminal conspiracy, confessing to arranging pay offs to two women to ensure they keep quiet about their alleged affair with Trump. He stressed the payments were made at Trump's instruction, ahead of the 2016 presidential campaign and "for the principle purpose of influencing the election."
Almost immediately afterwards, in another courtroom, a jury found Trump's former campaign chairman Paul Manafort guilty of eight counts of tax and bank fraud charges brought forward by special counsel Robert Mueller's investigation into possible co-ordination by the Trump campaign and Russia in the 2016 election.
Despite the major setbacks, Trump did not appear fazed while addressing a rally in West Virginia later that evening, insisting his administration are still "winning" and continuing to refer to the Mueller investigation as a "witch hunt."
"We've got a whole big combination. Where is the collusion? You know they're still looking for collusion. Where is the collusion? Find some collusion. We want to find the collusion," Trump told the crowd in Charleston, reiterating that Manafort's crimes of filing false tax returns on tens of millions of dollars in Ukrainian political consulting feeds took place before he was involved in his campaign.
"We're going to keep on fighting and we're going to keep on winning," Trump added.
Speaking to reporters ahead of the rally, the president distanced himself from his former campaign chairman.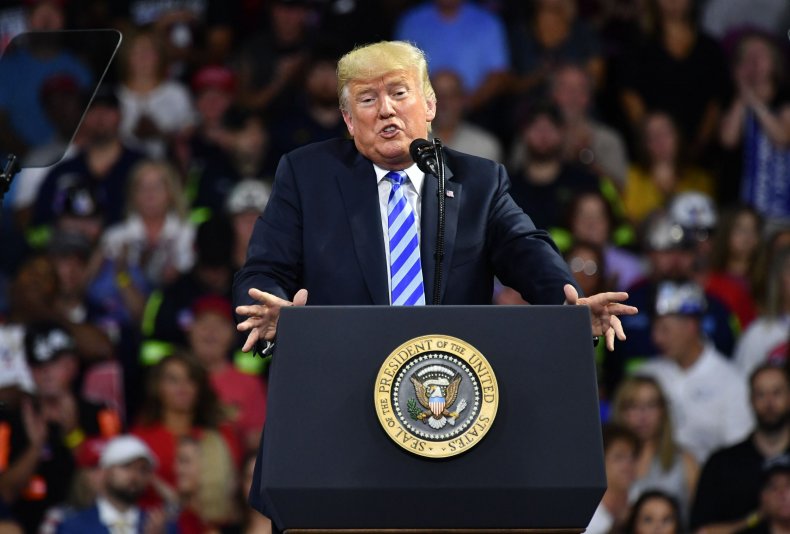 "I must tell you that Paul Manafort's a good man," Trump said, according to The Washington Post.
"Doesn't involve me, but I still feel, you know, it's a very sad thing that happened. This has nothing to do with Russian collusion...This is a witch hunt that ends in disgrace."
The significance of the guilty verdict also seemed to be dismissed by Trump's supporters at the rally, who continued to chant "lock her up" in reference to Hilary Clinton's private email server fallout.
Trump has so far not addressed Cohen's guilty pleas, either during the rally nor in his constantly updated Twitter feed.
Cohen admitted to violating campaign finance laws by helping to arrange payments to former Playboy model Karen McDougal and porn star Stormy Daniels, who both are alleged to have had affairs with Trump.
Without naming the president directly, Cohen said he arranged a $150,000 payment from a media company to the McDougal "in coordination with, and at the direction of, a candidate for federal office."
Cohen also admitted to arranging $130,000 payment to Daniels "in coordination with, and at the direction of, the same candidate."
There had been suggestions that any plea deal from Cohen would involve him providing information to Mueller's investigation, possibly providing further headaches for Trump. The plea deal signed by Cohen made no mention of any co-operation.
However, Robert Mintz, a former federal prosecutor, said there's still a possibility that Cohen could be co-operating under a separate agreement that's not being made public.
"For a variety of reasons, prosecutors may not want to announce to the world that a defendant has agreed to co-operate," Mintz told Associated Press.
However, he added prosecutors also could have "concluded that any additional information that he could provide beyond his public statements doesn't rise to the level of substantial assistance."
Trump's personal attorney, Rudy Giuliani, insisted Cohen's guilty pleas did not represent a significant threat to the president.
"There is no allegation of any wrongdoing against the President in the government's charges against Mr Cohen," he said in a statement. "It is clear that, as the prosecutor noted, Mr Cohen's actions reflect a pattern of lies and dishonesty over a significant period of time."