Donald Trump's Hurricane Florence Response Needs to Avoid These Mistakes From Maria, Katrina
As Hurricane Florence approaches the East Coast, the minds of many have turned toward two recent hurricanes that led not only to devastation for thousands, if not millions, of people but also major blowback for the presidents overseeing their preparation and relief efforts.
Hurricane Katrina was a strong storm that swept up the Gulf of Mexico before making landfall in New Orleans in 2005 as a Category 3 hurricane, flooding much of the city. It resulted in more than 1,800 deaths. Hurricane Maria made landfall as a Category 4 storm and was even deadlier than Katrina. It swept over the islands of Puerto Rico and the Dominican Republic, wiping out nearly all of Puerto Rico's power for months. The original Puerto Rico government death toll was listed as 64. But an independent George Washington University study commissioned by the local government and published last month said there were almost 3,000 deaths in the six months after Maria, with many due to the prolonged period of time without electricity.
With Hurricane Florence now barreling toward the Carolinas, President Donald Trump is tasked with handling yet another major hurricane set to strike the United States. Based on criticisms of the government's delayed response to both Katrina and Maria, the Trump administration and the Federal Emergency Management Agency's (FEMA) ability to efficiently and effectively administer federal aid to those impacted by Florence will determine if the president successfully handles the coming storm.
Speedy, Adequate FEMA Response
Local and state officials in both Puerto Rico and New Orleans complained of a delayed response and lack of preparation from FEMA in the days following the hurricanes.
Colonel Tim Tarchick of the 920th Rescue Wing, Air Force Reserve Command, told Newsweek following Katrina in 2005 that he wasn't able to begin rescuing people until 24 hours after the storm passed. Tarchick and his crews rescued hundreds of people who were trapped on rooftops, stranded by high floodwaters. The people were taken to an assigned landing zone, which Tarchick described as "total chaos. No food, no water, no bathrooms, no nothing." He said there was "no structure, no organization, no command center."
A 218-page report by Department of Homeland Security's inspector general in 2006 made 38 recommendations for FEMA to implement following its handling of Katrina. Among them were the recommendations to create new response plans, provide emergency housing, comprehend the disaster, meet expectations and provide ice, water and supplies. The report said it took FEMA officials about three days after Katrina's landfall to fully understand the vast devastation and needs of the people.
In the days following Maria, FEMA officials and the federal government struggled to provide necessities for what evolved into a massive humanitarian crisis. FEMA claimed they were providing tarps for people who lost the roof of their home and generators for those who lost power. In reality, an NPR and PBS investigation found the agency had only provided a small fraction of the number of supplies they claimed to have sent to the island.
Ten trailers filled with donated food, water and medical supplies from the National Guard meant for victims of Maria were found rotting in a parking lot in August. The supplies were sitting outside an unattended elections office in San Juan, Puerto Rico, for more than a year as thousands of people throughout the island were struggling to find fresh water and other necessities.
Just days after Maria, Trump was back at one of his private golf clubs in New Jersey and on the campaign trail to rally support for Alabama Senator Luther Strange in a Republican primary against Roy Moore.
FEMA's response in Puerto Rico was even more limited than it was in New Orleans after Katrina. In the week after Katrina, FEMA said it sent 25 million meal kits, 31 million liters of water and more than 2,700 workers, NBC News reported at the time. During the nine days after Maria, the agency said it only sent 4.4 million meal kits, 6.5 million liters of water and about 600 workers.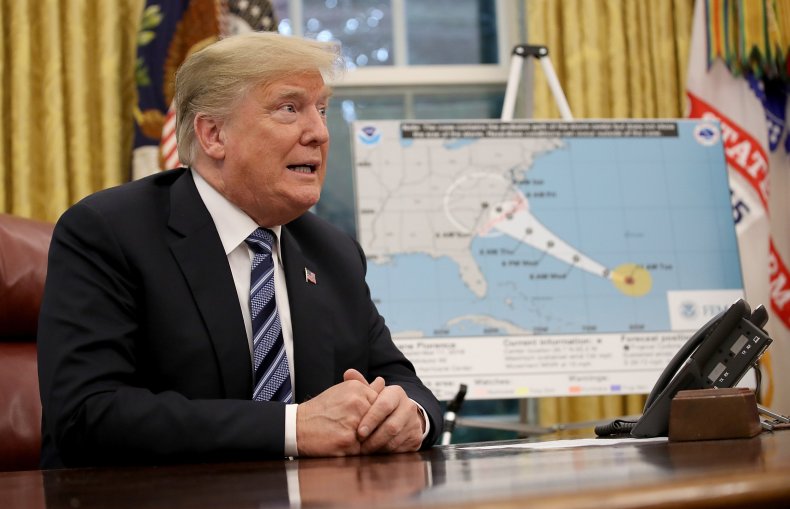 Coordination Among Agencies
The organization and coordination among local, state and federal agencies following Katrina was so bad that rescue workers told Newsweek the organization of search-and-rescue operations was "a lot better" in Afghanistan.
"We just got back from Afghanistan," one engineer was heard saying. "Organization's a lot better there."
The lack of communication and coordination among agencies stalled rescue efforts and delayed supplies. According to Bush White House Archives, the government said DHS command centers and other federal government agencies had "unclear, and often overlapping, roles and responsibilities that were exposed as flawed during this disaster." Because the federal government was not aware of the ongoing responses from federal, state and local agencies, "many agencies took action under their own independent authorities...creating further process confusion and potential duplication of efforts."
The federal government seemed to undergo the same problems with local officials on the ground in Puerto Rico. Hundreds of internal documents reviewed by NPR and PBS reportedly showed that FEMA was in chaos.
Some local mayors and leaders said they waited months to hear from FEMA officials and to receive crucial items like generators, which were needed to provide clean drinking water.
More than 30 million bottles of water, or roughly 10 bottles for each Puerto Rico resident, were never distributed to victims of Hurricane Maria. The 20,000 pallets of water were found on Tuesday by a photographer for the Puerto Rican Police at an abandoned airstrip in Ceiba, Puerto Rico.
The water bottles were reportedly provided to local officials by FEMA in fall 2017 in the months after Maria, according to what a FEMA official told CBS News. Local authorities said in a press conference that they were not made aware of the millions of bottles of water until this April—seven months after Maria hit. Local government officials with the Government Services Administration then began distributing bottles in May, but distribution was soon halted after reports that the water had a foul smell and bad taste. It was believed that months of sitting in the hot sun could have played a factor.
The continued confusion a full year after the deadly storm speaks volume to the lack of proper coordination and communication between federal and local agencies.
Show Empathy
Presidents Bush and Trump were criticized for what many called a lack of empathy for the people who were impacted by the massive storms. Images and videos were used by critics as evidence of the two leaders' and their administration's disconnect with reality.
For Bush, it was the now infamous picture of him looking out a window aboard Air Force One, thousands of feet above the flooded residents of New Orleans. Bush later admitted in 2010 that the photo was a "huge mistake" because it made him seem "detached and uncaring."
Bush's plane never touched down for him to see firsthand what the conditions were like. It was another mistake that Bush later admitted made him seem as though he did not understand how poor the conditions were for people on the ground.
"I should have touched down in Baton Rouge, met with the governor and walked out and said, 'I hear you. We understand. And we're going to help the state and help the local governments with as much resources as needed,'" Bush said in 2010. "And then got back on a flight up to Washington. I did not do that. And paid a price for it."
For Trump, it was video of him in Puerto Rico tossing out rolls of paper towels, as if they were basketballs and he was shooting hoops, to a crowd of people waiting for much-needed supplies. He was touring the island-nation to survey the vast amounts of damage, which included total destruction of many people's homes and the country's electrical grid. Critics said it showed Trump's lack of understanding for the severity of the situation and the hardships many of the island's people were facing without power.
Trump said Tuesday that the government's response to Hurricane Maria last year was an "incredible, unsung success."
"I think it was one of the best jobs that was ever done," Trump said. "The job that FEMA and law enforcement did working along with the governor in Puerto Rico was tremendous. I think that Puerto Rico was an incredible, unsung success."
Trump has since warned people in the path of Florence to heed caution and evacuate, warning Tuesday that the storm was "tremendously big and tremendously wet."
"We are sparing no expense," Trump told reporters in the Oval Office on Tuesday. "We're as ready as anyone's ever been."