Donald Trump Resurfaces Ilhan Omar Conspiracy Theory, Says She 'Abandoned' Her Country
Former President Donald Trump has accused Representative Ilhan Omar of "abandoning her former country," while repeating an unsubstantiated conspiracy theory about the congresswoman.
Omar arrived in the U.S. in 1995 as a 12-year-old refugee from Somalia and became an American citizen five years later. Trump lashed out at Omar in a statement issued on Tuesday. Trump's remarks came amid a firestorm of controversy surrounding anti-Muslim comments about the Minnesota Democrat from Representative Lauren Boebert, a staunch supporter of the former president.
"Congresswoman Ilhan Omar should apologize for marrying her brother, committing large-scale immigration and election fraud, wishing death to Israel, and for essentially abandoning her former country, which doesn't even have a government," Trump said. "Exactly what she'd like to see for the United States!"
A conspiracy theory claiming that Omar secretly married her brother in order to help him establish U.S. residency has been repeated often by figures on the right including Trump. Although the claim would amount to immigration fraud if it were true, there is no credible evidence that proves the conspiracy. The theory posits that Omar's ex-husband Ahmed Nur Said Elmi, a U.K. citizen, was actually her brother.
In addition to a lack of evidence to substantiate the claim, Omar and her confirmed siblings became U.S. citizens. A theoretical additional sibling could have applied for permanent residency on the basis that they were the sibling of a citizen, rather than resorting to fraud. The congresswoman has called the allegations "absurd and offensive."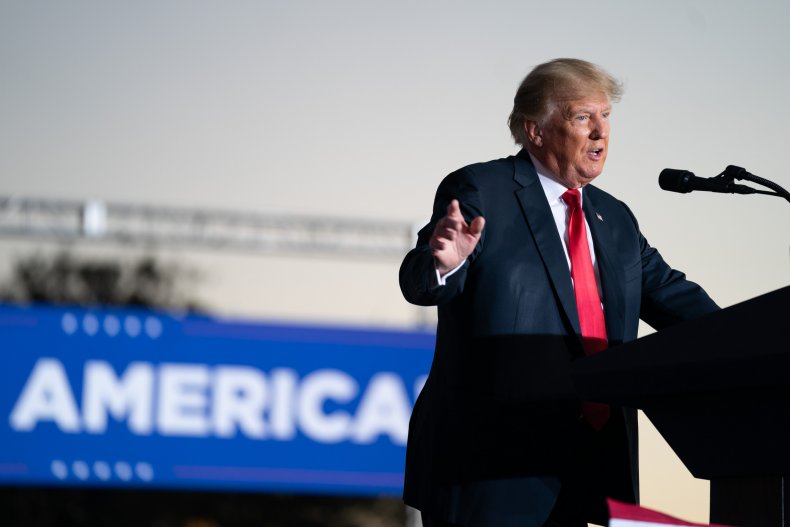 In remarks similar to his statement on Tuesday, Trump said that Omar "came in here and married her brother or something" during an October 2020 campaign stop in Florida, while also asserting that she "from a place that doesn't even have a government."
Trump tweeted in July 2019 that Omar and the other progressive lawmakers collectively known as "the Squad" should "go back and help fix the totally broken and crime infested places from which they came," despite the fact that Omar is the only foreign-born member of the group.
Boebert recently received backlash for calling Omar a member of the "Jihad Squad" on the House floor. The Colorado Republican attracted further criticism after suggesting that a Capitol police officer could rest easy around Omar because she was not carrying "a backpack," a remark that Omar said was an attempt to label her a "suicide bomber."
Boebert issued a tweet apologizing "to anyone in the Muslim community I offended" while insisting that criticism of her remarks was an "unnecessary reaction. " She later called Omar, ostensibly to apologize over the phone. Omar said that Boebert did not apologize during the call but "refused to publicly acknowledge her hurtful and dangerous comment" and "doubled down on her rhetoric." Omar ended the call by hanging up.
Although most Republican members of Congress have remained silent about Boebert, some have backed her up. Georgia Representative Marjorie Taylor Greene referred to Omar as a "Jihad Squad" member following the controversy, while Representative Madison Cawthorn of South Carolina maintained that criticism of Boebert's remarks were unfair attempts to get her "canceled."
A few Republicans have also rebuked Boebert and her comments about Omar. South Carolina Representative Nancy Mace told CNN that she condemned the comments on Sunday and Congressman Adam Kinzinger of Illinois recently tweeted that Boebert was "TRASH."
Newsweek reached out to Representative Omar's office for comment.