Donald Trump Returns to White House, Removes Face Mask for Photo Op
President Donald Trump removed his face mask for a photo opportunity after arriving back at the White House following a three-day-long stay at the hospital. Trump also saluted and gave reporters the thumbs-up sign.
Trump left Walter Reed National Military Medical Center after a weekend-long stay stemming from his positive test for COVID-19 on Friday. Some observers have expressed concern that Trump could still be contagious and was released too early. Trump's personal physician Sean Conley said during a Monday news briefing that Trump would "be surrounded by world-class medical care 24/7."
Before his exit from the hospital, Trump tweeted that he would "be back on the Campaign Trail soon!!! The Fake News only shows the Fake Polls."
On Monday, Dr. Conley said that there was no established timeline for Trump beginning in-person campaign events again. "As far as travel goes," Conley said, "we'll see."
Newsweek reached out to the White House for comment.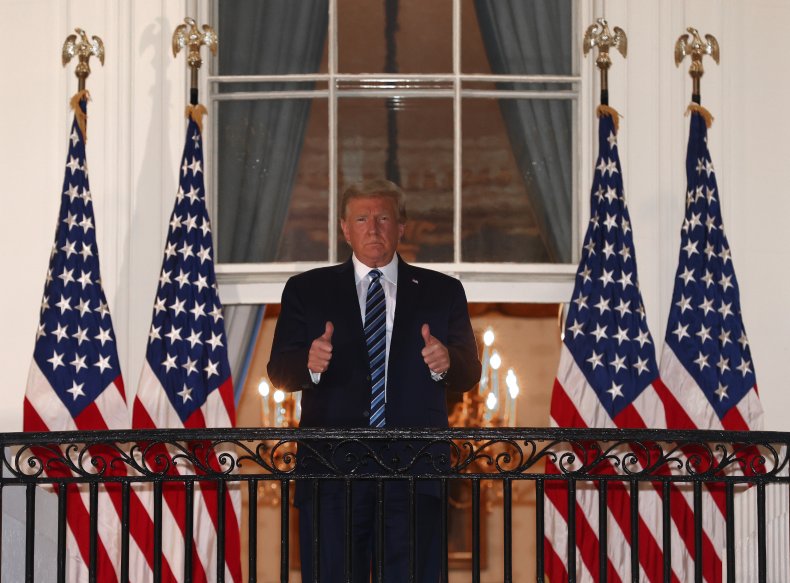 In a statement Monday, Press Secretary McEnany said that she was not exhibiting symptoms of the coronavirus. "As an essential worker," McEnany said, "I have worked diligently to provide needed information to the American People at this time. With my recent positive test, I will begin the quarantine process and will continue working on behalf of the American People remotely."
The president has been accused of downplaying the threat and severity of the virus. During the early days of the U.S. pandemic in February, Trump told reporters during a news briefing that the coronavirus was "going to disappear. One day, it's like a miracle, it will disappear."
Trump has also given mixed messages about the efficacy of face masks in curbing the spread of the coronavirus. During an August press conference, Trump said his administration has "urged Americans to wear masks, and I emphasized this is a patriotic thing to do. Maybe they're great, and maybe they're just good. Maybe they're not so good."
Before his release from Walter Reed on Monday, Donald Trump tweeted that he was "feeling really good!"
"Don't be afraid of Covid," Donald Trump continued. "Don't let it dominate your life."
Some Republicans who attended a September event at the White House to nominate Judge Amy Coney Barrett to the U.S. Supreme Court have tested positive for the coronavirus. White House adviser Hope Hicks, former Trump adviser Kellyanne Conway, former New Jersey Governor Chris Christie and First Lady Melania Trump, all of whom were present at the Barrett event, have tested positive for COVID-19.
The graphic below, provided by Statista, illustrates sentiment among Americans about fears over the coronavirus.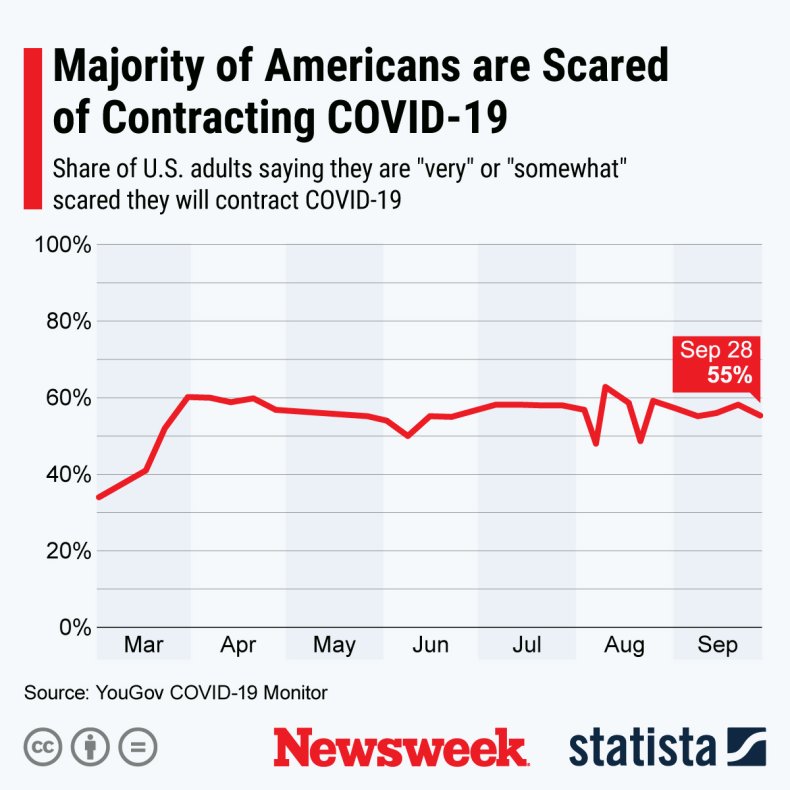 This article was updated to include an infographic.