Donald Trump Retweets Video of Jerry Nadler Struggling to Escape Conservative Blogger via Elevator
President Donald Trump retweeted a video Monday of a conservative correspondent who bombarded Rep. Jerry Nadler with comments as he waited last week for an elevator in the Longworth House Office Building.
It was just after Nadler, chairman of the House Committee on the Judiciary, called a recess during the marathon hearing last Thursday in which lawmakers debated the merits of two impeachment articles submitted against the president.
Ben Bergquam, a self-proclaimed "social conservative" and field correspondent for conservative outlet America's Voice News, followed the congressman into the hallway to ask him whether he committed "treason" by supporting the impeachment inquiry against the president, he told Newsweek.
"Shame on you. You've broken your oath," Bergquam, an opinion blogger, persisted during his questioning. "But you know what? Keep doing it. Keep doing it because the American people see through it. It's going to work in President Trump's favor. Keep it up."
In response, Nadler stood quietly in the corner of an elevator that stubbornly refused to close.
A small crowd of other people gathered outside the elevator and appeared to echo Bergquam's comments. They called out: "Trump 2020," "Thank you, Nadler," "shameful" and "pathetic" as a police officer attempted to shepherd the congressman away from the crowd.
Bergquam explained that he attended the hearing in his capacity as an independent contractor and field correspondent for America's Voice News. The outlet confirmed Bergquam was working for them at the time.
Since the start of the impeachment inquiry, U.S. diplomats have testified that Trump pressured Ukrainian President Volodymyr Zelensky to investigate his political rivals in exchange for withheld military aid. The House is set to vote on two articles of impeachment this week: abuse of power and obstruction of Congress.
Bergquam, however, said he remains unconvinced by the testimony and accused Nadler of "treason" for his key role in House impeachment proceedings.
"From the moment President Trump took office, and even before, members within our government including Nadler have been working to overthrow him," he said in a statement to Newsweek. "That is the definition of treason...they have spent the last three years trying to undo the votes of 63 million Americans."
A spokesman for Nadler did not immediately respond to Newsweek's calls for comment.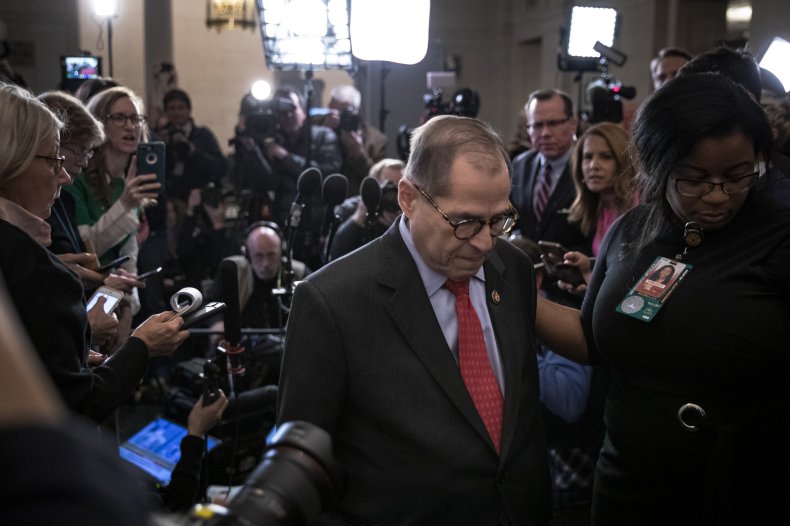 Bergquam maintains what he calls conservative Christian beliefs, saying on his site that "abortion is murder, homosexuality is sin, and transgenderism [sic] is insane."
"We are a very diverse group of people who share a common bond as far as support for the Conservative agenda and our President," executive producer of America's Voice told Newsweek in a statement. "However, we do not agree on everything, and Ben's personal beliefs are just that. Personal."
"Our company does not condemn homosexuality, and many of our biggest supporters and friends are members of the LGBT community," she continued.
A White House spokesman did not immediately respond to Newsweek's emailed request for comment.