Donald Trump Reveals New Plans for 2024 Presidency
Former President Donald Trump announced plans Monday to double down on his administration's protectionist trade policies under an agenda of "patriotic protectionism" that includes universal tariffs and a "sweeping" overhaul of U.S. tax policy.
If re-elected in 2024, Trump said in a video Monday that he planned to phase in a universal baseline tariff on "most" foreign products that increase incrementally based on how much individual countries devalue their currencies.
"Joe Biden claims to support American manufacturing," Trump said. "But in reality, he's pushing the same pro-China globalist agenda that ripped the industrial hard out of our country. It ripped us apart. Biden and the globalists support raising taxes on American production.
"My agenda will tax China to build up America. The heart of my vision is a sweeping pro-American overhaul of our tax and trade policy, to move from the Biden system that punishes domestic producers and rewards outsourcers, to a system that rewards domestic production and taxes foreign companies and those who export American jobs. They will be rewarded and rewarded greatly, and our country will benefit."
As President, Trump, who inherited a growing economy, largely kept it on course, with quarterly growth roughly around similar levels exhibited in the years following the Great Recession, as unemployment and poverty rates continued on the downward trajectory established by his predecessor, Barack Obama.
While Biden has enjoyed historic levels of job growth and low unemployment, his administration has also seen persistently high levels of inflation due to the lingering effects of the pandemic as well as massive amounts of federal spending—a trend Trump said he wants to counter with his policies.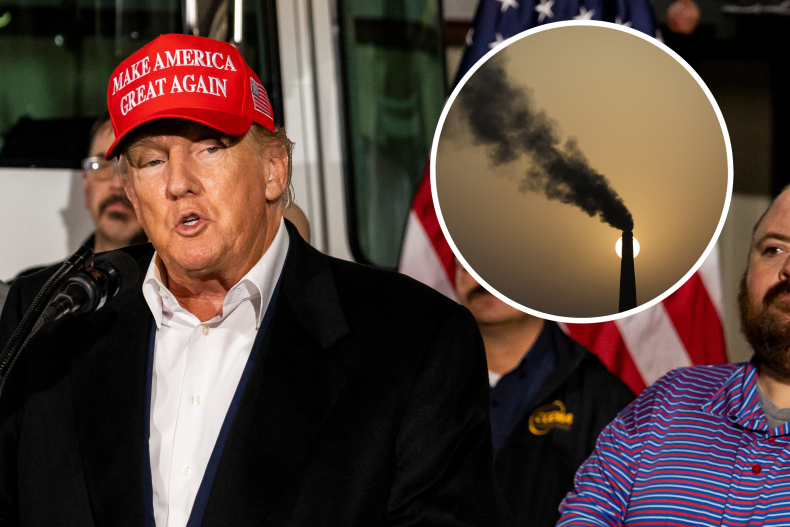 During the Trump administration, the Chinese government implemented a series of retaliatory tariffs against the U.S. totaling billions of dollars that some studies suggested cost the country nearly a quarter-million jobs.
One U.S. Department of Agriculture study found that retaliatory tariffs from China on agricultural products reduced U.S. exports by $27 billion from mid-2018 to the end of 2019 alone, while costs in other sectors of the economy were largely borne by American producers.
"The trade war has not yielded any tangible benefits for U.S. firms and workers," a policy brief by the Tax Foundation read at the time of the tariffs' originally scheduled expiration last year. "While the U.S. tariffs were intended to protect American industries, they have largely hurt the U.S. economy. And they incentivized foreign countries to retaliate with their owns tariffs, which have damaged the economy even more."
Biden, meanwhile, has actually seen the number of manufacturing jobs in the country grow throughout his administration—though that trend dates to the Trump administration. However, few anticipate the sector will ever reach the heights it did in the middle of the 20th century primarily due to automation and a changing workforce.
Newsweek reached out to Trump's campaign for comment.