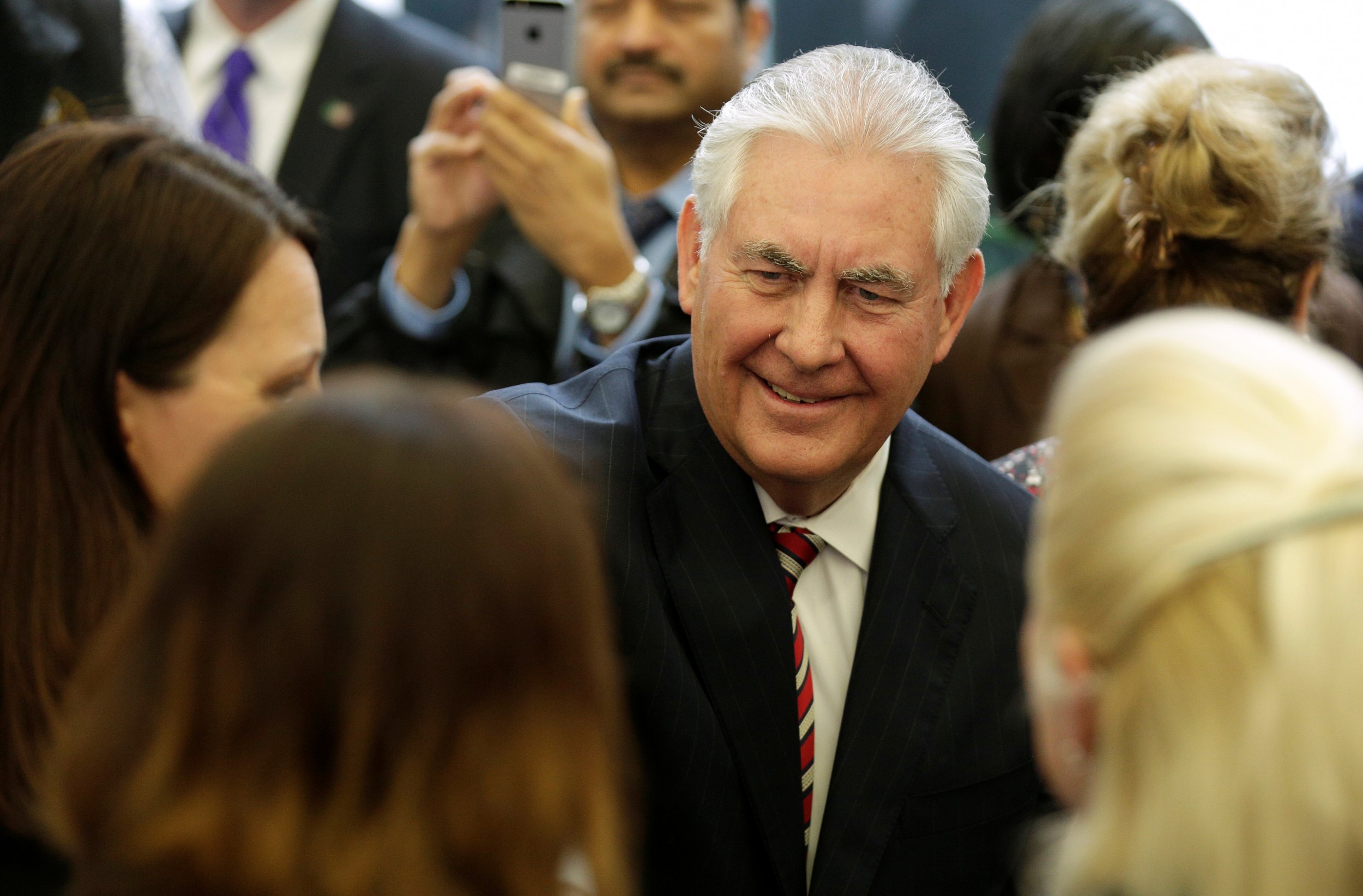 President Donald Trump's acceptance of Beijing's demand that he re-commit to a "one China" policy was heavily influenced by his new top diplomat, who argued behind the scenes that relations would remain on hold until Trump cleared up doubts about a longtime bedrock of U.S.-China ties, officials said.
The abrupt course adjustment, made public in a White House statement on Thursday after a phone call between Trump and Chinese President Xi Jinping, followed White House meetings this week involving Secretary of State Rex Tillerson, the U.S. officials said, speaking on condition of anonymity.
Tillerson joined Trump's national security adviser Michael Flynn and others in what one administration official described as a concerted effort to persuade the president that "this is the right way to go, this is right for the relationships and regional stability - and they won the day."
The successful intervention by Tillerson, a former Exxon Mobil chief executive with no previous diplomatic experience who was confirmed just nine days ago, suggests that in a White House-dominated administration, the new secretary of state could help drive decisions on some geopolitical issues.
Tillerson's sway on other Trump priorities, such as fighting Islamic State, countering Iran and improving ties with Russia, remains to be seen.
Chinese anger toward Trump has simmered since December when he spoke to the president of Taiwan and said the United States did not have to stick to the "one China" policy, under which Washington acknowledges the Chinese position that there is only one China and Taiwan is part of it. Beijing considers self-ruled Taiwan a renegade province.
China had signaled to Washington that there would be no phone call between Trump and Xi and the relationship could not move forward until Trump reaffirmed the "one China" policy, one of the U.S. officials said.
U.S.-based China experts said Trump's change of tack should help ease tensions and open the way for discussions across the board. But they cautioned that this does not suggest a softening of Trump's stance over other issues, including the contested South China Sea, his threat of high tariffs on Chinese goods and his pressure on Beijing to rein in North Korea.
But Trump's acquiescence on an issue of extreme Chinese nationalist sensitivity also "creates the risk that the Chinese will conclude that Trump is tough in his rhetoric but can be rolled if they apply sufficient pressure," said Bonnie Glaser at the Center for Strategic and International Studies.
The White House and State Department had no immediate comment.
Speaking at a joint news conference with visiting Japanese Prime Minister Shinzo Abe, Trump signaled on Friday that he was pleased to have broken the ice with Xi, describing the call as a "very, very warm conversation."
But he also noted that he had long complained that China's currency was undervalued and predicted that "a level playing field" in terms of trade would be reached between the two countries sooner than many people think.
Tillerson's emerging role suggests that he could be a moderating influence with both friends and adversaries who have been unnerved at times by Trump's rhetoric and unpredictability.
The secretary of state played a role in crafting the "one China" statement but it was not immediately clear whether he or others met directly with Trump to make the case for issuing it. Another major player on the issue was Flynn, who spoke by phone to China's top diplomat, Yang Jiechi, on Feb. 3, the sources said.
As an oil executive, Tillerson had a complicated history with China. He had regular dealings with China's state-run oil companies over Exxon Mobil's longtime business interests there, but also developed oil exploration ties with Vietnam, which has territorial disputes with Beijing in the South China Sea.
During his Senate confirmation hearings last month, Tillerson raised Chinese ire when he said China should be denied access to islands it is building in the South China Sea.
But in written responses to follow-up questions from lawmakers that surfaced this week after his confirmation, Tillerson softened his language, saying that in the event of an unspecified "contingency" the United States and its allies "must be capable of limiting China's access to and use of" those islands to pose a threat.