Former Navy Sailor William Clyde Allen III Arrested After Ricin Seeds Sent to Donald Trump, Pentagon
A former U.S. Navy sailor has been arrested in connection with sending packages containing the poison ricin to President Donald Trump and leading Pentagon officials.
William Clyde Allen III, 39, a former U.S. Navy sailor and resident of Logan, Utah, was taken into custody Wednesday afternoon after FBI agents and local authorities raided his house on 380 N. 200 West in Logan, Utah, Logan Police Department confirmed to Newsweek.
Allen is accused of sending envelopes with suspicious substances to the Pentagon and the White House—at least two of the envelopes tested positive for ricin, a highly toxic protein that is derived from pressed seeds of the castor-oil plant. On the same day, Republican Senator Ted Cruz was mailed a letter containing a white powdery substance but it is not known whether the incident is connected.
At the Pentagon, two of the envelopes were addressed to Defense Secretary Jim Mattis and Admiral John Richardson, the chief of naval operations.
Dana White, the Defense Department spokeswoman told reporters traveling in Brussels with Mattis that the substance sent to the Pentagon was castor seeds, and not ricin itself.
A Secret Service spokesman confirmed the letter sent to the president in a statement to CNN.
"The Secret Service can confirm receipt of a suspicious envelope addressed to the President on Oct. 1, 2018," a spokesman said. "The envelope was not received at the White House, nor did it ever enter the White House."
Allen first enlisted in the U.S. Navy from Utah in October 1998 as a Damage Control Fireman Apprentice, according to Allen's biographical data obtained by Newsweek from the U.S. Navy Office of Information.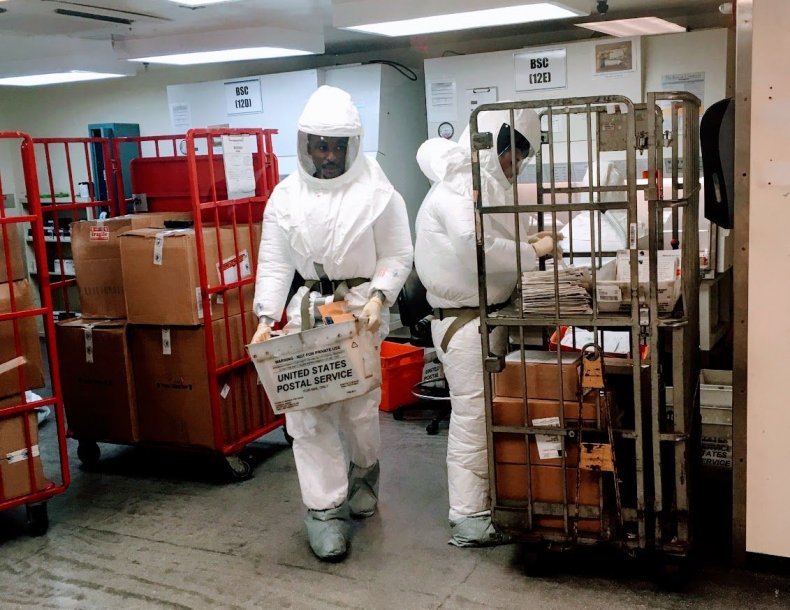 Allen was assigned to the USS Supply, a fast combat support ship, and deployed overseas between February 1999 and July 2001. Later, Allen served on the USS Detroit from July 2001 to September 2002.
Records show Allen left the Navy in October 2002 as an E-2, the second to lowest rank. Allen was awarded the Navy "E" ribbon, which is given to crew members that have won a battle efficiency competition, along with, the National Defense Service Medal and the Sea Service Deployment Ribbon with one bronze star for his two deployments.
Little is known about Allen after he left the Navy in 2002. Public records show Allen was a registered Democrat in 2004; however, he switched political parties in 2017 when he registered as a Republican.