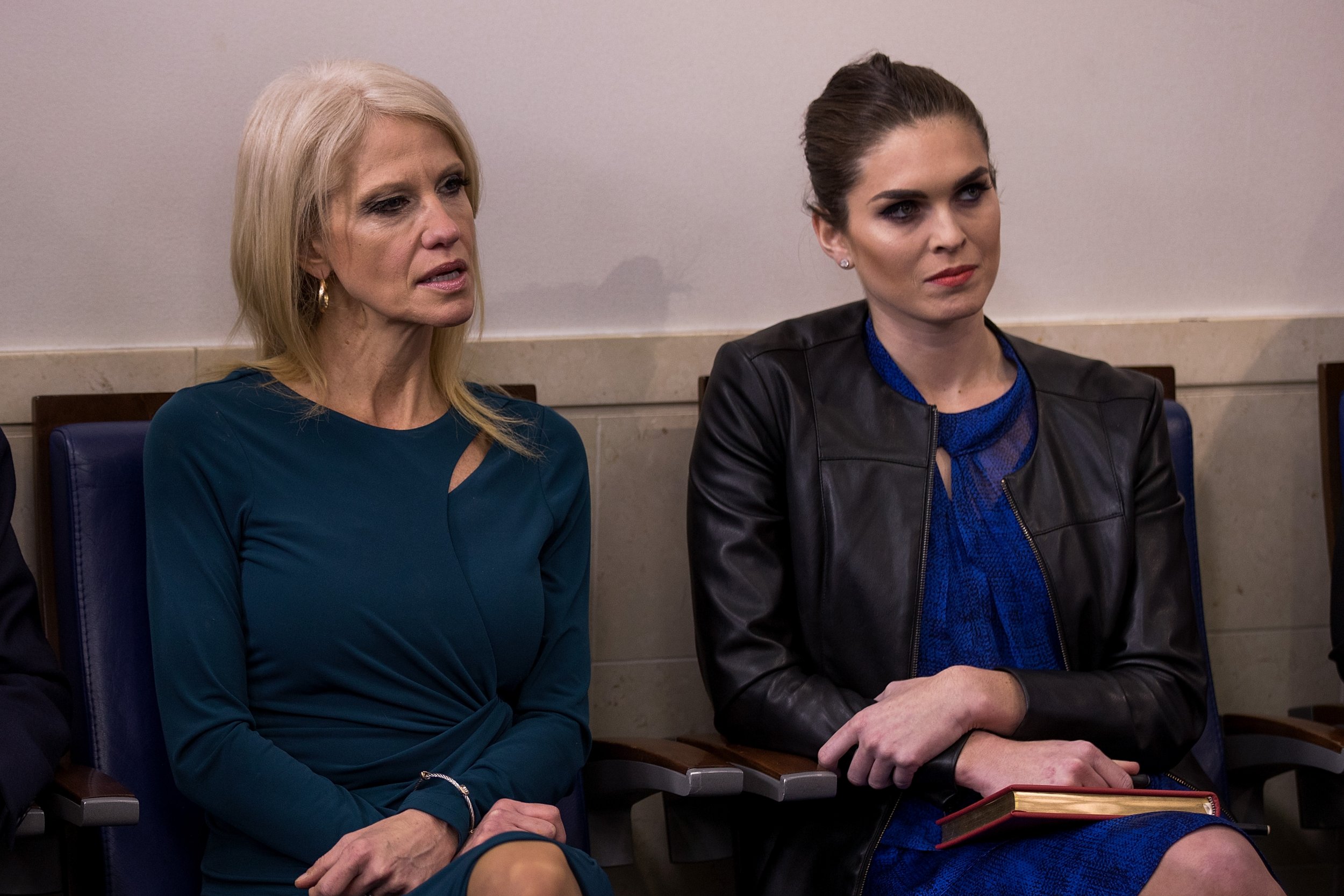 The Trump White House has taken an unusual position on Hope Hicks's romantic relationship with alleged domestic abuser Rob Porter, MSNBC host Lawrence O'Donnell has claimed.
On Monday, O'Donnell slammed counselor Kellyanne Conway for her assertion that the White House Communications Director Hicks is a "strong woman."
On his show, The Last Word with Lawrence O'Donnell, the host singled out White House counselor Kellyanne Conway for claiming she is not worried about communications director Hicks's relationship with Porter because Hicks is a "strong woman."
"I am very close to Hope Hicks and I don't worry about her in that respect," Conway said in a CNN interview over the weekend.
"I'm sorry for any suffering [Porter's ex] has endured, but in the case of Hope, I rarely met somebody so strong with such excellent instincts, and loyalty, and smarts," Conway said.
"I didn't have the presence of mind and professional capabilities at her age that I see in her every single day," she added, in comments that were slammed by O'Donnell.
O'Donnell took issue with how Conway positioned Hicks as strong because it insinuated that Porter's alleged victims were weak. He added that Conway's remarks seemed to suggest Hicks was the "immune to the possibility of physical abuse by a man she is dating."
"Rob Porter's former girlfriend just wasn't 'strong' enough. That's why he physically abused her," O'Donnell said.
"His two former wives just weren't 'strong' enough. That's why he physically abused them. That's why he punched Colbie Holderness and gave her that black eye. Because she wasn't 'strong' enough. That's the Trump White House position on why no one has to worry about Hope Hicks—because she's 'stronger' than the women Rob Porter victimized," he continued.
Conway's apparent assertion that someone "so strong" would not be the victim of abuse was also slammed by Porter's first wife Colbie Holderness, who stated in an op-ed for The Washington Poston Tuesday that "recognizing and surviving in an abusive relationship takes strength."
The White House has also faced criticism over President Donald Trump's reaction to the allegations made against Porter, after the outgoing staff secretary received well wishes from POTUS.
"He worked very hard and we found out about it recently and I was surprised by it, but we certainly wish him well. It's obviously a tough time for him," Trump told reporters. The president's comments were criticized as insensitive and resulted in White House press secretary Sarah Huckabee Sanders stating, in a bold spin, that the president wished all Americans well, not Porter in particular.