Will Robert Kraft Join Patriots at White House? Team Due to to Celebrate Super Bowl Win This Spring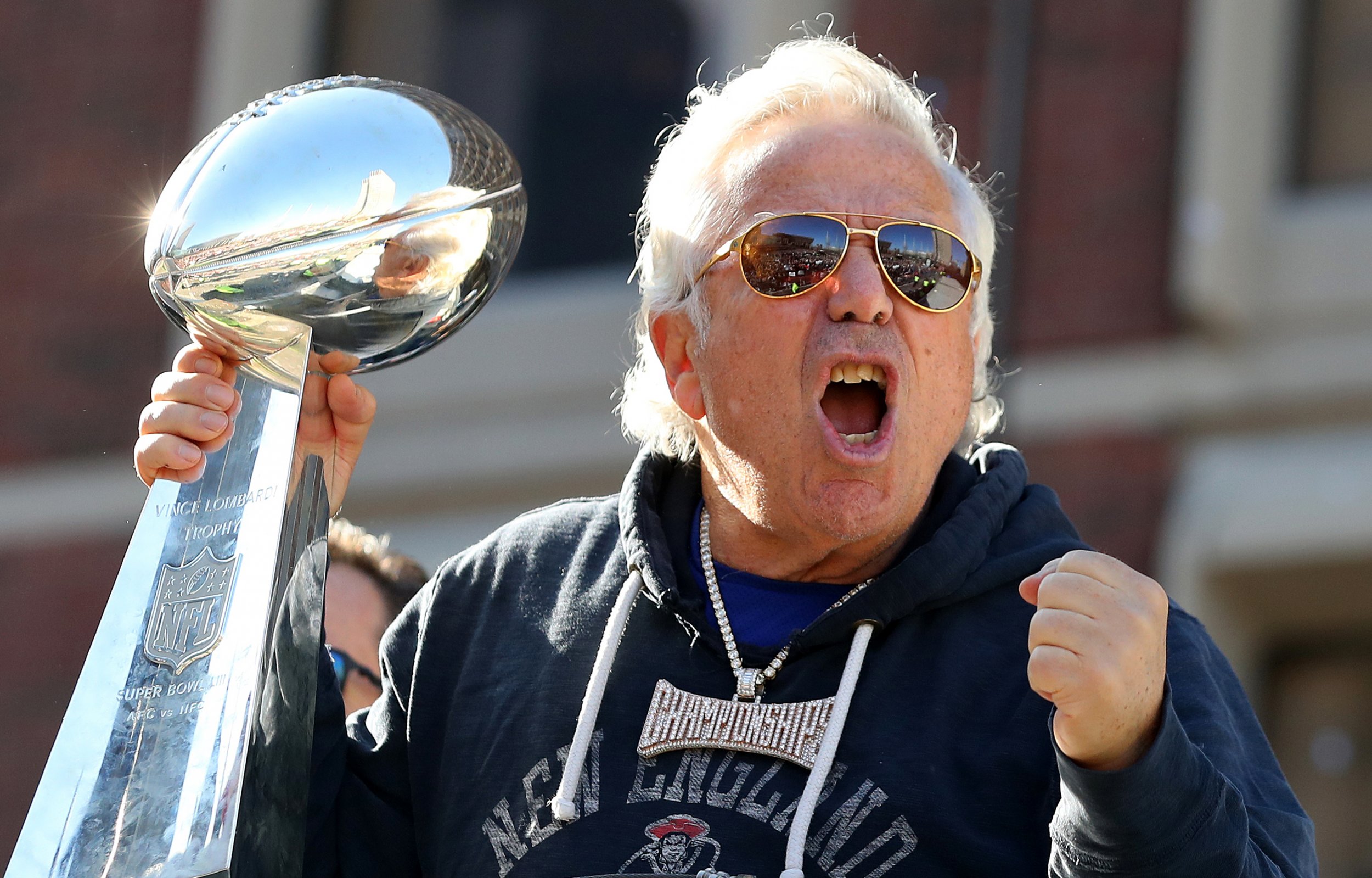 The New England Patriots could be the latest national champion facing a delicate dilemma ahead of their scheduled trip to the White House.
The traditional visits to 1600 Pennsylvania Avenue have become a thorny political issue since Donald Trump became president, but this time it's not the President's policies that threaten to make the event a complicated occasion.
Trump wants Patriots owner Robert Kraft to join his players and coach Bill Belichick in Washington this spring to celebrate their Super Bowl LIII triumph, despite the fact Kraft was charged in connection with an alleged prostitution and human trafficking sting in February, Politico reported.
The Patriots owner is just one of hundreds of men who were charged after a months-long investigation into sex workers in Florida. The 77-year-old was caught on CCTV engaging in a sex act at a spa in Florida before handing over an unspecified amount of cash, and now faces two separate counts of soliciting prostitution.
Kraft, who has pleaded not guilty, is close to Trump. In 2017, he attended the Patriots' White House visit after they won Super Bowl LI and he has been a regular guest at the President's Mar-a-Lago resort.
When news of Kraft's charge emerged last month, Trump said he was saddened by the development. "It's very sad. I was very surprised to see it," the president told reporters in the Oval Office. "He's proclaimed his innocence totally, but I'm very surprised to see it."
The duo have also had their disagreements, with Kraft criticizing Trump in 2017 after the President blasted NFL players who knelt during the national anthem to protest against social and racial injustice.
Despite this, Trump and Kraft appear to have overcome their differences and Politico reports that the president is keen for the Patriots owner to join his team at the White House. However, officials are reportedly worried that Kraft joining the Patriots could be a major faux pas for Trump. Crucially, their concerns have reportedly not been shared with the president.
Earlier this week, The Wall Street Journal reported Kraft could have charges against him dropped if he were to admit a trial would have proved him guilty of soliciting prostitution.
The Patriots are yet to formally commit to a date but are expected to make the trip to Washington. Last year, the Philadelphia Eagles had their invitation rescinded by Trump after reports emerged that a few players were considering not attending.
The President's actions prompted a strong response from Stephen Curry and LeBron James, who declared neither the Golden State Warriors nor the Cleveland Cavaliers would visit the White House if invited after the NBA Finals.
In 2017, the Warriors had their invite rescinded after Trump grew frustrated with Curry's reluctance to commit to a visit.
Controversy over the visits has also extended to baseball, with Boston Red Sox manager Alex Cora suggesting he might not attend when the team are scheduled to meet Trump on May 9.
The Washington Capitals, last season's Stanley Cup winners, will visit the White House on Monday, but forward Brett Connolly won't join his teammates.