Donald Trump Called Roger Stone Late at Night on Blocked Number While Associate Was In Contact with WikiLeaks
Then-candidate Donald Trump reportedly placed calls to political trickster and longtime friend Roger Stone from a blocked number or from the phones of campaign aides and others late at night during his 2016 run for the White House. The calls have become a focus of the special counsel's investigation of Russia's meddling in the 2016 election to prop up Trump's chances of victory.
It is unclear how often Trump called Stone and exactly what they discussed, according to The Washington Post on Wednesday. But Stone vehemently denied ever talking to Trump about WikiLeaks or the Democratic National Committee emails the government transparency group released at the height of the 2016 campaign.
Stone, who worked for Trump's campaign in its early stages in 2015, told The Post he initially had a phone number for Trump between January and March 2016 but the number was later changed by staff.
Afterward, Stone said he would receive late night calls from a blocked number and Trump would be on the other end.
Stone also admitted that his braggadocios and public claims of regular contact with Trump during the campaign were overstated, and he has denied knowledge of WikiLeaks's dump of former Hillary Clinton campaign manager John Podesta's emails.
The calls between Stone and Trump have received heavy scrutiny from special counsel Robert Mueller's investigators, and have taken on even greater significance following the public statements of conspiracy theorist and Stone friend Jerome Corsi.
Corsi said this week that he had rejected a plea agreement from the special counsel and released to media outlets information federal investigators had on his contacts with Stone. One such contact was an email sent on August 2, 2016, about WikiLeaks allegedly planning to release "very damaging" material, according to The Post.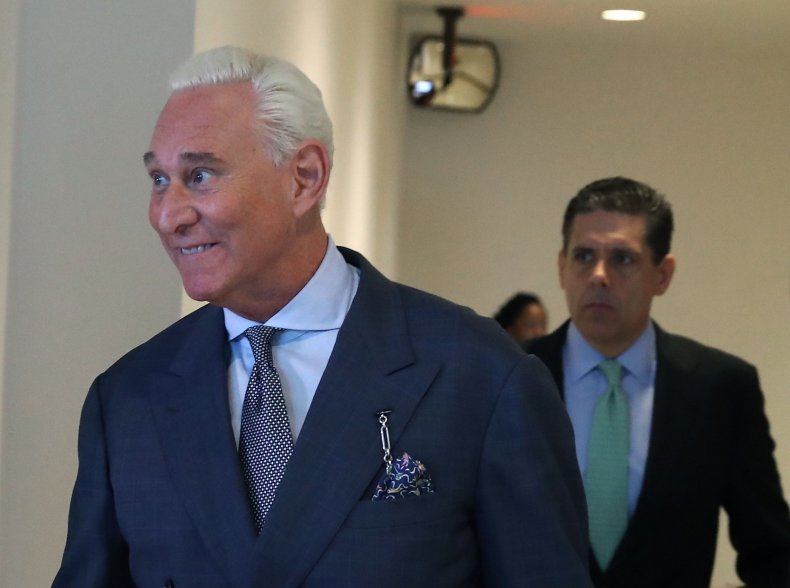 Stone did have a call with Trump the very next day but denied WikiLeaks ever came up.
"It just didn't come up," Stone told The Post. "I am able to say we never discussed WikiLeaks. I'm not sure what I would have said to him anyway because it's all speculation. . .I just didn't know if it's true or not."
Stone has been under fire for much of this year and even claimed publicly that Mueller intended to indict him. Corsi this week also released excerpts of a forthcoming book in which he alleged Stone asked him to tell WikiLeaks to hold off on releasing some of the hacked emails in order to distract from the release of an Access Hollywood tape that depicted Trump claiming he could grab women without their permission due to his celebrity status.
Stone fully pushed back on Corsi's claim and said there were no emails or text messages to prove otherwise.
In a statement to Newsweek on Tuesday, Stone described Corsi's claim as "pure unmitigated unadulterated bullshit."